Newsletter: Essential California: A sober lesson for California: Why some Mexico City buildings crumbled and others survived the quake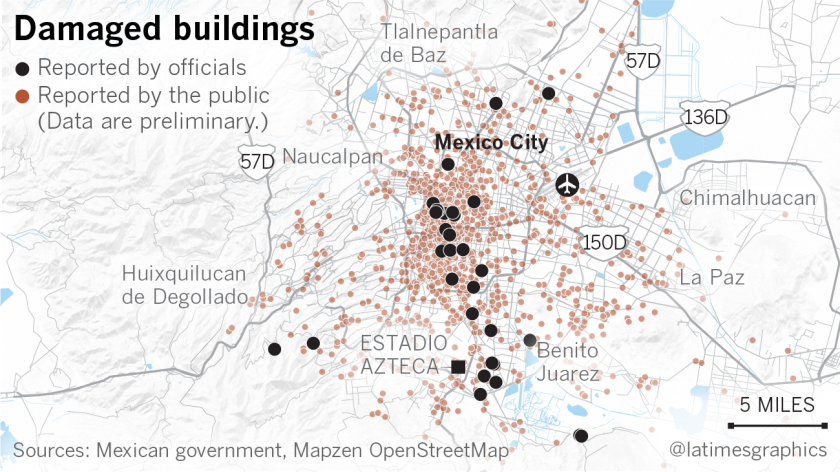 Good morning, and welcome to the Essential California newsletter. It's Thursday, Sept. 21, and here's what's happening across California:
TOP STORIES
A sobering lesson for California
The amateur videos emerging from the magnitude 7.1 earthquake that devastated Mexico City on Tuesday are grim. Some show taller buildings swaying. Others show short, squat structures suddenly collapsing. Remains of brick walls have fallen onto sidewalks in heaps of rubble. Over decades, seismologists and structural engineers have gained extensive knowledge about why some buildings collapse while others remain standing during an earthquake. Part of the answer lies with construction: Concrete buildings without enough steel reinforcement can become disastrously brittle during shaking, allowing concrete to burst out of the columns just before a catastrophic collapse. Los Angeles Times
Get ready: Could your building collapse in a major L.A. earthquake? Look up your address on these databases. Los Angeles Times
California vs. Trump, Part 1 Zillion
California Atty. Gen. Xavier Becerra filed a lawsuit Wednesday alleging that President Trump's proposal to expedite construction of a wall at the U.S.-Mexico border violates laws aimed at protecting the environment. Becerra announced the legal challenge standing in front of the existing border fencing at Border Field State Park near San Diego, saying the federal government failed to comply with federal environmental laws and relied on federal statutes that don't authorize border wall projects in San Diego and Imperial counties. Los Angeles Times
Cox's quixotic bid
Before his bid to become California governor, John Cox ran to be a U.S. senator from Illinois against a state senator named Barack Obama. Now he's back, this time in his new home of California, running for governor against a trio of Democratic heavyweights. Once again, Cox is a practical unknown. Once again, the Republican is in a left-leaning state reaching for a coveted political office. Once again, Cox's campaign is being fed by cash from his own bank account. Los Angeles Times
L.A. STORIES
Bad hombres: The Los Angeles city attorney's office is looking to turn down the volume on two Hollywood Hills homes reportedly known for loud, late-night parties. Los Angeles Times
Unusual arrangement: Los Angeles County education officials have launched an investigation into fiscal and legal questions surrounding a small public school district that has been enrolling Catholic school students. Los Angeles Times
A big planning fight: The Redondo Beach City Council has placed a nearly one-year moratorium on mixed-use development, a move that comes amid a statewide housing shortage driving up rents and home prices. Los Angeles Times
POLITICS AND GOVERNMENT
Unions and the environment: Several California unions, despite their vocal support for fighting climate change and their willingness to embrace green issues scorned by national labor groups, either bent or blocked environmental proposals during the legislative session that ended last week. Los Angeles Times
New boss around town: The Los Angeles County Board of Supervisors has selected Bobby Cagle as head of the Department of Children and Family Services, the sprawling child welfare agency that has suffered from mismanagement, a handful of high-profile child deaths and a shortage of foster homes in recent years. Los Angeles Times
You get a raise: Cal State trustees unanimously approved a salary increase for top executives at the end of a two-day meeting in which they also discussed budget shortfalls, enrollment growth and protections for immigration students. Los Angeles Times
Impact: "California regulators said they have required Nationwide and USAA to adjust their auto insurance rates as a result of a report by ProPublica and Consumer Reports that many minority neighborhoods were paying more than white areas with the same risk." ProPublica
CRIME AND COURTS
Guilty plea: A Los Angeles County probation officer pleaded guilty Wednesday to two counts of assault after he was accused of sexually abusing several female inmates at a Santa Clarita juvenile hall, prosecutors said. Los Angeles Times
Eyewitness account: A Long Beach fire captain who witnessed a city police officer fire on an unarmed college student in 2015 told investigators the young man was under the influence of drugs but not acting violently during the fatal encounter in which he and other witnesses shouted for the officer not to shoot the victim. Los Angeles Times
Taking stock: "A recently released report on homicides by the California Department of Justice found that killings around the state jumped 3.7 percent from 2015 to 2016, but were down 14.5 percent from a decade ago." San Francisco Chronicle
Kidnapping attempt: An El Monte man tried to kidnap his former girlfriend in Anaheim after jumping into her car while she was waiting at a traffic light Tuesday night, police said. San Gabriel Valley Tribune
THE ENVIRONMENT
See you in court: San Francisco and Oakland are suing to get five oil companies, including San Ramon-based Chevron, to pay for the cost of protecting the Bay Area from rising sea levels and other effects of global warming. Los Angeles Times
Buy some bug spray: The Orange County Mosquito and Vector Control District alerted residents this week to a 330% increase in the number of invasive Aedes mosquitoes. Los Angeles Times
CALIFORNIA CULTURE
Cool exhibit: The UCLA Film & Television Archive, in collaboration with the Getty Foundation's wide-ranging Pacific Standard Time: LA/LA initiative, is bringing the best of the past Spanish-language feature films back to town in a program called "Recuerdos De Un Cine En Español: Latin American Cinema in Los Angeles, 1930-1960." Los Angeles Times
Whoa! At Kelly Slater's Surf Ranch in Lemoore, "each wave is manufactured for the perfect ride by a 70-ton hydrofoil, with each one breaking in a scheduled succession across 700 yards of a lake originally constructed for water-skiing." New York Times
Big sale: Thomas J. Barrack Jr., billionaire real estate mogul and informal adviser to President Trump, has sold his home in Santa Monica for approximately $34 million, according to real estate sources with knowledge of the sale. Los Angeles Times
Check it out: A rare drawing by Michelangelo will be on display at the J. Paul Getty Museum through Oct. 29. CBS LA
CALIFORNIA ALMANAC
Los Angeles area: rainy, 72, Thursday; sunny, 74, Friday. San Diego: partly cloudy, 72, Thursday and Friday. San Francisco area: cloudy, 72, Thursday; sunny, 67, Friday. Sacramento: sunny, 73, Thursday; sunny, 76, Friday. More weather is here.
AND FINALLY
Today's California memory comes from Marlene Bertman:
"In 1976, I visited Northern California, then drove south through Big Sur, Pebble Beach and into Carmel and Los Angeles and then down to San Diego. Then I reluctantly flew back to New York. During my trip, I fell in love with the entire Beverly Hills area and never, ever stopped dreaming about moving here. Life gets in the way of dreams, and I had to wait 34 years, but I fulfilled mine and moved to the Wilshire corridor in 2010. Sure, it's expensive; sure, the taxes are too high; sure, earthquakes scare me, but you cannot beat the civility, the easy lifestyle, and just plain being surrounded by all this eye candy! Am I lucky or what?!"
If you have a memory or story about the Golden State, share it with us. Send us an email to let us know what you love or fondly remember about our state. (Please keep your story to 100 words.)
Please let us know what we can do to make this newsletter more useful to you. Send comments, complaints and ideas to Benjamin Oreskes and Shelby Grad. Also follow them on Twitter @boreskes and @shelbygrad.
---