Newsletter: Essential California: Pot's 'monumental moment'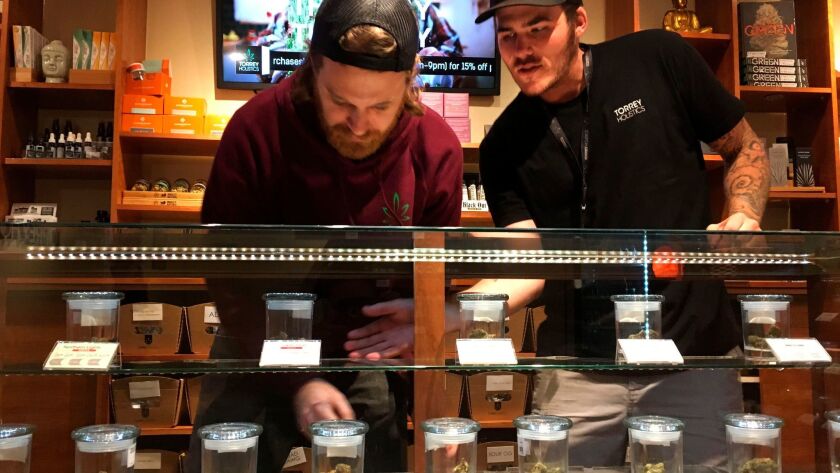 Good morning, and welcome to the Essential California newsletter. It's Monday, Jan. 1, New Year's Day, and here's what's happening across California:
TOP STORIES
Pot's 'monumental moment'
Will Senn has been waiting his whole life for this. Californians can now go to the store and buy marijuana, and his shop is opening its doors at 7 a.m. on New Year's Day. "This is what a lot of activists in the industry have been working for since the 1990s," said Senn, 32. "It's a monumental moment and we are ecstatic to be a part of it." Still, don't expect pot shops on every corner. In recent weeks, hundreds of businesses have applied for temporary licenses to engage in the marijuana business, but industry officials expect a slow rollout. Los Angeles Times
Plus: What you need to know about recreational marijuana sales. Los Angeles Times
And: What you need to know about California's other new laws for 2018. Los Angeles Times
Price gouging in wine country?
Scores of residents in wine country have alleged rent gouging after the October firestorms torched thousands of homes, leaving many people without homes and exacerbating an already severe housing shortage. As the wildfires ravaged Northern California, Gov. Jerry Brown on Oct. 9 declared a state of emergency, making it a crime under the state's anti-price gouging law to raise the prices of goods and services, including housing rentals, more than 10%. The governor extended the ban through April 18. But in the areas hardest-hit by fires, rents have skyrocketed and prosecutors say allegations of rent gouging are often not clear-cut. Los Angeles Times
In search of a condor
At the Los Padres Sespe Condor Sanctuary, a team of biologists armed with telemetry equipment fanned out across charred wilderness that had been closed for weeks northeast of the community of Fillmore on a mission to pick up signals that could, perhaps, lead them to a 4-month-old condor, or its carcass. Los Angeles Times
L.A. STORIES
The big parade: For those spending the last night of 2017 camping on the sidewalks along Pasadena's famed Colorado Boulevard, a chilly night under the stars is well worth it to see the Rose Parade up close and personal. By midday Sunday, scores of campers had already staked their spots, covering the sidewalks in a patchwork of colorful chalk markings — big, hand-drawn squares marking places for families, groups of buddies, Boy Scout troops. Los Angeles Times
On the float: Torrance teenager Olin Snakenborg has never paid much attention to Southern California's enduring New Year's Day tradition, the Rose Parade in Pasadena. But on Monday the Richardson Middle School eighth-grader will have one of the best seats on the route along Colorado Boulevard as one of a half-dozen riders on the Miracle-Gro float. He got there with his baseball skills. Daily Breeze
This train didn't leave the station: After spending nearly a half-billion dollars, the Sanitation Districts of Los Angeles County's "trash train" has been put on indefinite hold. Long Beach Press-Telegram
IMMIGRATION AND THE BORDER
Injured agent: A U.S. Border Patrol agent was hospitalized after being struck with a rock while patrolling the border on his all-terrain vehicle Saturday night, a federal official said. San Diego Union-Tribune
POLITICS AND GOVERNMENT
Who's watching? California lawmakers could step in to protect the online privacy of consumers in 2018, regardless of what the federal government does. Los Angeles Times
2020 vision: Is Kamala Harris trying to "out-liberal" her fellow U.S. senators ahead of the 2020 presidential election? Politico
CRIME AND COURTS
Harrowing traffic stop: A 23-year-old man is in custody on suspicion of firing at Los Angeles County sheriff's deputies who were conducting a traffic stop in Compton on Saturday night, authorities said. Los Angeles Times
In San Diego: Two men have been arrested on suspicion of fatally stabbing a 21-year-old Camp Pendleton Marine during a fight in the Gaslamp Quarter, police said Sunday. San Diego Union-Tribune
THE ENVIRONMENT
In the bay: Extreme high and low tides, also known as King tides, are expected to bring minor coastal flooding Monday and Tuesday to low lying areas in the San Francisco Bay Area, National Weather Service officials said Sunday. SF Gate
CALIFORNIA CULTURE
RIP: A look back at some Bay Area notables who died last year. SF Gate
No cellphones allowed: Comedian Dave Chappelle played the first of three collaborative gigs with the singer and guitarist John Mayer on Friday night at the Hollywood Palladium. Showgoers were required to place their cellphones in small locked bags that kept anyone from shooting photos or videos. Los Angeles Times
It couldn't hurt: Times restaurant critic Jonathan Gold has nine hangover remedies for you, if you overdid it last night. Los Angeles Times
Let's pretend: A hypothetical Michelin Guide to Los Angeles eateries for the new year? Sure. Eater LA
The year was 1935: In one of L.A.'s most outrageous murder cases, a rattlesnake was the weapon. Los Angeles Magzine
CALIFORNIA ALMANAC
Los Angeles area: Partly cloudy and 71. San Diego: Partly cloudy and 66. San Francisco area: Foggy and 60. Sacramento: Mostly sunny and 63. More weather is here.
AND FINALLY
This week's birthdays for those who made a mark in California: Snap Chairman Michael Lynton (Jan. 1, 1960), former Rep.
Loretta Sanchez (Jan. 7, 1960) and actor Nicolas Cage (Jan. 7, 1964).
If you have a memory or story about the Golden State, share it with us. Send us an email to let us know what you love or fondly remember about our state. (Please keep your story to 100 words.)
Please let us know what we can do to make this newsletter more useful to you. Send comments, complaints and ideas to Benjamin Oreskes and Shelby Grad. Also follow them on Twitter @boreskes and @shelbygrad.
---