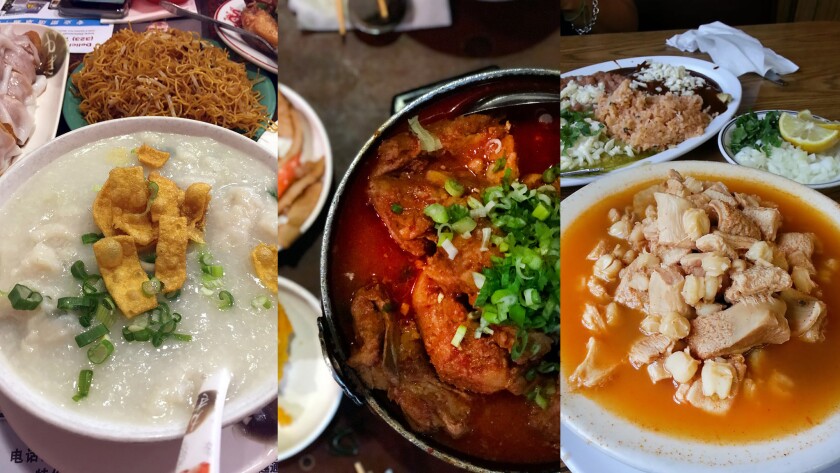 Restaurant Critic
Why, I sometimes wonder, do hangovers wear themselves out when faced with the primal — not the flannel cakes at Musso & Frank Grill, which are served during the proper hours of 11:30 to 3, but the horrifying mass of a Lucky Boy breakfast burrito; not the dense cheese omelet at Petit Trois but the Expo '73 at Uncle Bill's in Manhattan Beach.
Is it sugary pan dulce that sails out of kitchens on woozy mornings after, or bowls of murky, odoriferous menudo laced with boiled hominy and tripe? Lacy, lemony Dutch babies or Vegemite on toast? Flaky croissants or oozing piles of sausage? On New Year's Day, we occasionally think about these things. And while not all of these restaurants will necessarily be open on New Year's Day, you may as well keep them in mind for future occasions.
Boat Noodles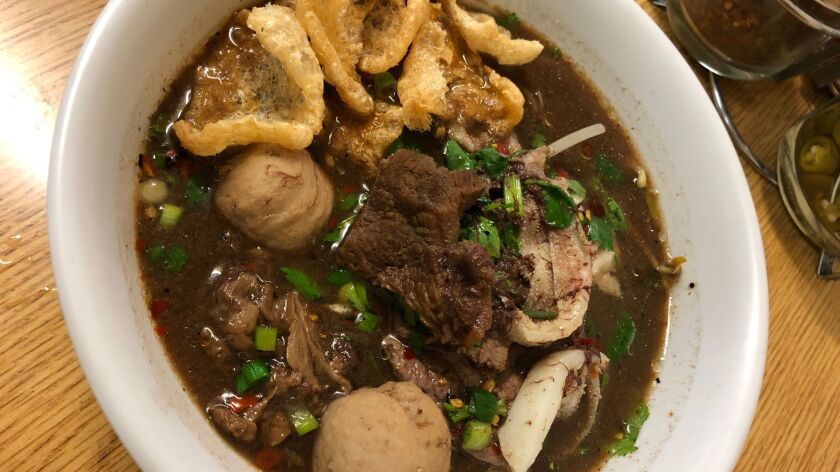 Sapp's boat noodles are magnificent, drowned in a murky, beef broth lighted up like a pinball machine with shrieking chile heat, thickened with ground blood, the tartness of lime juice locked in muscular poise with the brawny muskiness of the broth. There are gooey chunks of tendon and ribbons of tripe that are more texture than flavor. The scraps of beef look exactly like the scraps of liver, and the difference between them in taste is sufficient to unlock entire neural networks incapacitated by drink. And if you ask for the noodles Bangkok-spicy (don't), the endorphins will soon drown out the pain. For the meek, Sapp cheerfully serves its boat noodles without the organ meats too. 5183 Hollywood Blvd., Hollywood; (323) 665-1035.
Gamjatang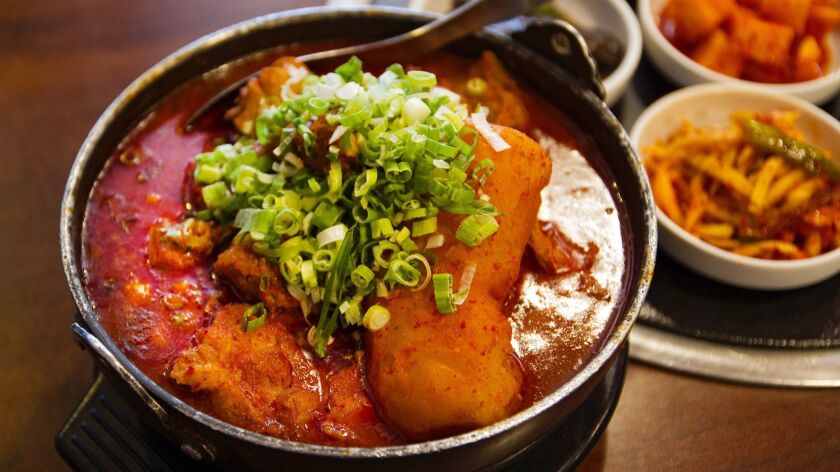 Is Korean cuisine unusually rich in soothing hangover remedies? It would seem so. Jinro soju has long been the world's most popular spirit brand, according to the Spirits Business trade publication. Could one cure lie in Ham Ji Park's gamjatang? The scarlet, sputtering-hot soup, made with potatoes and meaty neckbones, certainly feels soothing, even though it is bathed in dusky chile heat. There are probably half a dozen other gamjatang specialists in Koreatown now, and each of them is good in their own way, but the density, the soft hidden pockets of meat, and the snap of Ham Ji Park's version always strikes me as splendid. It's a little more expensive than it is at some other restaurants, but when the roof of your mouth is a killing floor, it is hard to put a price on comfort. 4135 W. Pico Blvd., Los Angeles, (323) 733-8333; 3407 W. 6th St., Los Angeles, (213) 365-8773, www.hamjiparklosangeles.com.
Haejangguk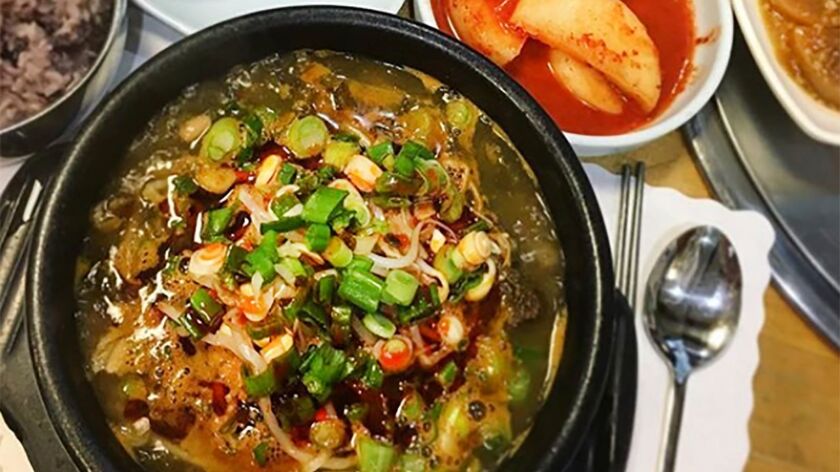 When street-food-inclined friends show you around Seoul, one of the first places they'll probably drag you is Hangover Alley, a centrally located food street lined with restaurants serving haejangguk — which literally translates as "hangover soup." If you actually are hung over, haejangguk is probably a specialized way to confront your throbbing head, a bean-sprout-intensive bone broth strewn with cattle insides and a not-immoderate quantity of tangy, iron-rich blood. There are a few other places serving the dish in L.A.'s Koreatown, but you may as well go to Bulrocho, which is better known for its goat dishes, but whose haejangguk, which is listed on the menu as Hangover Soup With Oxblood, seems to have magically restorative powers. Add a little sea salt and a lot of chile. You will not be surprised to learn that Bulrocho is open 24 hours a day. 955 S. Vermont St., Los Angeles, (213) 383-0080.
Full English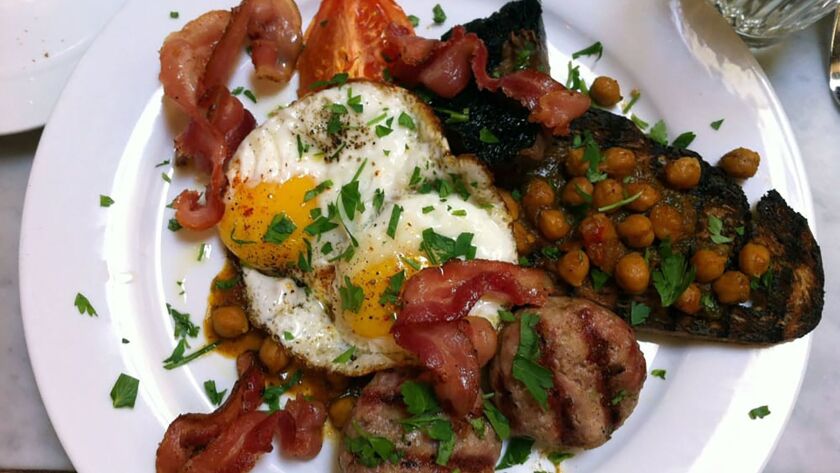 The last time I had a proper Full English, at a rundown café near London's Borough Market, I mistook a spouted canister of salt for the slightly larger one of sugar, and transformed my cup of tea into something I have never quite experienced outside anUyghur restaurant. The faux pas, I admit, distracted me from the broiled tomatoes, the runny fried eggs and the fried potatoes, the sausage and the black pudding, the bacon, the buttered toast, the marmalade, the limp mushrooms, and the swamp of baked beans. The Full English at the Pikey may lack the blood pudding, but it has pretty much all the rest of it, done with a bit more finesse. It is exactly what you want at those moments when you want to chuck your morning haziness hard against a wall. 7617 Sunset Blvd., Los Angeles, (323) 850-5400, thepikeyla.com.
Breakfast tacos
If you have ever spent so much as a weekend in Austin, you probably have an atavistic longing for breakfast tacos, a food group that barely exists outside Texas. Whether filled with beans and eggs, brisket and eggs or spicy chorizo sausage and eggs, breakfast tacos are constructed on freshly made flour tortillas. There will be chilled squirt bottles of red and green chile salsa available. Third-wave coffee will be in close proximity, because the affinity between breakfast tacos and strong, velvety shots of café cortado is hard to deny. HomeState's menu could be considered an anthology of Texan folk remedies, from plates of eggy migas, to strong coffee made with beans from Austin roaster Cuvee, to Frito pies served steaming in the bag, but on fuzzy mornings, the breakfast tacos may be everything you remember and everything you still crave. 4624 Hollywood Blvd., Los Angeles, (323) 906-1122, www.myhomestate.com.
Barbacoa
When you get in your car and drive to the industrial-park neighborhood in which you find Aqui Es Texcoco, you are not there for the Mexican craft beers, the promise of handmade pulque or the sturdy quesadillas — you are there for vast portions of lamb, chewy and gelatinous and touched with crunchy bits of char, piled on sheets of aluminum foil. You eat the lamb with stacks of hot tortillas, puddles of beans, freshly made guacamole — and not least, foam cups of consommé fashioned from the drippings of the lamb, served so hot that your flimsy plastic spoon is likely to curl up in its depths. Barbacoa serves the same restorative morning-after function as menudo or birria. Unfortunately for late-risers, when the restaurant is busy, the lamb is sold out by midday. 5850 S. Eastern Ave., Commerce, (323) 725-1429, www.aquiestexcoco.com.
Birria
In Baja, I was astonished to learn, birria is almost automatically made from beef: spicy, long-cooked animal served with flagons of its own broth. In Los Angeles, with its huge representation from Jalisco and Zacatecas, birria is synonymous with slow-roasted goat served with its consommé, the most representative (and healing) dish from Guadalajara. I have tried several dozen local birrias — it is probably my favorite Mexican dish. But I still keep returning to El Parian, the first place I tried it ages ago, where the blasting music, the birria, the thick house-made tortillas and the icy bottles of Bohemia combine to make a splendid restorative for the soul. 1528 W. Pico Blvd., Los Angeles; (213) 386-7361.
Menudo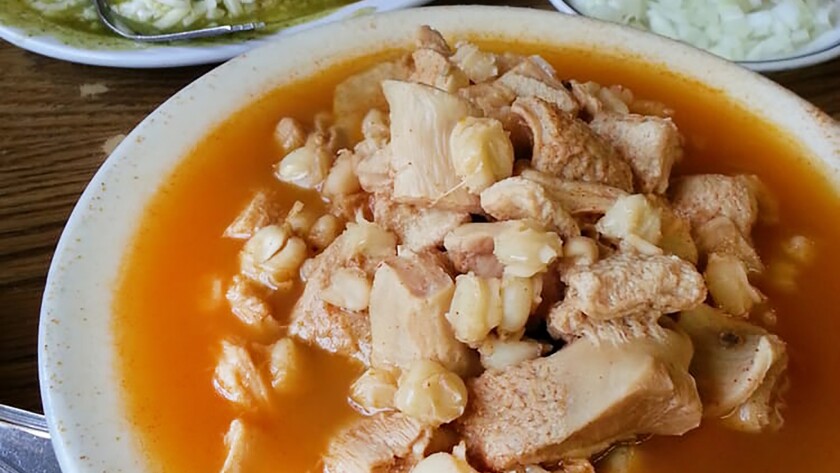 If you are above claiming that your grandmother makes the best menudo in the world, I'm not sure we can ever be friends. But if you don't happen to have a menudo-making grandmother handy, you could do worse than the menudo at La Abeja in Cypress Park, which at least tastes as if it were brewed in a grandmother's home. Or get the carne adobada, which is pretty good too. 3700 N. Figueroa St., Los Angeles, (323) 221-0474, laabeja-blog-blog.tumblr.com.
Congee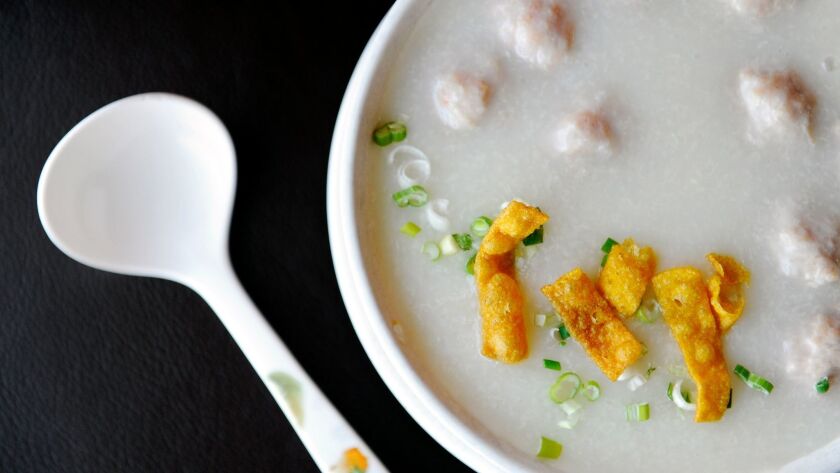 Delicious Food Corner may not be the first place you imagine when the bourbon gods wreak their revenge. The lines are long, especially if you're trying to get there before the 11:30 cutoff for breakfast specials, and the business is geared toward families, not reprobates. It's cash only. You can get Ovaltine if you want — Ovaltine! — although milky Hong Kong tea is the rule. And Delicious Food Corner's congee, rice porridge, isn't the elegant, expensive stuff you find bathing lobster and live scallops at the posh Hong Kong places — it's the rough and tasty kind: semi-fluid, nicely seasoned, scattered with chopped green onions and crispy snips of fried dough. I like the congee with small, bouncy pork meatballs, which have just enough fleshy stink about them to remind you of the night before. 2329 Garfield Ave., Monterey Park; (323) 726-0788; and 17170 Colima Road, Suite H, Hacienda Heights; (626) 810-8822, www.deliciousfoodcorner.com.
MORE FROM JONATHAN GOLD
Jonathan Gold's 10 best dishes of 2017
Jonathan Gold finds delight in the secretive Santa Monica restaurant Dialogue
How Thomas Ortega is redefining what Mexican food looks like at Playa Amor and Amor y Tacos
---