Newsletter: Essential California: Trump order upends the future for a generation of Salvadorans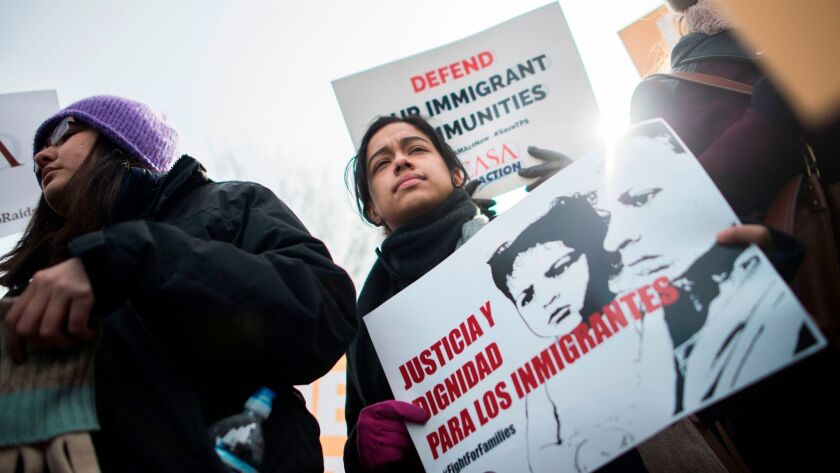 Good morning, and welcome to the Essential California newsletter. It's Tuesday, Jan. 9, and here's what's happening across California:
TOP STORIES
Moments before nurses whisked Jose Guevara into surgery Monday morning, he got word that his parents will be stripped of their immigration status and could be sent to a country they haven't lived in for nearly two decades. "It's disappointing and it's scary," said Guevara, 23, of Los Angeles, who is battling leukemia. "My mom is the one who is taking care of me." The Guevara family is among the estimated 262,000 Salvadorans who have been living in the United States who will lose their temporary protected status under a Trump administration decision announced Monday. Los Angeles Times
Plus: Trump says Salvadorans with TPS should return home. But are things really better in El Salvador? Los Angeles Times
Steyer won't run
San Francisco billionaire Democratic donor Tom Steyer said Monday that he won't run for Senate or the governor's office in California this year. "I'm not going to run for office in 2018; that's not where I can make the greatest difference," Steyer said at a news conference he called in Washington. "My fight is not just in California, my fight is in removing Donald Trump from office and from power." The former hedge fund manager said he will instead pour tens of millions of dollars into Democratic efforts to retake the House. Los Angeles Times
Blessings and vulnerability
One need not be part of Ojai's spiritual community to consider it a miracle that the 4-square-mile town of about 8,000 people escaped largely unscathed from the Thomas fire, which destroyed more than 750 homes in Ventura and Santa Barbara counties, killed two people and eventually grew into California's biggest fire on record. Los Angeles Times
Another test: Thousands were evacuated in burn areas Monday as the first major rainstorm in nearly a year moved into Southern California. The rain is of greatest concern in areas burned in the massive Thomas fire, where officials said mudslides are possible. Los Angeles Times
And: These maps show the mudslide and debris flow threat from the Thomas fire. Los Angeles Times
L.A. STORIES
See you in court: Los Angeles City Atty. Mike Feuer sued three port trucking companies Monday, alleging the firms exploit their drivers by misclassifying them as independent contractors to increase profits. Los Angeles Times
Changing of the guard: The Michelle King era closes with questions about the future of the Los Angeles Unified School District. Los Angeles Times
In Kagel Canyon: A tight-knit community before and after the Creek fire. Curbed LA
IMMIGRATION AND THE BORDER
Complicated situation: Black immigrants here illegally face a battle against both fear and historic discrimination. Los Angeles Times
POLITICS AND GOVERNMENT
Another retirement: House Foreign Affairs Committee Chairman Ed Royce will not run for reelection, he announced Monday, adding to Democrats' chances of gaining a better foothold in Orange County in 2018. Los Angeles Times
Plus: Everything you need to know about the suddenly wide-open race in Royce's congressional district. Los Angeles Times
Leno (not Jay) jumps in: Mark Leno, once one of California's most seasoned and powerful state lawmakers, officially launched his campaign Monday to become mayor of San Francisco. Los Angeles Times
It sounds so simple: If Donald Trump could win the presidency, why couldn't Oprah Winfrey? A day after her rousing speech at the Golden Globe Awards, speculation about Winfrey's potential White House aspirations sparked some instant handicapping among Washington insiders. Los Angeles Times
Plus: In 2020, an earlier California primary will make the state far more important for Democratic presidential candidates than it ever has been before. Daily Beast
CRIME AND COURTS
Years later: Watch the LAPD videos of a controversial police shooting on skid row that have been kept secret for years. Los Angeles Times
It keeps going: The fight over Charles Manson's body and property became more complicated after a hearing in a downtown Los Angeles courtroom Monday. Los Angeles Times
Search warrant shooting: FBI agents were involved in a shooting while executing a search warrant in Los Angeles early Monday morning, authorities said. Los Angeles Times
Officer arrested: A San Francisco police officer was arrested on charges of sexual assault Monday, officials said. San Francisco Chronicle
CALIFORNIA CULTURE
Lawsuit filed: James Damore, the former Google engineer who was fired after writing a widely circulated memo arguing women were biologically inferior to men in coding, has sued the Mountain View tech giant alleging discrimination against his political views. Los Angeles Times
Let's pretend: Tommy Wiseau reveals what he would have said on stage at the Golden Globes. Los Angeles Times
iPhone consequences: "Jana Partners LLC and the California State Teachers' Retirement System, or CalSTRS, which control about $2 billion of Apple shares, sent a letter to Apple on Saturday urging it to develop new software tools that would help parents control and limit phone use more easily and to study the impact of overuse on mental health." Wall Street Journal
Bye-bye: "People flooded into Disney California Adventure Sunday to bid goodbye to some of the park's most iconic rides and places, which will be disappearing as Disney eliminates its Paradise Pier district." Orange County Register
Small world: Are you an adult who loves Disney and doesn't have kids? You're not alone. The Awl
CALIFORNIA ALMANAC
Los Angeles area: Showers, 60, Tuesday. Sunny, 66, Wednesday. San Diego: Showers, 63, Tuesday. Partly cloudy, 62, Wednesday. San Francisco area: Showers, Tuesday, 56. Cloudy, 56, Wednesday. Sacramento: Showers, 58, Tuesday. Partly cloudy, 57, Wednesday. More weather is here.
AND FINALLY
Today's California memory comes from Alicia Torregrosa:
"The first time I knowingly met Californians was when I shared a one-room schoolhouse with two of them at the American School in Bilbao, Spain. I was a fifth-grader from Ohio and couldn't understand their outsized pride and loyalty. In 1968 Dad decided to move to California so I could go to state university, but I was terrified. I wasn't blond, couldn't surf, hadn't ever smoked pot or LSD — I thought wouldn't fit in. Menlo-Atherton HS wasn't what I expected, black classmates so poor they lived on food stamps and white classmates so rich they got new cars when they turned 16. We had race riots. I'm grateful my dad was right, University of California was great and (then) affordable. Now, I'm like those kids I met a half-century ago, a proud Californian loyal to Ecotopia."
If you have a memory or story about the Golden State, share it with us. Send us an email to let us know what you love or fondly remember about our state. (Please keep your story to 100 words.)
Please let us know what we can do to make this newsletter more useful to you. Send comments, complaints and ideas to Benjamin Oreskes and Shelby Grad. Also follow them on Twitter @boreskes and @shelbygrad.
---