Newsletter: Essential California: Remembering the victims of Montecito's mudslides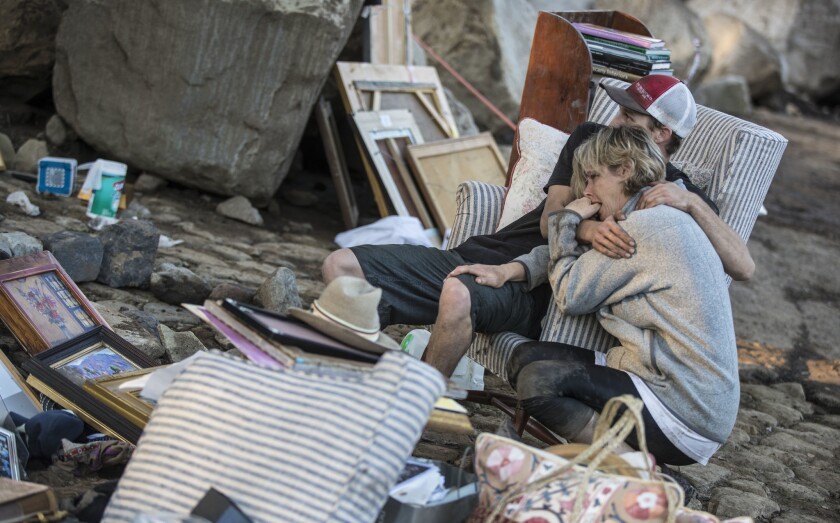 Good morning, and welcome to the Essential California newsletter. It is Saturday, Jan. 13. Here's what you don't want to miss this weekend:
TOP STORIES
Their stories: The 17 victims identified in the Montecito mudslides were children and retirees, immigrants and longtime residents, united by the mud and debris that crashed through their neighborhood early Tuesday. Peter Fleurat and his partner Lalo Barajas wanted to ride out the storm together. Early Tuesday, a wave of mud and debris punched through their wall. The force of the debris flow sucked them both out of the house. Barajas survived with cuts, bruises and a sprained neck. Fleurat's body was discovered Wednesday. Los Angeles Times
Continued rescue efforts: The death toll rises to 18 as hope fades for the missing. Los Angeles Times
Different approach: The Montecito mudslide is the deadliest flooding event in California in decades. It's likely to spark rethinking about how government agencies handle evacuations and warnings about the coming threat. For whatever reason, the warnings issued by officials in Montecito were not taken seriously. Los Angeles Times
Bigger picture: Are the mudslides another sign of climate change? New York Times
Review underway: In response to a Times investigation, the Los Angeles County district attorney's office has launched a comprehensive review of past criminal cases featuring two dozen deputies named in a secret 2014 Sheriff's Department list of officers whose histories of misconduct could undermine their credibility in court. Los Angeles Times
Grim: The death toll from California's bad flu season continues to rise. Los Angeles Times
Company town: The surge in content from streaming services such as Amazon, Netflix and Hulu, as well as the major networks and premium cable channels, has had a trickle-down effect through the L.A. production industry, giving the region a boost. Expanded state film tax credits also are giving producers more incentives to shoot closer to Hollywood. Los Angeles Times
Taking off: The upcoming launch of SpaceX's long-awaited Falcon Heavy rocket has big implications for the Hawthorne space company and the commercial space industry. Los Angeles Times
RIP: Former U.S. Sen. John V. Tunney, who as a young lawyer and rising California political star toppled an entrenched Republican incumbent before facing his own defeat just six years later, has died. He was 83. Los Angeles Times
Key moment: An effort to recall the Palo Alto judge in the Brock Turner rape case has taken a major step forward. Wall Street Journal
New perspective: As Orange County moves to clear out a huge homeless encampment along the Santa Ana River not far from Disneyland, one man ponders what's next. Orange County Register
Highflying: To compete for the travel dollars of big-spending fliers, American Airlines recently unveiled two ways to pamper its most elite fliers. The carrier, the world's largest, opened a new lounge at Los Angeles International Airport last month that includes all the luxuries. But for a price. Los Angeles Times
Gallerist dies: The passing of a key member of Los Angeles' 1980s art and gallery scene. Los Angeles Times
Where's the gold? The California pioneer who created a buried treasure obsession. SF Gate
Intriguing: An unusual effort to preserve a classic Midcentury Modern house in Palm Desert. The Press-Enterprise
THIS WEEK'S MOST POPULAR STORIES IN ESSENTIAL CALIFORNIA
1. Watch as Oprah trudges through shin-deep mud after a powerful rainstorm pummels her neighborhood. Los Angeles Times
2. Will the ruins of San Pedro's Sunken City finally open to the public? Curbed L.A.
3. Maps show the mudslide and debris flow threat from the Thomas fire. Los Angeles Times
4. Gov. Jerry Brown plants the seeds of his next chapter on a ranch in rural Northern California. Los Angeles Times
5. Say goodbye forever to these favorite Disney California Adventure rides. Orange County Register
ICYMI, HERE ARE THIS WEEK'S GREAT READS
Moving past the heartbreak: The wounds look like scars now. Two months have passed since the final out of Game 7, long enough for Dodgers manager Dave Roberts to feel satisfaction in guiding the Dodgers to their first National League pennant since 1988, rather than bitterness over a championship drought entering its 30th year. Los Angeles Times
Higher power: Inside the marijuana church movement in California. ""Breathe deep and blow harder," the pastor intones. California Healthline
No one's too small to counterfeit: No so long ago, relative anonymity would have shielded small companies from counterfeiting. But in the era of Instagram and global e-commerce, obscurity is no longer an option — and anyone is fair game. One local company found that out the hard way. Los Angeles Times
In shape: California has more fitness instructors than the next five states combined: 30,000. This industry is not just transforming people's health, but the boom of gyms and boutique fitness centers is also changing urban life and the look of neighborhoods. The Atlantic
Please let us know what we can do to make this newsletter more useful to you. Send comments, complaints and ideas to Benjamin Oreskes and Shelby Grad. Also follow them on Twitter @boreskes and @shelbygrad.
---