Found on Instagram, sold on Alibaba: Even the smallest brands are now the victims of counterfeiting
Team Dream is a small business by most any measure.
The quirky cycling apparel brand has just five employees. It produces only about 100 pieces of each garment and operates out of a converted gas station in San Marino, where a closet-sized nook doubles as both a fulfillment center and R&D lab.
Its founder, Sean Talkington, has taken in no outside investment and only applied for his first credit card a few years ago because his bank told him he needed one to operate a retail store.
"We're a blip," Talkington said.
So it came as a shock one day to learn that Team Dream clothing was being counterfeited and sold on a major Chinese e-commerce site.
Piracy was a problem that befell big brands such as Nike and Adidas, Talkington thought, not upstarts like Team Dream, which has no advertising budget and got its start selling clothes out of a 1970 Volkswagen bus.
But there it was, a cheaper facsimile of Team Dream's U.S.-made $135 "Thin Stripe Long Sleeve" jersey for sale on Taobao, China's premier online shopping site owned by Alibaba, for about half the price.
The seller, a store named Gentleman Racing Club, made only the slightest changes: removing Team Dream's chubby bobcat logo and stamping GRC on the back. Its page, which Alibaba removed after talking to The Times, even included one of Team Dream's Instagram photos of a cyclist wearing the jersey on Highway 2 in Angeles National Forest (Gentleman Racing Club did not respond to a request for an interview).
Talkington was initially irked. Sourcing Italian microfleece and finding a reliable Southern California manufacturer is no easy task. Irritation then gave way to befuddlement. How much money could anyone make selling phony Team Dream kit? In the end, Talkington felt almost flattered.
"If you're getting knocked off, maybe you've made it," said Talkington, who never reported the offending seller to Alibaba. "Maybe if you're not getting knocked off, you're not cool enough."
Just a decade ago, relative anonymity would have shielded a company as small as Team Dream from counterfeiting. But in the era of Instagram and global e-commerce, obscurity is no longer an option — and anyone is fair game.
Imitation is the sincerest form of flattery and that's especially true in the digital age. If it's online, it will be copied.
— Jason Brim of the cycling clothing brand Void
Team Dream isn't as big as Rapha — pioneers of the hipster cycling aesthetic who sold their apparel company recently to the Walmart heirs — but it still boasts over 30,000 Instagram followers. That's enough to buoy a loyal customer base and, apparently, attract counterfeiters on the other side of the world.
"Anything to make a buck," Bruce Foucart, former director of the U.S. government's National Intellectual Property Rights Coordination Center, said of counterfeiters. "If there's a niche, they will know about it."
Small brands often lack the means to tackle counterfeiters, Foucart added. Even corporate behemoths such as Apple struggle to rein in the black market for its devices in China.
"When you're a small company, there's often no recourse," said Foucart, whose firm, Foucart & Associates, advises businesses on protecting intellectual property.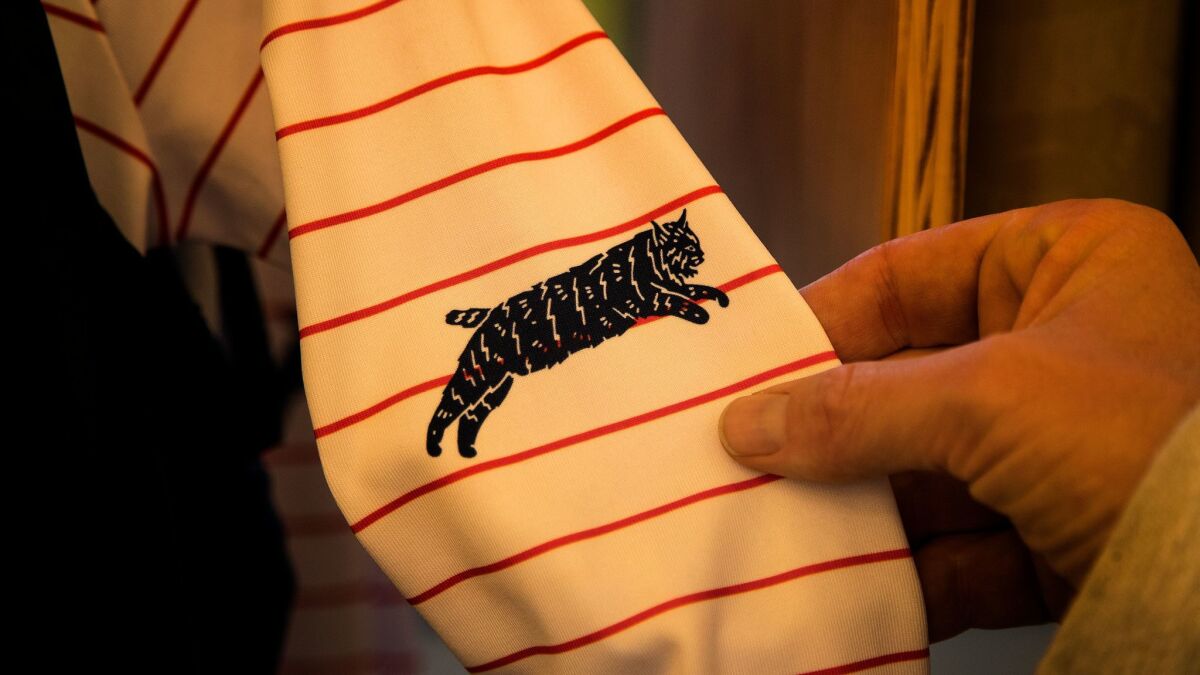 No place is better suited to exploit young brands than China, the origin of 85% of the world's counterfeit goods. With its state-of-the-art manufacturing infrastructure, Chinese producers can mimic all manner of apparel with relative ease. The rise of Chinese e-commerce platforms such as Taobao, AliExpress and DHgate has made finding a counterfeit item almost as easy as shopping on Amazon.
Chinese counterfeiters are so savvy, they now produce bespoke replicas of high-end sneakers nearly indistinguishable from genuine pairs — and sell them to a fervent customer base on Reddit.
Counterfeit Yeezys and the booming sneaker black market »
And while mass-market brands continue to be widely copied, so too have smaller trendy labels such as Common Projects and Supreme.
The speed at which goods are knocked off is also increasing. One Israeli entrepreneur was shocked to learn his phone case that converts into a selfie stick was copied and sold on Alibaba's AliExpress only a week after he introduced it on Kickstarter to seek funding, according to Quartz.
Almost any site or app can serve as a tip sheet for counterfeiters today, experts say. Instagram, which gives companies on a shoestring budget the ability to craft and distribute catalog-worthy images, frequently inspires mimicry. It's also an effective way to market knockoffs. One study showed how the Facebook-owned photo app is a hotbed for bots selling fake luxury goods. (Instagram did not respond to a request for comment.)
And even though Instagram is banned in China, copycats can simply download tools to get around the ban and trawl the photo app for inspiration.
"Imitation is the sincerest form of flattery, and that's especially true in the digital age," said Jason Brim, of Swedish bikewear brand Void, which first spotted fakes of its clothing on AliExpress a year and a half ago for about one-fifth the proper price. "If it's online, it will be copied."
Counterfeit cycling apparel and equipment has grown in tandem with the rising popularity of the sport in recent years. Cycling and all its associated gear is a $47 billion global business, five times the size of golf, according to consulting firm OC&C. That growth has happened more recently, as opposed to skateboarding and surfing, whose adherents don't fetishize equipment quite like cyclists do, experts say.
Fueling the rising sales, in part, are so-called Mamils, middle-aged men in Lycra who put their disposable income toward carbon bicycle frames, anatomically mindful saddles and fashionable apparel, known as kit.
Not all that gear is treated equally, however. After spending thousands on a bike (though there are inferior fakes of those, too), some riders may be reluctant to pay top dollar for apparel and instead choose a knockoff Rapha jersey (known as Raphaux), or more commonly, fake Oakley sunglasses.
"Cycling demands a lot of investment, so people will choose areas to skimp on," said Nich Barresi of Ornot, a San Francisco bike apparel brand. "After buying a nice bike, many people will say they don't want to spend a lot on apparel."
If they want, those penny pinchers can seek a knockoff Ornot jersey. They've been available on AliExpress for at least two years for about $30, a quarter the cost of authentic versions made of Italian fabric, the company said. Ornot filed an initial report with AliExpress in 2015, but the complaint stalled.
Chinese e-commerce platforms are required by their country's laws to respond to reports of infringement in a timely manner. Alibaba is notorious for fakes, but has in recent years enhanced its reporting system, resulting in a faster response. Its Taobao service deactivated the accounts of 230,000 sellers between September 2016 and August 2017 for violating intellectual property.
Contacted by The Times, Alibaba said it removed 163 listings Thursday on Taobao and AliExpress suspected of violating the rights of Team Dream, Void and Ornot.
"Alibaba's mission as a company is to help small businesses thrive — their success is our success. So, protecting their intellectual property is critical," the company said in a statement. "The best defense against IP criminals is the active cooperation of those seeking to earn a living from their IP" along with "law enforcement and e-commerce marketplaces like Alibaba."
Barresi says Ornot — which operates out of a tiny storefront in Nob Hill, but has nearly 14,000 Instagram followers — hasn't deemed the problem with fakes serious enough to devote more of its modest resources toward fighting. "We are a three-person company," he said. "We only have so much time. We can't spend it taking legal action on AliExpress."
But Andrew Love, head of brand security for one of the nation's biggest bicycle-makers, Specialized, said it's imperative that small companies take action while they can. Once you're big, counterfeiters have even more incentive to knock off your goods. "If a small brand fights back enough, counterfeiters will realize they're not worth the trouble," he said.
Talkington of Team Dream has similarly chosen to focus his energy on growing his brand rather than worrying about knockoffs. That means regular Instagram posts of cyclists ascending picturesque mountain roads in colorful apparel and photos of cats ("People respond more when we post cats," Talkington reasoned).
"Social media is a doubled-edged sword," said Talkington, 39. "The same reason we can be on the same playing field as bigger brands also means a graphic designer for counterfeiters is looking at us. I've fully accepted it's just part of what it means to be in fashion today."
Follow me @dhpierson on Twitter
---
Sign up for the California Politics newsletter to get exclusive analysis from our reporters.
You may occasionally receive promotional content from the Los Angeles Times.