Newsletter: Essential California: Compton popularized 'the chronic' but wants nothing to do with marijuana sales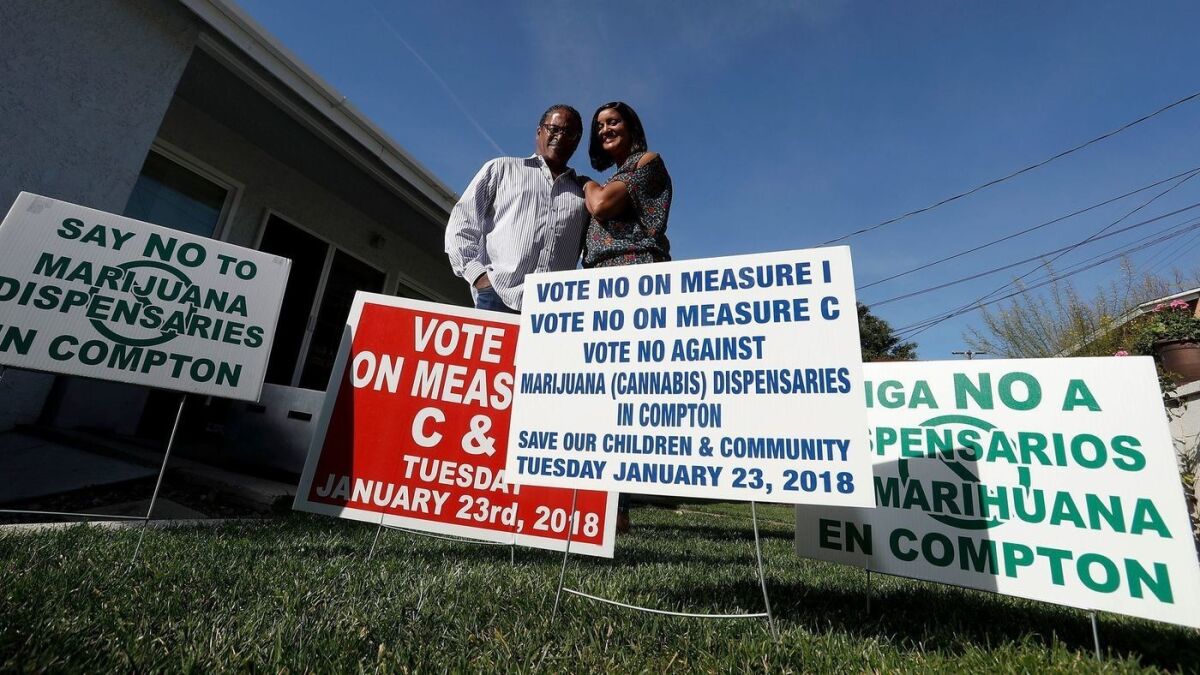 Good morning, and welcome to the Essential California newsletter. It is Saturday, Feb. 3. Here's what you don't want to miss this weekend:
TOP STORIES
Not sold in stores: Of the many cultural touchstones born on the streets of Compton, one of the most lasting is "The Chronic." Dr. Dre's classic 1992 album brought the nickname for high-grade cannabis into the mainstream, and, to the disdain of many Compton residents, cemented the city as the home of West Coast gangsta rap. But if you're looking to buy the chronic legally, don't come to Compton. Los Angeles Times
Records released: Eighteen alleged cases of sexual harassment, ranging from sharing of pornographic photos to a staff member accused of grabbing a woman's buttocks and genitals, were publicly disclosed by the California Legislature on Friday, detailed through investigation records that had been shielded in some cases for more than a decade. Los Angeles Times
School shooting: Police investigating the shooting of students at Sal Castro Middle School said the small-caliber handgun that was carried into a classroom appears to have fired a single round from inside a backpack. Los Angeles Times
Big price tag: Faced with a string of lawsuits over grisly crashes, the city of Los Angeles paid out more than $19 million last year to cyclists and their families for injuries and deaths on local streets. The amount is nearly four times higher than any other year during the last decade. Los Angeles Times
Here we go again: Will one of Hollywood's most talked-about remarriages really happen? Taking the first step toward a possible merger, CBS Corp. and Viacom Inc.'s boards each have formed special committees to evaluate whether a consolidation of the two media companies would benefit shareholders. Los Angeles Times
Immigration sweep: Federal agents this week ordered dozens of Northern California businesses to prove that their employees are authorized to work in the U.S., heightening tensions between state and federal officials over immigration policies. Los Angeles Times
And: Who will care for the elderly if those here illegally are pushed out? New York Times
Two telling stats: Apple made $88 billion, but is paying only $6 million for housing amid the Bay Area housing crisis. San Francisco Chronicle
Plus: Silicon Valley titan and Trump backer Peter Thiel said the East Bay is "basically a failing state" destined for economic failure. SF Gate
RIP: Her own saga as a refugee could have been a movie itself, but instead Hiep Thi Le tumbled into a career as an actress by portraying another woman's flight from war-torn Vietnam to America. The actress is being remembered. Los Angeles Times
New life: What was once a seedy motel in Santa Ana is now a haven for the homeless. Orange County Register
Too much? Why efforts to regulate plastics in California have sparked new charges we are becoming a "nanny state." Sacramento Bee
The latest #MeToo: Model actress Kate Upton accuses Guess founder Paul Marciano. People
Plus: A top Hollywood talent maven is accused by nine women. Washington Post
Enough already: "There's no there there." A quote many in California love to hate. Wall Street Journal
THIS WEEK'S MOST POPULAR STORIES IN ESSENTIAL CALIFORNIA
1. Photos from L.A.'s dark and disturbing past. Buzzfeed
2 . L.A.'s homelessness surged 75% in six years. Here's why the crisis has been decades in the making. Los Angeles Times
3. L.A. homeless crisis grows despite political promises, many speeches and millions of dollars. How do we fix this? Los Angeles Times
4. These photos show orcas catching a sea lion off the Southern California coast. Daily Breeze
5. A high-ranking state firefighter who was compelled to resign complains about the agency's "secret police." Sacramento Bee
ICYMI, HERE ARE THIS WEEK'S GREAT READS
Field work: Once in a while, an article comes along that really helps you understand California better. Marx Arax writes about one of the state's most elusive and misunderstood titans, Stewart Resnick, America's biggest farmer. It tells also you something profound about the Central Valley and complicated forces that harness its bounty. California Sunday Magazine
The fight: He's going to vomit. He just knows he's going to. On Super Bowl Sunday, one of the heroes on the field deals bravely with crippling anxiety. He will take deep breaths. He will realize that this is how his body processes the pressure. He will understand how he works. He knows it will pass. Los Angeles Times
Personal tale: Author Michael Chabon on the joys, terrors and pain of maintaining that father-son relationship. The New Yorker
Confronting hate: How L.A.'s 1980s and '90s punk rock movement fought to keep neo-Nazis out of the scene. Los Angeles Magazine
Please let us know what we can do to make this newsletter more useful to you. Send comments, complaints and ideas to Benjamin Oreskes and Shelby Grad. Also follow them on Twitter @boreskes and @shelbygrad.
---