Newsletter: Essential California: Orange County pushes back against state 'sanctuary' laws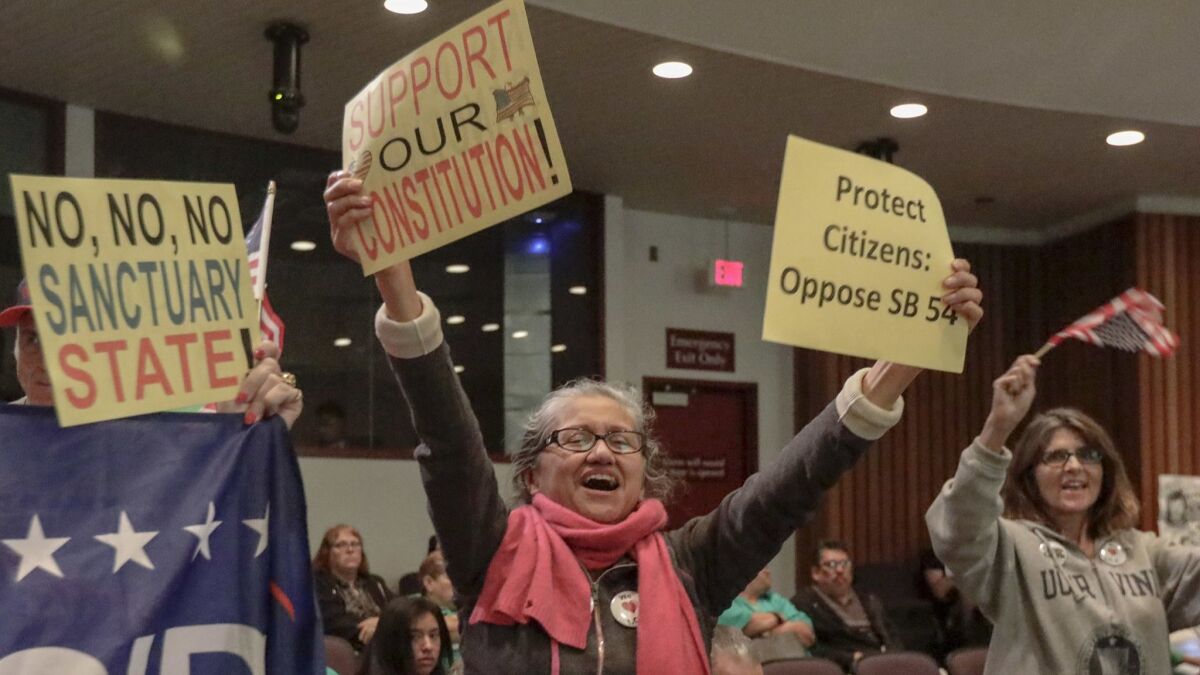 Good morning, and welcome to the Essential California newsletter. It's Wednesday, March 28, and here's what's happening across California:
TOP STORIES
Orange County is slowly turning blue, the experts say. It backed Hillary Clinton over Donald Trump. It's now majority minority. But the county has shown in the last week that it still has a red core, and has become the center of the fight against California's "sanctuary" laws. Los Angeles Times
Meanwhile: The Orange County Sheriff's Department made the release dates of jail inmates — including those in the country illegally — publicly available online, marking the latest local revolt against the state's "sanctuary" push. Los Angeles Times
And: State officials warn that the Trump administration's plan to ask everyone in America whether they are U.S. citizens as part of the 2020 census could cost California billions of dollars and a seat in Congress. Los Angeles Times
Plus: Where the candidates for governor stand on immigration. San Diego Union-Tribune
For Orange County's homeless, now what?
Orange County has evicted hundreds of homeless people from camps, enacted various sleeping restrictions and, in Anaheim, actually removed bus benches to prevent sleeping on them. But it still doesn't have a solution to its homeless crisis. One thing is clear: Adding more shelters is political unviable. Here's what the collapse of Orange County's homeless plan means. Los Angeles Times
Op-Ed: In Orange County, a textbook example of how to ignore the homeless crisis, not try to solve it. Los Angeles Times
The exception: For some formerly homeless veterans, their new home is on the water in Newport Beach. Los Angeles Times
Which way did they go?
Compton has been struggling in recent years with allegations of municipal mismanagement. So this is not going to help the city's image. A stockpile of 31 handguns from Compton's now-disbanded Police Department have vanished from a city vault, and federal authorities are now offering a $10,000 reward for information leading to the arrest and conviction of whoever stole the weapons. Los Angeles Times
L.A. STORIES
Double double trouble: In-N-Out is trying to stop an internet prankster from roaming into restaurants, pretending to be the chain's president and causing hilarity and havoc. Orange County Register
What the … ? It's the talk of the L.A. gentrification hot zone. Marc Maron's Spanish bungalow, which features one of the most famous garages in the comedy world, is on the market in Highland Park for $749,000. Los Angeles Times
"Lifesize LEGO-like" bricks: So this is what Elon Musk wants to do with all the dirt he digs up from his tunnel project. Daily Breeze
He's baaack: Former President Obama will be back in Beverly Hills, but will he be bringing Obamajam with him? Politico
Yuck: The final game of the Freeway Series ended in bizarre, malodorous fashion Tuesday as a pipe burst in Dodger Stadium and flooded the area near the Dodgers dugout. Los Angeles Times
POLITICS AND GOVERNMENT
Private man, public debate: A Silicon Valley tech worker has inserted himself into the forefront of California's hottest healthcare debate: whether it should adopt a statewide single-payer healthcare system. Los Angeles Times
Headed for L.A.: Prominent female Democratic senators from across the country plan to visit Los Angeles for a star-studded fundraiser during a three-city West Coast swing. Los Angeles Times
Zuck alert: Facebook has signaled that CEO Mark Zuckerberg will testify before Congress by discussing the details of the appearance with lawmakers. Los Angeles Times
CRIME AND COURTS
The state steps in: California's Department of Justice will oversee a Sacramento police investigation into the shooting death of Stephon Clark, the unarmed black man who was killed by officers during a vandalism investigation. Los Angeles Times
Sad tale: Los Angeles police investigating the disappearance of a young model and aspiring actress say they believe they've found her body in a shallow grave in a wildlife area 50 miles north of Sacramento, authorities said Tuesday. Los Angeles Times
Under review: Federal investigators are looking into a fatal Tesla crash that resulted in a fiery explosion. The company's stock dropped on the news. NBC Bay Area
One perspective: Robot cars might make us safer, but they will kill a piece of our soul. Wall Street Journal
Another perspective: California cyclists don't like self-driving cars one bit. Curbed San Francisco
THE ENVIRONMENT
Soaring: It's bald eagle season in Southern California, and bird watchers are very excited. New York Times
Not good: California's fishing industry is dying, and climate change is one big reason. Sacramento Bee
CALIFORNIA CULTURE
Misplaced faith? Asian Americans are more likely than other groups to believe that attending an elite university will shelter them from discrimination. But they are finding it does not. Los Angeles Times
Legit question: After "Hamilton," can musicals survive in Los Angeles? Los Angeles Times
Much ado about a spoon: How food guru Alice Waters' egg spoon — and cooking a single egg over wood — fueled the culture war against elite California cuisine. New York Times
Success story: The black entrepreneur from Watts who became L.A.'s undisputed quesadilla king and built a following around his African Americanized Mexican food. L.A. Taco
Making Lanford great again: "Roseanne" is back, and she loves Trump. New York Times
Cityscape: Mapping San Francisco's most iconic buildings. Curbed San Francisco
Parting ways: The abrupt departure of an uber-producer at Nickelodeon. Vanity Fair
CALIFORNIA ALMANAC
Los Angeles area: sunny and 79. San Diego: sunny and 71. San Francisco area: sunny and 68. Sacramento: sunny and 79. More weather is here.
AND FINALLY
Today's California memory comes from Larry Gundrum:
"My folks moved to 249 El Camino Drive in Beverly hills in 1934 to get away from the more developed part of Beverly Hills. It was pretty underdeveloped with lots of vacant lots for forts and dirtball wars. The best experience was that each Saturday morning, my mother would give me a dime and I would join the few other kids who lived in the area with a chaperone for a walk up El Camino to Wilshire Boulevard and across to Rodeo Drive. There we would go into the Beverly Theater and watch several cartoons and a serial such as the Lone Ranger. Rodeo Drive is a little different today."
If you have a memory or story about the Golden State, share it with us. Send us an email to let us know what you love or fondly remember about our state. (Please keep your story to 100 words.)
Please let us know what we can do to make this newsletter more useful to you. Send comments, complaints and ideas to Benjamin Oreskes and Shelby Grad. Also follow them on Twitter @boreskes and @shelbygrad.
---