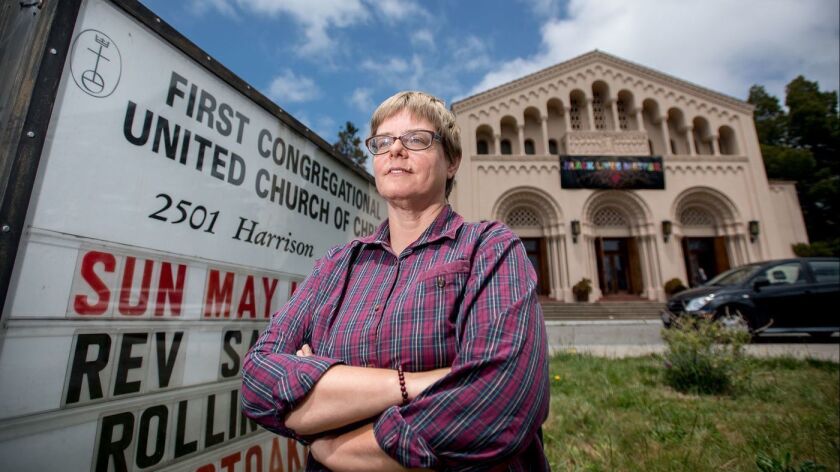 Good morning, and welcome to the Essential California newsletter. It's Thursday, May 31, and here's what's happening across California:
TOP STORIES
The First Congregational Church of Oakland is doing something different. "We can no longer tolerate the trauma inflicted on our communities by policing," Nichola Torbett, a white church volunteer, said in front of churchgoers who held photos of African Americans shot dead by law enforcement. The church, she promised, would never call the cops again in nearly every circumstance. Dozens of members had agreed to do the same. Los Angeles Times
Former dean's case is heard
An attorney representing former USC medical school dean Carmen Puliafito acknowledged at a state medical board hearing Wednesday that the physician used hard drugs while employed by the university, but that the doctor has been in recovery for months and should be allowed to practice medicine. The hearing marked the first time Puliafito's version of events has been aired publicly since The Times detailed his double life of using drugs and partying with criminals. Los Angeles Times
Speaker McCarthy? Not so fast
More than a month after House Speaker Paul D. Ryan anointed his second lieutenant as his heir apparent, House Majority Leader Kevin McCarthy is still struggling to lock down the support he needs to secure the job. The same House conservatives who blocked the Bakersfield Republican from ascending to the coveted post in 2015 do not appear any more convinced that he's their guy. Los Angeles Times
Get the Essential California newsletter »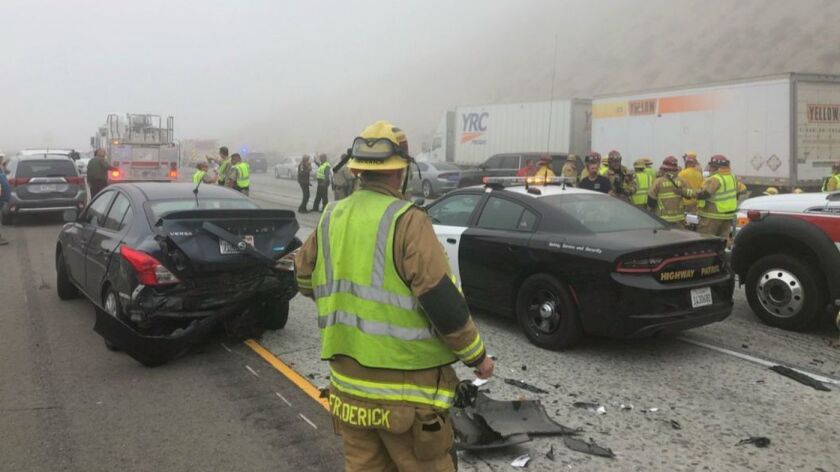 L.A. STORIES
New development alert! On a steep, barren hillside next to the landmark Angels Flight railway, developers plan to erect a $1.2-billion residential, hotel and retail complex anchored by a skyscraper of at least 80 stories that would be one of the tallest buildings west of the Mississippi River. Los Angeles Times
Corridors of power: How L.A. lawmakers use their power over homeless housing. Los Angeles Times
Speaking out: At L.A.'s only school for the deaf, parents want leaders who are fluent in American Sign Language. Los Angeles Times
Scary stuff: More than a dozen people were injured in a chain-reaction crash in the Cajon Pass on the 15 Freeway on Wednesday morning as thick fog drastically reduced visibility, authorities said. Los Angeles Times
POLITICS AND GOVERNMENT
Crossing the line: A Los Angeles city commissioner violated city standards of conduct when he called staffers "gorgeous," or said they "look good" in a suggestive tone, an investigation has found. Los Angeles Times
Big news: "Independents have surpassed Republicans to become the second-largest voting bloc in California, according to a firm that analyzes county voter registration information for campaigns." Sacramento Bee
Worrying about next week: California Democrats are agonizing over the House primaries. Politico
A prickly problem: Why San Francisco is stuck with a deluge of needles. San Francisco Chronicle
What?!? "California lawmakers added fuel to Elon Musk's entrepreneurial fire last week when they cleared the way for sales of the investor's newest — and probably hottest — product: personal flamethrowers." CalMatters
Fighting back: "The California Senate voted on Wednesday to approve a bill that would reinstate the net neutrality regulations repealed by the Federal Communications Commission in December." The Verge
Our future: "Why tiny brains are getting massive attention in the California governor's race." KPCC
CRIME AND COURTS
Police shootings: An attorney for the family of a 14-year-old boy killed by a Los Angeles police officer released body camera footage Tuesday of the 2016 encounter, arguing that the recordings show that the boy had tossed his gun and was unarmed when he was shot. Los Angeles Times
Awaiting extradition: A Perris man accused of taking part in an illegal street race in Mead Valley two weeks ago that resulted in the deaths of two young brothers has been arrested in the state of Washington. Los Angeles Times
Charge dropped: Prosecutors have dropped an assault charge against a former Los Angeles County sheriff's jail guard who was accused of allowing a man to be beaten by other inmates. Los Angeles Times
THE ENVIRONMENT
More California versus Trump: State Atty. Gen. Xavier Becerra joined his counterparts in New York and Maryland on Wednesday in filing another in a string of lawsuits against the Trump administration, this time challenging a decision to suspend safeguards for agricultural workers. Los Angeles Times
A water fight: "Environmentalists' lawsuit to drain Hetch Hetchy Reservoir heads back to court." Mercury News
CALIFORNIA CULTURE
Out of work: ABC's decision to cancel the "Roseanne" show will have a ripple effect on the hundreds of crew members who worked on the L.A.-based show. As many as 400 workers who had it made working on the most popular show on TV are now out of work in the wake of the star's racist comments. Los Angeles Times
Plus: With a racist tweet, Barr not only lost a job but also silenced a vital voice: Roseanne Conner's. Los Angeles Times
No LiAngelo, please? The Lakers shouldn't want another (less-talented) Ball in their court, writes columnist Bill Plaschke. Los Angeles Times
Slow down: How Waze and Google Maps turned an Encino neighborhood into a speedway. Los Angeles Times
Valley talk: How a Pentagon contract became an identity crisis for Google. New York Times
Great story: "This transgender student shows his 'true colors' in a black-and-white short film." Desert Sun
T-shirt talk: "L.A. artist Sonya Sombreuil is building a best-kept-secret merch outfit into a fully-fledged fashion brand." GQ
CALIFORNIA ALMANAC
Los Angeles area: partly cloudy, 68, Thursday; sunny, 73, Friday. San Diego: partly cloudy, 67, Thursday; sunny, 68, Friday. San Francisco area: cloudy, 60, Thursday; sunny, 67, Friday. Sacramento: partly cloudy, 74, Thursday; sunny, 87, Friday. More weather is here.
AND FINALLY
Today's California memory comes from Bonnie Metzger:
"In 1970 I left Boston to follow on the heels of the Summer of Love. The smell of roasting coffee in North Beach, and the sight of hanging Peking ducks in Chinatown; exotic Moroccan, Russian and Japanese foods convened with the sound of fog horns, the sense of freedom in a simpler place where I changed apartments yearly to devour the neighborhoods and architecture of a city and people that had completely stolen my heart. The times were wild, fun and simple, the rents affordable; taxis were cheap, as were the restaurants, and there was no traffic and abundant parking. It is not my city now, but the memories and longing for San Francisco then will haunt me forever."
If you have a memory or story about the Golden State, share it with us. Send us an email to let us know what you love or fondly remember about our state. (Please keep your story to 100 words.)
Please let us know what we can do to make this newsletter more useful to you. Send comments, complaints and ideas to Benjamin Oreskes and Shelby Grad. Also follow them on Twitter @boreskes and @shelbygrad.
---