Newsletter: Essential California: First, brown water. Then, a dirty trick in Compton?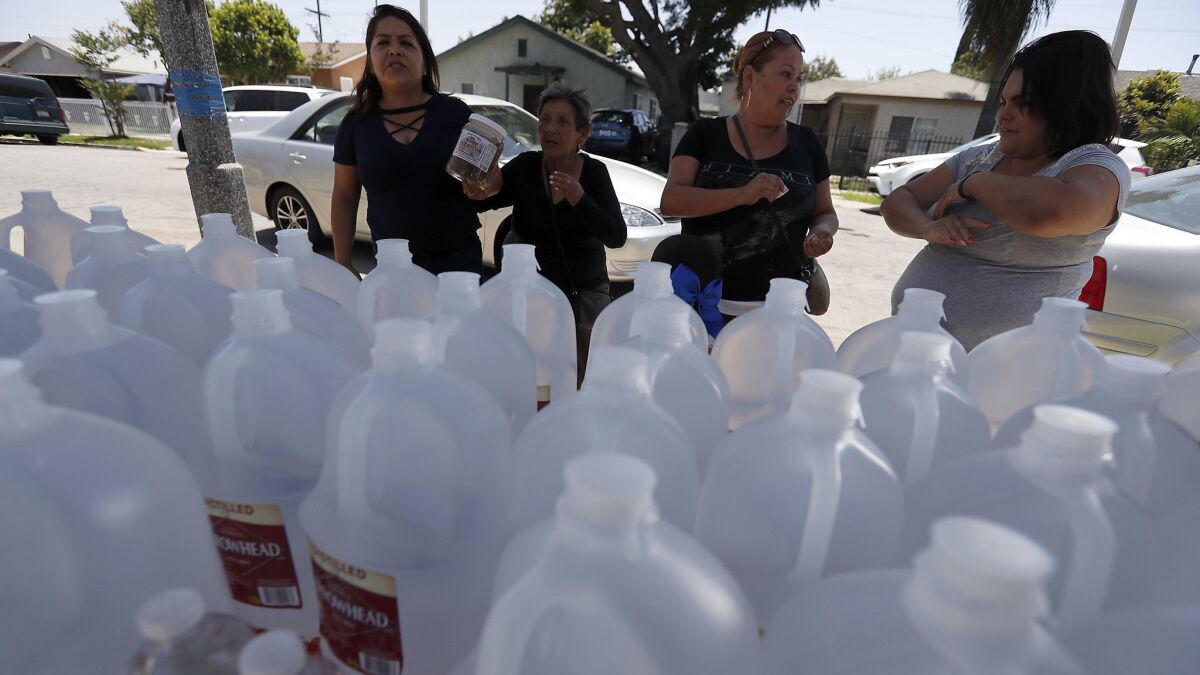 Good morning, and welcome to the Essential California newsletter. It's Wednesday, June 20, and here's what's happening across California:
TOP STORIES
Residents of Compton have complained about brown, smelly water coming out of their taps for more than a year. The situation got so bad that officials began talking about dissolving the troubled local water district. A congresswoman set up a town hall so community members could weigh in. That's when a curious ad appeared on Craigslist offering "political advocacy" work to African Americans and Latinos, with pay up to $40 and the possibility of a bonus. Los Angeles Times
World Cup mania!
This Pasadena dry cleaner never has a TV in his shop, except every four years when the World Cup happens. He is not a big sports fan, but loves this soccer extravaganza and sharing the experience with the neighborhood. Los Angeles Times
-- Mexico's coach Juan Carlos Osorio has proved his worth — and proved the critics wrong, writes columnist Kevin Baxter. Los Angeles Times
-- Another perspective: "Here's a reason not to root for Mexico in the World Cup soccer tournament: fans of El Tri chanting anti-gay slurs at players on the field." Los Angeles Times
Poll-a-palooza
Democrat Gavin Newsom has a dominant lead over Republican John Cox in California's race for governor, a contest in which a significant number of voters appear to have cast ballots strategically to sway the outcome of the state's top-two primary, according to a new USC Dornsife/Los Angeles Times poll. Forty-five percent of registered voters who said they planned to vote in the November race intend to support Newsom, while Cox won the support of 28% of those who plan to cast ballots, according to the poll. Twenty-seven percent of those voters were undecided. Los Angeles Times
-- Nearly half of registered California voters are still undecided in the U.S. Senate race between incumbent Dianne Feinstein and state Sen. Kevin de León, according to the poll. Los Angeles Times
Get the Essential California newsletter »
L.A. STORIES
Cute! Park rangers have found four furry cougar kittens living with their mother in the Simi Hills — the first den authorities have found in a small patch of terrain between the Santa Susana and Santa Monica mountain ranges, officials said. Los Angeles Times
Changing tunes: As Uber tries to build its reputation as a good citizen, it's unveiling a new plan: Get its drivers to adopt electric vehicles instead of driving cars that burn gasoline. Los Angeles Times
Great news: The Los Angeles Times is not the only Southland news outlet that was graced with good news this week. LAist is back and Long Beach is getting a new publication called the Long Beach Post. Check them out! LAist Long Beach Post
IMMIGRATION AND THE BORDER
Mexico weighs in: The Mexican government on Tuesday condemned as "cruel and inhuman" the Trump administration policy of separating immigrant families detained on U.S. soil. Los Angeles Times
A wow stat: The Trump administration has probably lost track of nearly 6,000 unaccompanied migrant children, thousands more than lawmakers were alerted to last month. McClatchy
Some help: "A Facebook fundraiser is set to raise $5 million in under five days in response to the Trump administration's 'zero tolerance' policy on immigration and the separation of thousands of children from their families at the border." The Verge
The reality: "The former head of U.S. Immigration and Customs Enforcement told NBC News that migrant parents separated from their children at the border are sometimes unable to relocate their child and remain permanently separated." NBC News
POLITICS AND GOVERNMENT
LAUSD update: Los Angeles school district officials on Tuesday approved, as expected, a $13.7-billion spending plan for next year but also pledged to take on a comparatively tiny amount of new spending that could pay off big for students: free college admissions tests and a college savings account. Los Angeles Times
Luck doesn't just happen: "How California lawmakers goosed jackpots to create record-setting lottery sales." LAist
90210: It was a Trump favorite. Now lawyers want the famously discreet Beverly Hills Hotel to share its secrets. Washington Post
CRIME AND COURTS
A different way in: The discovery of a panga-style boat that may have been used to smuggle immigrants onto an Orange County beach triggered the temporary lockdown of an elementary school as authorities searched the area for the vessel's occupants Tuesday morning. Los Angeles Times
In the air: Members of a California-based drug ring have been using commercial flights to New Orleans' Louis Armstrong International Airport to run marijuana and other drugs into Jefferson Parish, according to an indictment. New Orleans Advocate
Amazing photos: Caring for California's aging prisoners. Reuters
THE ENVIRONMENT
Standing tall: As the Trump administration moves to roll back ambitious vehicle-emissions targets, California and several other states that rely on those standards to achieve their clean air goals have enlisted an influential new partner in the fight to keep the rules intact. Los Angeles Times
CALIFORNIA CULTURE
Hollywood responds: Producer Judd Apatow is rallying people in positions of power at Fox to protest Fox News' coverage of the Trump administration, particularly its stance on the "zero tolerance" immigration policy that has been separating children from their parents at the southern border. Los Angeles Times
In Moscow: Mexico's World Cup captain Rafa Marquez made history on several fronts when he came on as a substitute in the team's upset of Germany. But he also is tiptoeing around American law as the result of being blacklisted for allegedly helping launder drug cartel money. New York Times
Exciting! After some of the worst landslides in the state's history, the last section of California Highway 1 will reopen in July, sooner than expected. Washington Post
A plot!? Tesla Chief Executive Elon Musk told employees via email that an employee who committed "extensive and damaging sabotage" by breaking into software systems at Tesla's auto plant could be part of a larger plot by enemies bent on the company's destruction. Los Angeles Times
CALIFORNIA ALMANAC
Los Angeles area: Sunny, 80, Wednesday. Sunny, 81, Thursday. San Diego: Partly cloudy, 72, Wednesday and Thursday. San Francisco area: Partly cloudy, 64, Wednesday. Partly cloudy, 66, Thursday. Sacramento: Sunny, 91, Wednesday. Sunny, 96, Thursday. More weather is here.
AND FINALLY
Today's California memory comes from Dr. Greg Maguire:
"I arrived in Berkeley in the 1980s, having crossed the country by car in a five-day journey from Cambridge, Mass. Setting foot the next day on the beautiful UC Berkeley campus made me realize that the long journey in a small car was well worth the effort. I knew coming here that Berkeley had ushered in the atomic age by Dr. Lawrence first smashing the atom on campus, Oppenheimer leading the development of the atom bomb, Mario Savio leading the free speech movement, that the oncogene and covalent bonding had been discovered here, along with 16 elements on the periodic table, and the very reason I had become a neuroscientist, because Dr. Marian Diamond had discovered neuroplasticity here. Standing amidst Classical Revival architecture and underneath the Campanile that day, I was inspired to do my small part in helping to change the world for the better. I've lived in many parts of the U.S., and indeed a number of places in the world, but no other place affords opportunity and inspires like California."
If you have a memory or story about the Golden State, share it with us. Send us an email to let us know what you love or fondly remember about our state. (Please keep your story to 100 words.)
Please let us know what we can do to make this newsletter more useful to you. Send comments, complaints and ideas to Benjamin Oreskes and Shelby Grad. Also follow them on Twitter @boreskes and @shelbygrad.