Newsletter: Essential California: The threat to the cliffs from a rising sea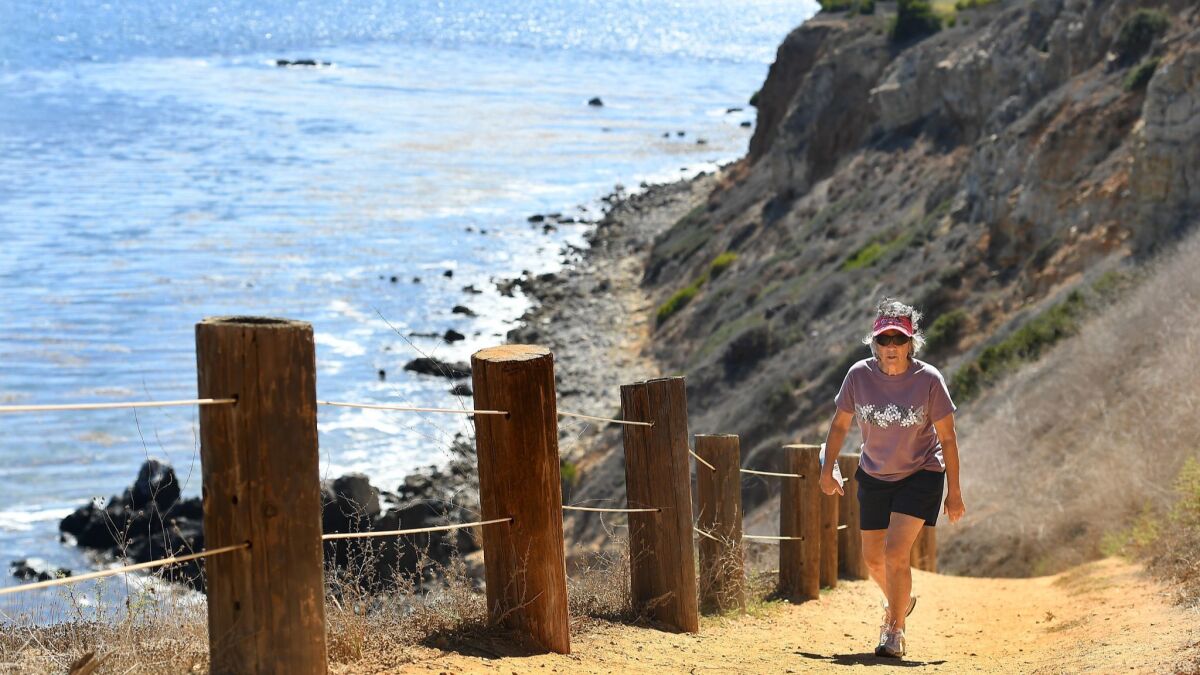 Good morning, and welcome to the Essential California newsletter. It's Wednesday, June 27, and here's what's happening across California:
TOP STORIES
The steep cliffs that buttress Malibu and other coastal towns in Southern California could erode by 130 feet by the year 2100, according to a new study led by the U.S. Geological Survey. It's the latest sign of how sea level rise is also eating away at California's coastal cliffs. The question is by how much, as Californians have heavily developed and continue to build along the edge of the Pacific. Los Angeles Times
A fight over the kids
Hours after a Trump Cabinet member told Congress that the administration would not reunite migrant children with parents still held in immigrant detention facilities, a federal judge in San Diego ordered the government to begin doing just that. In a preliminary injunction issued late Tuesday, U.S. District Judge Dana Sabraw ordered the government to reunite nearly all children under age 5 with their parents within 14 days and older children within 30 days. Los Angeles Times
Shame game
Rep. Maxine Waters (D-Los Angeles) says the Trump administration should be repeatedly confronted in their everyday lives. Her comments have generated much debate in conservative media circles, and some Democrats worry her brand of resistance could backfire. Los Angeles Times
-- President Trump seems to love making Waters a punching bag. Los Angeles Times
-- How Waters became the firebrand center of the resistance. Washington Post
-- The resistance was out in force to protest Atty. Gen. Jeff Sessions' visit to downtown L.A. Los Angeles Times
-- Voting is a lot more effective than ostracism. Los Angeles Times
Get the Essential California newsletter »
L.A. STORIES
Making the leap: At 11 a.m. Tuesday, the wildlife experts opened their aquarium bags and gently released 500 Southern mountain yellow-legged frog tadpoles reared at the Los Angeles Zoo into a knee-deep stretch of Big Rock Creek where they've been absent for half a century. It was a homecoming for one of the most endangered amphibians on the planet. Los Angeles Times
Hipster hoteliers: The lowly L.A. roadside motel is joining the gentrification bandwagon. Curbed Los Angeles
Don't do it: Lifeguards are issuing a summer warning: Digging big holes into the sand can turn deadly. Los Angeles Daily News
No stunt: Anthony Bourdain found perhaps a powerful symbol of ethnic food in L.A. in an unlikely place: the Sizzler in Koreatown. Los Angeles Review of Books
Taste of home: Finding yourself in grandma's Armenian pilaf. LAist
CRIME AND COURTS
Blocked: The Supreme Court blocked enforcement of a California law that requires faith-based crisis pregnancy centers to notify patients that the state offers subsidized medical care, including abortions. The court did not directly strike down the entire California law, but sent the case back to lower courts with instructions that enforcement of key provisions be immediately blocked while the legal challenge continues. Los Angeles Times
For her, a hollow victory: For decades, Karen Korematsu has hoped and prayed that someday the U.S. Supreme Court would overturn its infamous 1944 decision upholding the mass incarceration of her father, Fred, and 120,000 others of Japanese descent during World War II. But when the high court condemned that decision Tuesday, Korematsu was not overjoyed. She was disheartened. Los Angeles Times
Sentenced: A graphic novelist who once had a fledgling Hollywood career was sentenced Tuesday to life in prison for the torture killing of his fiancee — a murder prosecutors say took cues from a gory book he worked on years earlier. Los Angeles Times
POLITICS AND GOVERNMENT
On the ballot: Voters are poised to consider who should be responsible for cleaning up lead paint in homes after an initiative sponsored by two national paint companies qualified Tuesday for the Nov. 6 ballot. Los Angeles Times
In the money: Gov. Jerry Brown and state legislators were given 3% raises Tuesday by a government panel that noted California's economy is booming, and its new budget is flush with cash. Los Angeles Times
Brain drain: China is coming to Silicon Valley searching for tech talent. Now, the Trump administration is concerned. Wall Street Journal
Eureka: This is the reason, more than any other, why splitting up California is impossible. Sacramento Bee
THE ENVIRONMENT
Trees, please: Northern California has a new preserve of majestic redwoods that might even top Muir Woods. Mercury News
CALIFORNIA CULTURE
Harsh, dude: The backlash to making surfing California's official state sport. Mercury News
Yikes: In San Francisco, a six-figure salary is now considered "low income." SF Gate
Permit Patty backlash: She called the police on a girl selling water in San Francisco. Now, she's paying a price. San Francisco Chronicle
Makeover time: A closer look at Disneyland's Pixar Pier. Orange County Register
CALIFORNIA ALMANAC
Los Angeles area: Sunny, 78, Wednesday. Partly cloudy, 77, Thursday. San Diego: Partly cloudy, 74, Wednesday. Partly cloudy, 70, Thursday. San Francisco area: Partly cloudy, 63, Wednesday. Sunny, 69, Thursday. Sacramento: Partly cloudy, 85, Wednesday. Sunny, 91, Thursday. More weather is here.
AND FINALLY
Today's California memory comes from Haleemon Anderson:
"I was 14 in 1968 when we left Mississippi, headed West. That song about San Francisco and flowers in your hair played on the radio, and driving through the Southwest, all I could think was, 'Please, Dad, don't stop here.' Our sojourn ended at Howard Johnsons Redwood City, and we kids spent the first week splashing at the pool and baking darker. I enrolled at the local high school, Sequoia. My immediate impression: Died. Arrived At. Heaven. The diversity took my breath and stole my heart. I live in Los Angeles now. I've never thought of moving out of state."
If you have a memory or story about the Golden State, share it with us. Send us an email to let us know what you love or fondly remember about our state. (Please keep your story to 100 words.)
Please let us know what we can do to make this newsletter more useful to you. Send comments, complaints and ideas to Benjamin Oreskes and Shelby Grad. Also follow them on Twitter @boreskes and @shelbygrad.
---