Good morning, and welcome to the Essential California newsletter. It's Monday, Aug. 27, and here's what's happening across California:
TOP STORIES
After years of planning and debate, as well as real estate busts and booms, it's looking more likely a new city will emerge on the northern tip of L.A. County near the Grapevine. At a time when many planners are urging denser developments in the urban core near transit lines and job centers, Centennial at Tejon Ranch is a throwback to a much more traditional form of development in California. It would create a whole new community on the fringes of the city, extending Southern California's suburbs outward to now remote, empty land. Los Angeles Times
-- The cycle in the Bay Area from homeowner to being evicted can be rapid and cruel. Mercury News
-- The Big Lebowski problem in California housing. CALmatters
Too much, too fast?
The California bullet train project has cost state taxpayers an average $3.1 million a day over the last year — a construction spending rate higher than that for the Bay Bridge, Boston's Big Dig or any U.S. transportation project in recent history But still it's not enough, planners say. And some critics wonder whether this timetable is far too optimistic, even after years of delays and cost overruns. Los Angeles Times
A test of faith
As the Catholic Church is once again roiled by sexual abuse scandal, it's been a painful, trying time for the faithful. A Sunday at the Cathedral of Our Lady of the Angels in downtown L.A. offers a window into the feelings of betrayal and belief. Los Angeles Times
Get the Essential California newsletter »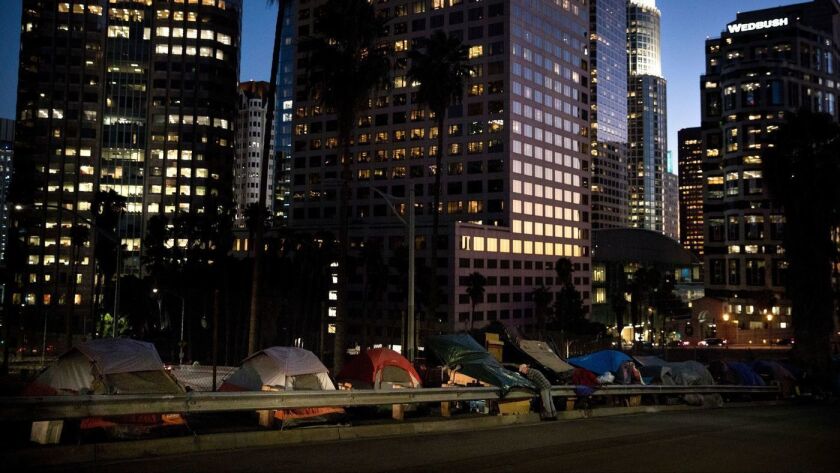 L.A. STORIES
Is L.A. getting better or worse? "Los Angeles is a singular, inspired mess, paradise lost and found, prone to natural catastrophe and too chaotic and leaderless to be neatly assessed as getting better or worse. It's always doing some of both, and like any work in progress, it's in greater need of critics than defenders." — Times columnist Steve Lopez and many readers weigh in on this question. Los Angeles Times
The call for equal pay: More than 3,000 people, including multiple prominent actors, directors and producers, have signed an open letter calling on the entertainment industry to end what activists describe as a vast pay gap between male and female production workers. Los Angeles Times
La Bamba: Valley music icon Ritchie Valens gets a highway named after him. Los Angeles Daily News
Pure Gold: Family, friends and fans of Jonathan Gold gathered in downtown Los Angeles on Sunday evening to celebrate the life of the late restaurant critic, who died July 21 of pancreatic cancer. Los Angeles Times
Oldies but goodies: The 13 Hollywood hotspots that defined the golden era. Vanity Fair
POLITICS AND GOVERNMENT
Over here: Is Rep. Duncan Hunter really blaming his wife for their corruption scandal? San Diego Union-Tribune
-- Charities caught up in the scandal are disgusted with their congressman. Los Angeles Times
--The rise and fall of a war hero who seemed to have it all. New York Times
Farmer? Leader? Traitor? The Central Valley is trying to understand its unlikely political superstar, Rep. Devin Nunes. Fresno Bee
Plus: Is Nunes' "fake news" war against the Fresno Bee working? Vice
Not too surprising: Rep. Dana Rohrabacher, the embattled Orange County congressman known for his close ties to the Kremlin, said that Atty. Gen. Jeff Sessions should resign after showing disloyalty to President Trump by refusing to shut down the Russia investigation. Los Angeles Times
CRIME AND COURTS
Jacksonville victim: Friends of Elijah Clayton remembered the Madden NFL gamer who was shot and killed Sunday while attending a tournament in Jacksonville, Fla. Clayton grew up in West Hills. Los Angeles Times
What is taking so long? It is one year, five months, two weeks and counting since Justice Kathryn Mickle Werdegar announced her retirement, presenting Gov. Jerry Brown with an opportunity to appoint a fourth justice to the seven-member court. Los Angeles Times
GKS update: The genealogist who helped authorities with the Golden State Killer case speaks out. Orange County Register
Fight continues: The Trump administration is appealing a federal judge's preliminary injunction against family separation, saying it would not derail the effort to reunify hundreds of migrant children who remain apart from their parents or guardian as a result of the administration's "zero tolerance" immigration policy. Los Angeles Times
Whoops: Elon Musk's legal jeopardy. Los Angeles Times
Dan Walters weighs in: Assessing the legacy of crime and Gov. Jerry Brown. CALmatters
THE ENVIRONMENT
It's inevitable: PG&E customers can assume their bill will go up as the utility faces massive costs from the wine country fires. San Francisco Chronicle
Hint, hint: "Skies have been sooty over the state Capitol for weeks, soiled by Northern California wildfires. It's a daily reminder for legislators and Gov. Jerry Brown about what their top priority should be," writes columnist George Skelton. Los Angeles Times
"Forever changed": For Redding, the trauma is just beginning. Record Searchlight
CALIFORNIA CULTURE
The big picture: The incredible tale of a San Francisco pioneer who believed there was much more to a good life than making the perfect app. Meet Howard Thurman. Boom California
At the box office: Another big weekend for "Crazy Rich Asians." Los Angeles Times
RIP: Neil Simon's second act made him a legend. Los Angeles Times
Who knew? When Dianne Feinstein and Mick Jagger teamed up to save San Francisco's cable cars. San Francisco Chronicle
On campus: Major universities will begin fall classes facing intense pressure to grow and the need to adjust to a new generation of students who are far different from the millennials they've been serving. San Diego Union-Tribune
Locol redux: Celebrity chefs could not make it work in Watts. Why? "It's like they put a menu in there [that] they're trying to force down our throat," one resident said. "Instead of tacos they had foldies. We don't know what a foldy is. We don't eat foldies around here. We eat tacos." LAist
CALIFORNIA ALMANAC
Los Angeles area: Partly cloudy, 79, Monday. Partly cloudy, 81, Tuesday. San Diego: Partly cloudy, 77, Monday. Partly cloudy, 79, Tuesday. San Francisco area: Partly cloudy, 63, Monday. Partly cloudy, 65, Tuesday. San Jose: Partly cloudy, 78, Monday. Partly cloudy, 79, Tuesday. Sacramento: Partly cloudy, 82, Monday. Sunny, 82, Tuesday. More weather is here.
AND FINALLY
This week's birthdays for those who made a mark in California: Rep. Julia Brownley (Aug. 28, 1952), actress Cameron Diaz (Aug. 30, 1972) and L.A. Police Commission President Steve Soboroff (Aug. 31, 1948).
Please let us know what we can do to make this newsletter more useful to you. Send comments, complaints and ideas to Benjamin Oreskes and Shelby Grad. Also follow them on Twitter @boreskes and @shelbygrad.
---