Rohrabacher says Sessions should resign if he won't bend to Trump's will
Dana Rohrabacher, the embattled Orange County congressman known for his close ties to the Kremlin, said Friday that Atty. Gen. Jeff Sessions should resign after showing disloyalty to President Trump by refusing to shut down the Russia investigation.
For a Republican incumbent already in danger of losing his seat in a district that favored Hillary Clinton over Trump in 2016, the remarks carried the risk of serious political damage.
In most of the nation's hotly contested House races, the Russia scandal has not been a big focus. But Rohrabacher's friendly posture toward Russian President Vladimir Putin has caused trouble in his run for reelection.
His latest comments came a day after Sessions responded to Trump's extraordinary attacks on his own attorney general by saying the Justice Department "will not be improperly influenced by political considerations."
"The fact that Jeff Sessions has not quit is a disloyalty to this president and to the country," Rohrabacher (R-Costa Mesa) told Fox Business Network. "The fact is, if he disagrees with what the president wants him to do, he should resign."
The president reiterated on Fox News this week that Sessions should not have recused himself from the criminal investigation of Russia's interference in the 2016 U.S. presidential election and the Trump campaign's possible involvement. Sessions cited a potential conflict with his role as a top advisor to the campaign.
"He took the job" as attorney general, Trump said, "and then he said I'm going to recuse myself — I said what kind of a man is this? And by the way, he was on the campaign. You know, the only reason I gave him the job, because I felt loyalty."
Rohrabacher attacked the media's coverage of the Russia scandal, saying it has made it politically impossible for Trump to fire Sessions.
"The fake news has created the situation where if the president does what's right, so that he can assume his authority as president, there would be an avalanche saying, 'Oh, it's part of the cover-up,'" he said. "They've been looking for collusion."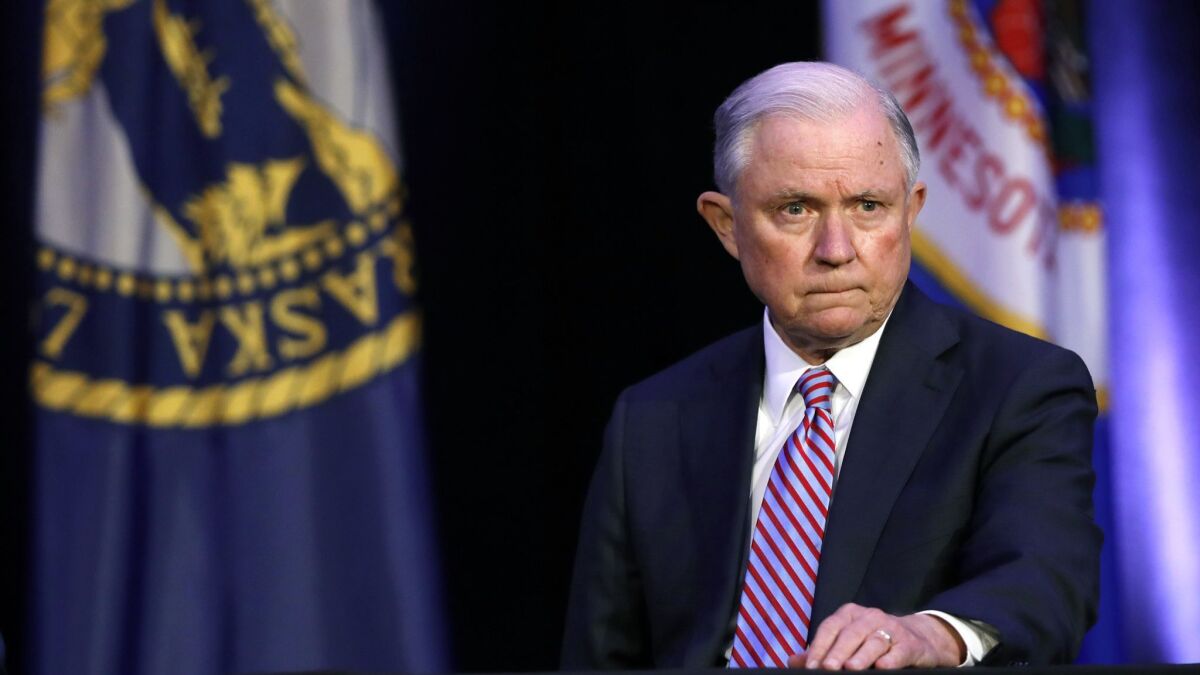 The congressman's remarks drew a scalding attack from his Democratic challenger, Harley Rouda, who cast Rohrabacher as a tool of Putin.
"It's an utterly radical, un-American idea to attack the Attorney General because he is resisting efforts to pervert the Department of Justice's truth-seeking mission with the worst kind of craven, partisan politics," Rouda said by email.
"The truth — that Dana can't or won't comprehend — is that justice in America and the enforcement of our nation's laws are not based on a loyalty test. That's the way things work in dictatorships, not in the greatest democracy the world has ever known."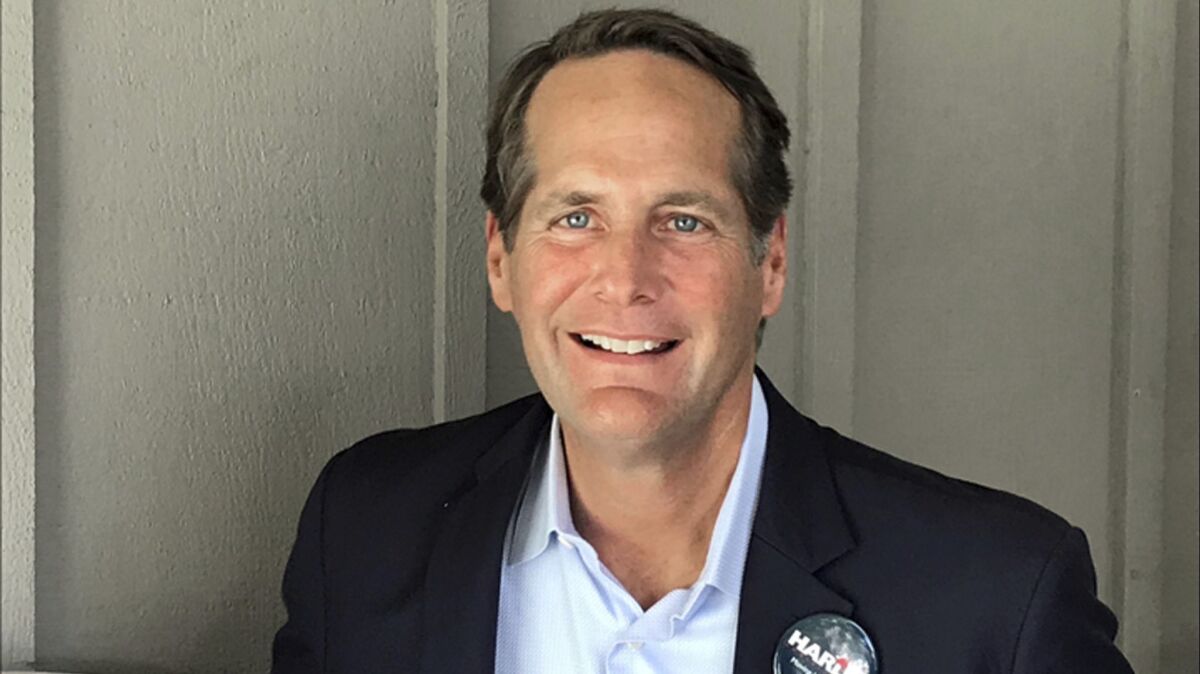 Rohrabacher is one of the dozens of Republicans in Congress facing tough fights for reelection as Democrats try to seize control of the House in the November midterm election.
Trump's unpopularity in upscale suburban districts such as Rohrabacher's poses major problems for the GOP. First elected to Congress 30 years ago, Rohrabacher typically romps to reelection.
But his coastal district, which stretches from Seal Beach to South Laguna, is less solidly Republican than it used to be.
And Rohrabacher's friendliness toward Russia has become a big political liability as special counsel Robert S. Mueller III prosecutes a growing circle of Trump advisors. Rohrabacher has long called for closer U.S. ties to Russia. Critics call him Putin's favorite congressman.
In a private meeting with GOP colleagues last year, House Majority Leader Kevin McCarthy (R-Bakersfield) was caught on tape saying he suspected Rohrabacher and Trump were on Putin's payroll, the Washington Post reported.
In his Fox Business Network interview, Rohrabacher also defended Trump's alleged approval of a $130,000 payoff to adult-film star Stormy Daniels to keep her quiet before the 2016 election about her alleged 2006 affair with Trump.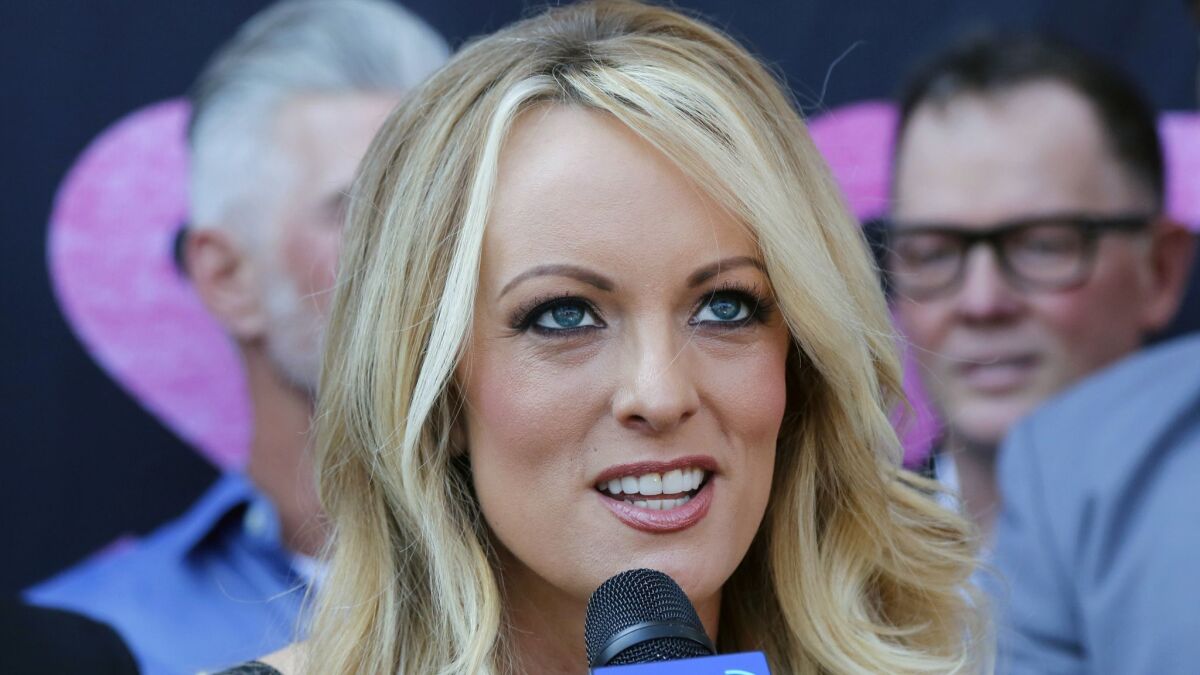 When Michael Cohen, the Trump lawyer who brokered the deal, pleaded guilty this week to eight felonies, including making the illicit payment to Daniels to influence the election, he testified that Trump ordered him to pay her the hush money.
"The guy who's mistakenly handling it so that every bit of the procedure isn't correct, he's not the villain," Rohrabacher said of the president. "The villain is the person blackmailing him."
He added, "Sometimes people make mistakes when they're a little bit desperate."
"These comments are outrageous and false," said Michael Avenatti, Daniels' attorney. "Who is this disgusting pig who knows nothing about the facts of our case?"
Daniels, whose real name is Stephanie Clifford, is suing the president to void the nondisclosure agreement between her and Trump. Her suit came days after the president's lawyers filed an arbitration claim seeking millions of dollars from Daniels for allegedly breaking the confidentiality pact.
Twitter: @finneganLAT
---
Life is stressful. Our weekly mental wellness newsletter can help.
You may occasionally receive promotional content from the Los Angeles Times.