Newsletter: Essential California: One young L.A. woman's struggle for a better life
Good morning, and welcome to the Essential California newsletter. It's Monday, Sept. 10, and here's what's happening across California:
TOP STORIES
"We keep hearing about an economy that's referred to as robust or rip-roaring, which leaves a lot of people wondering how they missed out on the recovery."
-- Columnist Steve Lopez, who along with photographer Francine Orr, has been examining the wrenching child poverty that has raged in a time of plenty and riches for some. This week, they profile a young woman who reminds us that the struggle for a better life is hard but also marked by dignity and respect. Meet Yecenia Perez. Los Angeles Times
Earlier in their series:
-- The clinic that serve L.A.'s poorest children. Doctors say they are shocked at what they see, with poverty being the cause of so much pain. Los Angeles Times
-- Kids dreaming of a better life, from the misery of skid row. Los Angeles Times
The recovery left them behind
When the housing market collapsed 10 years ago, the Victor Valley took the blow full force. Weeds overtook lawns. Vandals broke windows and stole copper pipes. Squatters took up residence in bank-owned homes. But even amid the housing recovery, many in this Inland Empire region are underwater. The recovery here is far from complete. Los Angeles Times
-- Has your home value rebounded from the crash? Los Angeles Times
-- Amid the chaos, the big banks got hundreds of billions in bailouts, and Washington injected trillions more into the financial markets and the economy. But there were no big bailouts for lower- or middle-income Americans. Los Angeles Times
-- Are you ready for the next recession? Los Angeles Times
Get the Essential California newsletter »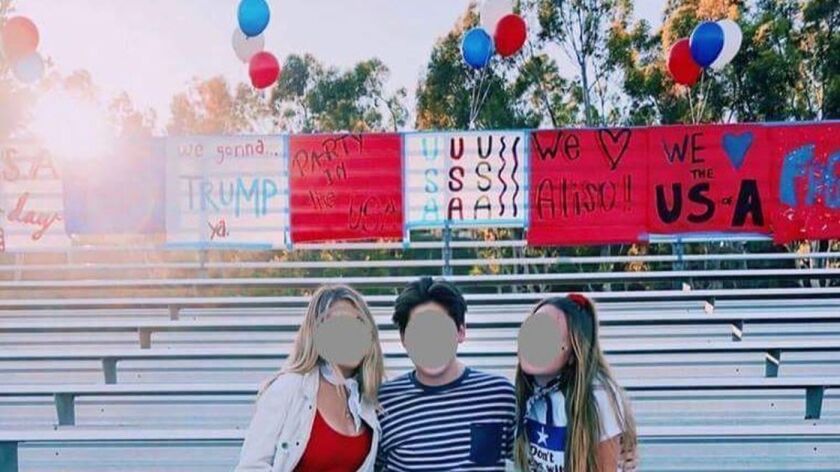 L.A. STORIES
In Orange County: The principal of mostly Latino Santa Ana High says students at mostly white Aliso Niguel directed racially tinged intimidation toward his team, including signs reading "We love White" and "Build the wall." Others say it was a misunderstanding. Los Angeles Times
Summer of upheaval: For Korean Americans all across the Southland, Koreatown has always been something of a mecca where friends and family regularly convene to eat, grocery shop or attend church. This summer, they came out to protest. But some say this has drowned out the voices of others in the community. Los Angeles Times
Under review: Campaign donors and staffers for L.A. Councilwoman Nury Martinez were summoned to an L.A. County grand jury. Los Angeles Times
Safe return: When a Cambodian court sentenced her husband, Meach Sovannara, to 20 years in a hellish prison after what human rights observers dismissed as a "show trial" in 2015, his wife feared she had seen him for the last time. But this weekend, they were reunited. Los Angeles Times
Painful lessons: The Chatsworth Metrolink crash was one of the worst rail disasters in L.A. history. Here's what's changed 10 years later. Los Angeles Daily News
Lots of $$$: The great L.A. mega-mansion wars. Wall Street Journal
CRIME AND COURTS
Who will bail out the industry? Facing the end of cash bail in California, bail associations are trying to block the new law, and agents are scrambling to find new careers, closing up shop or weighing whether to move out of state. Los Angeles Times
Our executive editor weighs in: Neither President Trump nor Congress can easily change defamation laws, and his own inflammatory rhetoric would most certainly be a casualty were the laws toughened. Los Angeles Times
The next big question: Who will defend the Golden State Killer suspect? Sacramento Bee
New tack: Is bullet control better than gun control? California about to find out. New York Times
POLITICS AND GOVERNMENT
Speaking up: Former President Obama is back on the campaign trial, and he's not exactly preaching hope and change this time. Los Angeles Times
Heating up: Activists plan to be out in force at the climate change summit in San Francisco. San Francisco Chronicle
Will it work? Questions about how strong Rep. Duncan Hunter's defense strategy actually is. San Diego Union-Tribune
"The Browns of California": The family that defined postwar California. San Francisco Chronicle
In the LBC: Long Beach thinks better signage will help set it apart. Long Beach Post
CALIFORNIA CULTURE
He's gone: Bowing to pressure brought on by a sexual harassment scandal, CBS Corp. Chairman and Chief Executive Leslie Moonves resigned Sunday, marking a stunning fall from grace for one of Hollywood's most respected entertainment executives. Los Angeles Times
Plus: More allegations against Moonves sealed his fate. The New Yorker
Not staying silent: Stars of "The Predator" addressed director Shane Black's decision to cast registered sex offender Steven Wilder Striegel in the film and praised Olivia Munn for speaking out. Los Angeles Times
Great debate: Can superheroes wear ponytails? Los Angeles Times
Know the flora: How the Mexican fan palm became the king of Los Angeles trees. Curbed Los Angeles
50 years later: The birth of Chicano studies and how that legacy remains so vital today. The Atlantic
Yikes: Even Stanford University is struggling with the Bay Area housing crunch. Mercury News
Good boy: The unbreakable bond between a service dog and his ailing master. Fresno Bee
CALIFORNIA ALMANAC
Los Angeles area: Partly cloudy, 84, Monday. Partly cloudy, 81, Tuesday. San Diego: Partly cloudy, 77, Monday. Sunny, 75, Tuesday. San Francisco area: Sunny, 69, Monday. Cloudy, 65, Tuesday. San Jose: Sunny, 80, Monday. Sunny, 76, Tuesday. Sacramento: Sunny, 92, Monday. Sunny, 86, Tuesday. More weather is here.
AND FINALLY
This week's birthdays for those who made a mark in California: L.A. City Councilman Jose Huizar (Sept. 10, 1968), ballet star Misty Copeland (Sept. 10, 1982), former Rep. Henry Waxman (Sept. 12, 1939), L.A. City Councilman Bob Blumenfield (Sept. 13, 1967) and Board of Equalization member Jerome Horton (Sept. 14, 1956).
If you have a memory or story about the Golden State, share it with us. Send us an email to let us know what you love or fondly remember about our state. (Please keep your story to 100 words.)
Please let us know what we can do to make this newsletter more useful to you. Send comments, complaints and ideas to Benjamin Oreskes and Shelby Grad. Also follow them on Twitter @boreskes and @shelbygrad.
---