'My silence is not for sale': Olivia Munn, 'Predator' costars address Shane Black controversy
"The Predator" stars Olivia Munn, Trevante Rhodes and Augusto Aguilera address the controversial casting of a registered sex offender in the movie.
Reporting from Toronto —
Saturday at the Toronto Film Festival, stars of "The Predator" addressed director Shane Black's decision to cast registered sex offender Steven Wilder Striegel in the film and praised Olivia Munn for speaking out about the move, which prompted a last-minute recut made public in a report by the Los Angeles Times.
"I wasn't disappointed in Shane," said Trevante Rhodes during a group interview with Munn and Augusto Aguilera at The Times' TIFF studio. "I was disappointed in the situation, and I'm happy that Liv spoke up."
"I thought about the possibility of this continuing to happen, and where it happens — and also to Liv, for speaking up on such a subject, because it takes a lot of courage to be able to say that," added Aguilera.
Strieger pleaded guilty in 2010 to felony charges that he attempted to lure a 14-year-old female relative into a sexual relationship via the internet.
Black subsequently cast Strieger in 2013's "Iron Man 3" and 2016's "The Nice Guys" and gave him a speaking role in "The Predator" playing a jogger who hits on Munn's character.
News of the Striegel casting and recut broke on the eve of the film's Toronto Film Festival debut. Black issued a statement of apology later that day and skipped red carpet press interviews and a post-screening Q&A at his premiere that night.
"I apologize to all of those, past and present, I've let down by having Steve around them without giving them a voice in the decision," his statement read.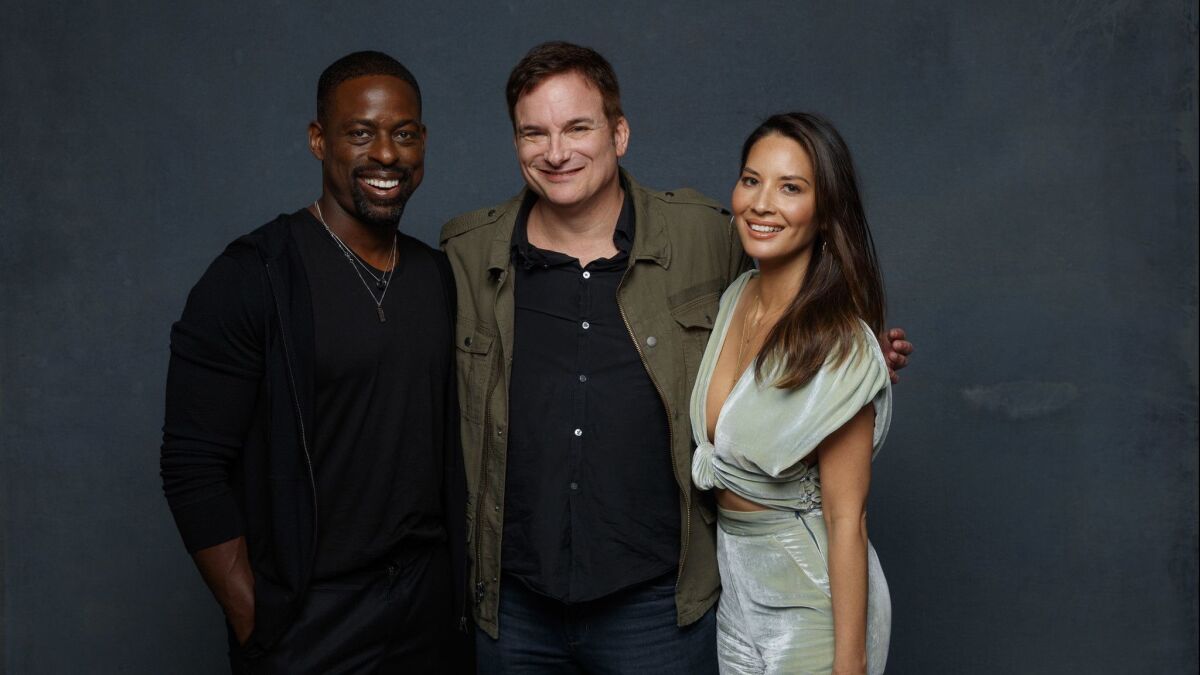 Twentieth Century Fox pulls scene from 'The Predator' after director Shane Black casts his friend, a registered sex offender
But Black never made that apology directly, says Munn, who had to read it online along with the rest of the world.
"I don't accept Shane's apology," she said. "It wasn't given to me personally .... I think a real apology has to be done privately, not just read publicly, and I read it with the rest of the world. I didn't get that call. I didn't get any calls from any producers or anybody saying, 'Thank you for letting us know,' or, 'Thank you for letting us know before the movie.'"
Munn, who has been the most publicly vocal cast member to date about the issue, described the experience as a "lonely" one.
"I felt the support from online and the news, everybody was very encouraging and made me feel really good, but it was a very lonely, lonely time for me that day," she said Saturday.
"I don't care if it's my movie. I don't care if this movie was going to give me $100 million, it's not worth being quiet over that, my silence is not for sale."
Additional interviews scheduled with cast members Boyd Holbrook, Keegan-Michael Key, Thomas Jane, and Jacob Tremblay on Saturday at the L.A. Times' TIFF studio were canceled by Fox due to scheduling and time limitations.
Get our L.A. Goes Out newsletter, with the week's best events, to help you explore and experience our city.
You may occasionally receive promotional content from the Los Angeles Times.