In Koreatown, a summer of upheaval galvanizes a community, and leaves others feeling left out
Earlier this summer, Stephano Kim joined protests in Koreatown against a proposed temporary homeless shelter.
Kim drove in from his home 90 miles away in Victorville, where the 61-year-old real estate agent has lived and worked for more than a decade. Before that, he lived in Orange County and Marina del Rey — but never Koreatown.
In Kim's mind, there was no question that he should make the trek — up to three hours in traffic each way — to have his say in Koreatown.
"Koreatown is where we all got our start," Kim said. "I believe all Koreans, even if they don't live in Koreatown, need to participate."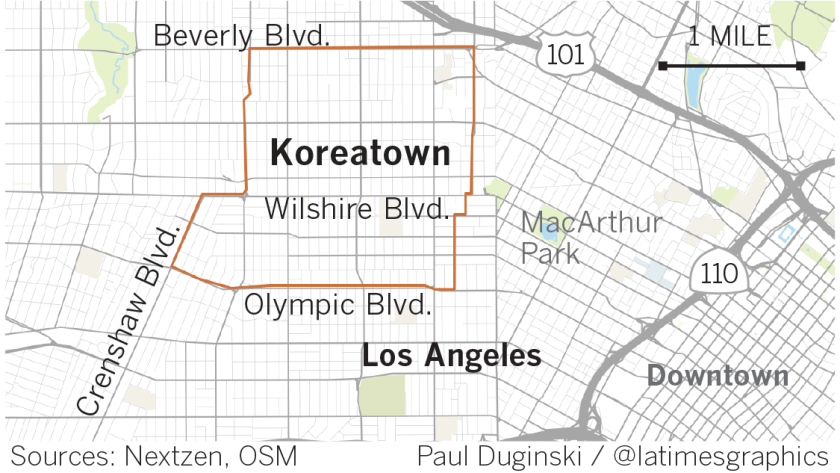 For Korean Americans all across the Southland, Koreatown has always been something of a mecca where friends and family regularly convene to eat, grocery shop or attend church.
This summer, they came out to protest.
Koreatown went through an intense couple of months fighting the plan to build "bridge housing" for the homeless in its central corridor, a proposal opposed by many Korean American activists. A large number of those who demonstrated, donated money to pay for ads or crowded City Hall chambers were Korean Americans who did not live or work in the neighborhood.
They demanded a voice in a neighborhood that, despite its name and reputation, is only about a fifth Korean in population. The rest of those living in Koreatown are working-class immigrant families from El Salvador, the Mexican state of Oaxaca, the Philippines and Bangladesh. In recent years, millennials and young professionals also moved in.
"Whether you lived in Glendale or Orange County, this was kind of where everybody gathered," said Tony Kim, 45, who was born in Koreatown and moved away when he was 4. Even though he hasn't lived there in four decades, he still feels invested in the community and serves on the board of the Koreatown-based nonprofit advocacy group Korean American Coalition.
"It's a place where everybody feels a common bond with," he said. "It really embodies a lot of the historical context of what it means to be Korean American."
Many Korean Americans say the passion for this part of L.A. runs deep because the first generation of Korean immigrants built up the once-struggling neighborhood into a vibrant hub for business, food and nightlife. That connection is particularly strong for those who remember the 1992 riots, when shopkeepers defended Koreatown on their own with rifles and handguns, standing sentry on rooftops.
"Because they really created and grew it, it's their pride, their baby," Danny Park, 39, said of his parents' generation.
Park, founder of the annual Koreatown Night Market, grew up in Orange County and went to college in Long Beach. He said it was in coming to Koreatown as a young adult that he discovered what it meant to be Korean American. Even though he never physically had an address in Koreatown, he spent the vast majority of his time there during his formative years, Park recalled.
"Me and my friends, we found our identity here," he said. "This was it, Koreatown was the place where we were most comfortable."
That passion was evident during a recent vote to create a new neighborhood council in the northern half of Koreatown to represent "Wilshire Center-Little Bangladesh."
Los Angeles has 99 neighborhood councils, which have a say in matters like trash pick-up or liquor licenses. City laws allow people with a loosely defined "community interest" in an area to serve on the council or vote in its elections. In Koreatown, tens of thousands came out to vote, including people from Santa Clarita, Orange County and San Bernardino.
"People voting didn't look like the people I see every day in my neighborhood," said Marshall Rogers-Martínez, a 28-year-old USC graduate student who has been living in Koreatown for about five years.
One of those voting and campaigning against the new council was Steve Bae, 47, who lives in Temple City. Even though he closed his Koreatown travel agency more than a decade ago, he still feels a part of the community, where he regularly dines and goes to the doctor.
"It's a sense of representation. Especially after the '92 riots, there's so much pride in what went in to rebuild this community," said Bae, who became a key member of the "Keep Koreatown" group.
There was a lot of misinformation. Korean-language news reports said Koreatown was going to be "chopped in half" and that "the majority of Koreatown will disappear," even though city-designated borders for Koreatown remain unaffected by the proposal for an additional neighborhood council. A flier depicted the northern half of Koreatown in black, labeled "Bangladesh Town."
Some protesters didn't know that the shelter was one of 15 being built across the city and that it would be in place for only three years. Editorials in Koreatown newspapers ominously warned that Koreatown would turn into skid row.
To people like Chris Moonkey Nam, the perceived threat to Koreatown felt like an attack on all Koreans.
"Because we're Korean, it's like our mother's umbilical cord," said Nam, 64, who lives in Irvine. He runs a real estate agency with offices up and down the state, including in Koreatown. "It used to be this small, poor town … and we grew it."
Nam paid for print and radio ads opposing the shelter and provided free meals for protesters. On the day of the neighborhood council vote, he closed down his business and had dozens of his employees shuttle elderly Koreans to the polling center.
Pilha Shim, a 54-year-old Hancock Park resident who works in finance downtown, said he felt a deep attachment to Koreatown and believed it was the root of the Korean community and its prosperity in the U.S. He shelled out $15,000 to place a full-page ad in the Los Angeles Times opposing the shelter, and also bought ads on Facebook.
The more than 20,000 who cast a ballot in June overwhelmingly voted against the new neighborhood council, with 98.5% voting no. As for the temporary homeless housing, after weeks of behind-the-scenes meetings with community groups, the city scrapped its plan and settled on a new location on the outskirts of Koreatown.
Tony Kim, of the Korean American Coalition, said the emotional reaction to both the shelter and the neighborhood council vote had to do with "the Korean community feeling somewhat marginalized and not getting their voice heard, things getting thrown on them." He said the two issues galvanized the community to start paying attention to what's going on in Koreatown and the city.
"At the end of the day that was the biggest win, that people are now getting involved," he said.
Jarin Islam, a Bangladeshi American who has lived in Koreatown most of her life, filed the petition to create a second neighborhood council for the area. She said the Korean American activism left people in her community, working-class immigrants including many Bangladeshis, feeling sidelined.
"We've been living side by side with all these other communities, we've been contributing to this economy, we pay rent," said Islam, 32. "Somehow we didn't matter, we didn't exist."
City Councilman David Ryu served on the Koreatown-area neighborhood council before he was elected. He has proposed reforms to better define who can vote in these council elections. As much as Koreatown's summer of upheaval may have involved misunderstandings and miscommunication, it mattered that it brought the community out, he said.
"What I can tell you is they all cared, they all wanted to be involved," Ryu said.
Caroline Sim, 39, who has long been active in Koreatown and served on the council even though she lives in Silver Lake, said she values the messy complexity and diversity of the neighborhood.
"It's our heart home," she said.
For more California news, follow me on Twitter @vicjkim
---
The stories shaping California
Get up to speed with our Essential California newsletter, sent six days a week.
You may occasionally receive promotional content from the Los Angeles Times.