Newsletter: Essential California: At Gov. Brown's climate summit, one deadline will overshadow all the others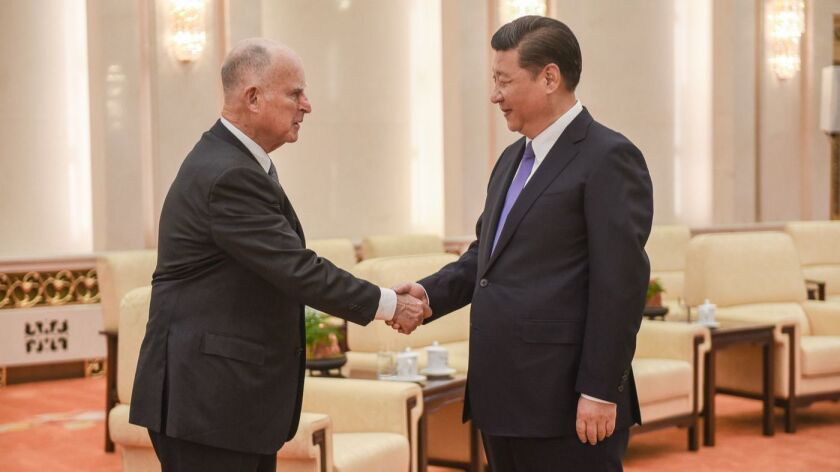 Good morning, and welcome to the Essential California newsletter. It's Wednesday, Sept. 12, and here's what's happening across California:
TOP STORIES
The political leaders coming from around the world for Gov. Jerry Brown's climate action summit this week will grapple with a lot of urgent deadlines to drive down emissions, but one date is especially exasperating. It is 2035 — the year advocates aim to kill off production of gasoline and diesel powered vehicles. Does the success of the Prius show California has a chance to meet these goals? Los Angeles Times
— If ever California could prove it can set policy for the nation, and the world, it is now. At Brown's climate summit, the state will play a role no state ever has, creating a shadow federal government of sorts on climate policy that has buy-in from leaders worldwide — except in Washington. Los Angeles Times
— For all of California's talk of climate change, oil refineries remain a big problem. Los Angeles Times
— The moment of truth. New York Times
— The elder statesman of climate. Washington Post
Wild story
A certain trail has long been a shortcut used by hikers and equestrians traveling between the wealthy ranches of Hidden Valley and the miles of dirt paths that traverse the Santa Monica Mountains National Recreation Area. In recent years, it has become a battleground between neighbors in an escalating spat pitting public access against private property rights. Then a dead deer showed up on the trail. Los Angeles Times
Get the Essential California newsletter »
L.A. STORIES
Not satisfied: Porter Ranch residents don't like a huge settlement over the Aliso Canyon gas leak. Los Angeles Daily News
Big: A new mural in downtown L.A. could set a world record. LAist
Let Elon be Elon? The mania over Elon Musk's antics is getting out of hand, according to the second highest-ranking executive at his rocket company, Space Exploration Technologies Corp. Bloomberg
— Columnist Michael Hiltzik is less than convinced. Los Angeles Times
POLITICS AND GOVERNMENT
Bonkers: The constellation of personalities orbiting Donald Trump is unlike any known to previous presidents. A porn star. A pair of Playboy Playmates. A lawyer and fixer with a New York swagger and wiseguy vernacular suggesting he's seen a few too many Martin Scorsese films. Los Angeles Times
Drat: The end of the line for more than 200,000 solo California drivers using stickers for carpool lanes. Mercury News
On the shore: The California Coastal Commission has scored a big legal victory in the battle over its right to require low-cost lodging in connection with a proposal to develop new hotels on San Diego's Harbor Island. San Diego Union-Tribune
Back story: "The court case that forced O.C. to stop ignoring its homeless." LAist
CRIME AND COURTS
Under arrest A suspect is in custody after police responded to reports of an active shooter at Kaiser Permanente Downey Medical Center, authorities said. Police learned that Kaiser security officers had approached a man causing the disturbance and the man threw a chair through a window and pulled out a handgun. Los Angeles Times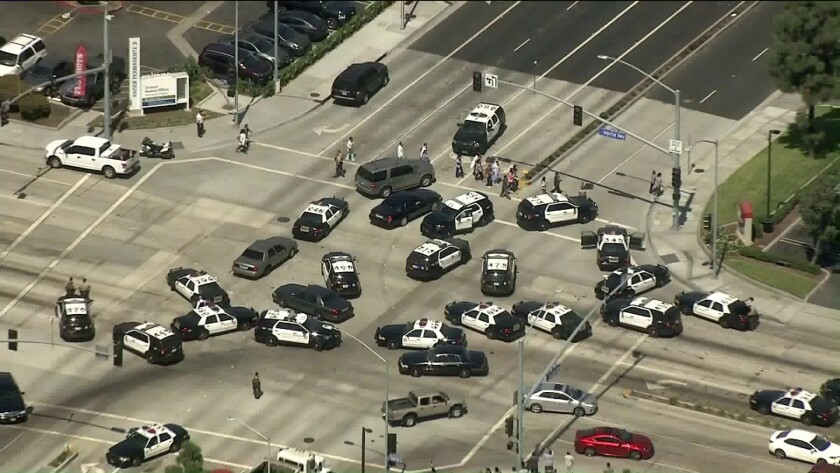 On video: Los Angeles police released video of a gang member shooting an officer at point-blank range during a July traffic stop in the San Fernando Valley, and her partner subsequently fatally wounding the gunman. Los Angeles Times
In Contra Costa County: The incredible story of a public defender official accused in a bizarre murder. East Bay Times
THE ENVIRONMENT
Firmly planted: How the desert became a palm-tree oasis. And how that has changed the ecosystem. Desert Sun
CALIFORNIA CULTURE
Fascinating: How "Taco Tuesday" became such a fast-food phenomenon — and the center of a long-running legal battle. Thrillist
Brick and mortar: Mall operators are trying out virtual reality and other non-retail concepts, including luxury health and fitness offerings and haute cuisine, to combat rising vacancy rates brought about by the success of Amazon.com and other e-tailers. The effect has been compounded by the millennial generation's buying habits, which lean toward spending on restaurants and activities rather than in stores. Los Angeles Times
Much ado about an entryway: An architectural battle for the soul of La Jolla. Los Angeles Times
Small world: One of Disneyland's original designers has some blunt words about what's become of the park. Los Angeles Times
Plus: Why no rival has ever come close to topping Disneyland. Orange County Register
CALIFORNIA ALMANAC
Los Angeles area: sunny, 79, Wednesday; sunny, 80, Thursday. San Diego: sunny, 76, Wednesday; sunny, 79, Thursday. San Francisco area: cloudy, 64, Wednesday; sunny, 62, Thursday. San Jose: mostly sunny, 71, Wednesday and Thursday. Sacramento: partly cloudy, 79, Wednesday; partly cloudy, 78, Thursday. More weather is here.
AND FINALLY
Today's California memory comes from Paula Trudeau:
"I have fond, if not confused, memories of visiting Yosemite National Park as a child with my grandparents in the very early '60s. At dusk, campers would gather at the park garbage dump to watch the bears get into the trash cans. The rangers would watch that people wouldn't get too close to the bears. This form of 'entertainment' ended later in the '60s."
If you have a memory or story about the Golden State, share it with us. Send us an email to let us know what you love or fondly remember about our state. (Please keep your story to 100 words.)
Please let us know what we can do to make this newsletter more useful to you. Send comments, complaints and ideas to Benjamin Oreskes and Shelby Grad. Also follow them on Twitter @boreskes and @shelbygrad.
---