What do a porn star, a combative lawyer and a reality-TV contestant all have in common? Trump
The constellation of personalities orbiting Donald Trump is unlike any known to previous presidents.
Jimmy Carter had Billy, his colorful, beer-loving brother. Bill Clinton had Roger, a sibling who chased fame as an aspiring actor and rock musician.
But the habitues of Trump's overlapping legal and political worlds are of a whole other order. A porn star. A pair of Playboy Playmates. A lawyer and fixer with a New York swagger and wiseguy vernacular suggesting he's seen a few too many Martin Scorsese films.
There's a reality-show actress, as well as a combative lawyer who has proven the rare match for Trump in weaponizing Twitter and turning the cable-news circuit into a political platform and battering ram.
The result has been a frothy brew of tabloid titillation and courthouse drama, with accusatory women and their hair-trigger attorneys piling lawsuit atop counterlawsuit.
The legal and political verdicts are months — if not years — away. But it's safe to say any future dramatizations of the Trump administration won't lack for colorful characters.
The Porn Star | Stephanie Clifford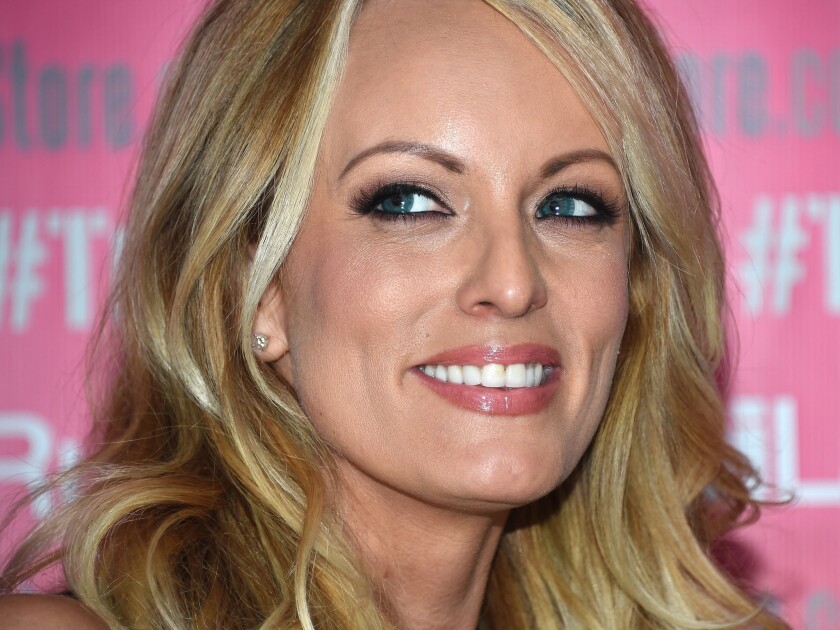 Stephanie Clifford, who performs in adult films under the stage name Stormy Daniels, accepted $130,000 just before the 2016 election to hush up about an alleged 2006 sexual encounter with Trump. Daniels, 39, wound up spilling anyway in a "60 Minutes" interview that proved a ratings bonanza for CBS and doubtless one of the less-happy moments of Trump's presidency.
In secret arbitration proceedings, Trump's legal team accused her of breaking a nondisclosure agreement and asked for millions in damages. Daniels, in turn, sued Trump to void the nondisclosure deal.
Prosecutors say the payoff, brokered by Trump's personal attorney, Michael Cohen, and Keith Davidson, Daniels' former lawyer, was an illegal donation to Trump's campaign. Cohen, who pleaded guilty last month to eight felonies, says Trump directed him to pay the hush money — which, if true, amounts to a crime. Now Daniels wants to force Trump to answer questions under oath. Trump, however, gave up his right to damages from Daniels last week and is seeking to get the lawsuit dismissed.
The Pugilist | Michael Avenatti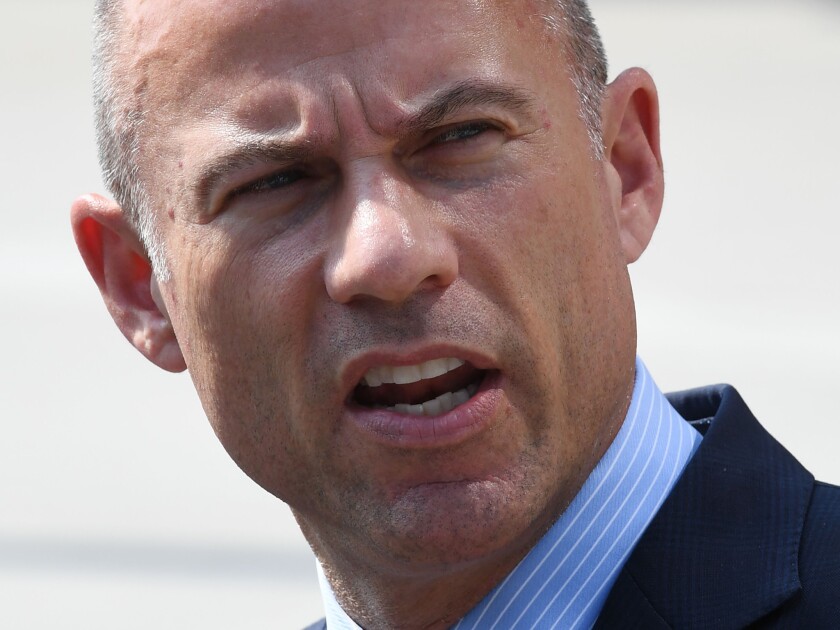 Michael Avenatti, Daniels' attorney, has vaulted to fame with months of round-the-clock Trump-bashing. A race-car enthusiast and courtroom pugilist, Avenatti had just ushered his firm out of bankruptcy when Daniels' explosive charges surfaced.
He's since drawn more than 700,000 Twitter followers and enough encouragement from the Trump resistance to publicly mull a 2020 run for president in the crowded Democratic field. (Avenatti, 47, has already hit Iowa and New Hampshire, the two leadoff states on the nominating calendar.)
Perhaps his most notable achievement is the sound of silence: When it comes to Avenatti, Trump has holstered his itchy Twitter finger. Nobody has assailed the president with such relentlessness and avoided the scornful wrath of the nation's insulter-in-chief.
The Playmates | Karen McDougal and Shera Bechard
Trump was newly wed to his third wife, Melania, when he attended a 2006 party at the Playboy Mansion to celebrate the taping of an episode of his reality show, "The Apprentice." He met Karen McDougal. They flirted. He invited her to dinner at his Beverly Hills Hotel bungalow and, she says, a nearly yearlong affair ensued.
As Trump was set to claim the Republican presidential nomination, McDougal, 47, was peddling her story. Through her lawyer, Davidson, she reached out to the National Enquirer, which, in turn, alerted Cohen, federal prosecutors say. The tabloid's parent company, American Media Inc., paid McDougal $150,000 in a "catch-and-kill" deal to suppress her story and keep it from influencing the election, prosecutors say.
In a separate case, Cohen negotiated a hush-money deal between Elliott Broidy, 61, a top Trump fundraiser from Beverly Hills, and Shera Bechard, Playboy's November 2010 Playmate of the Month. Bechard, 34, says she agreed to accept $1.6 million from Broidy, who is married, in return for her silence about an extramarital affair. She's suing him, alleging he reneged on promised payments. He claims she broke the deal by going public, which she denies.
When the full complaint was unsealed last week, another explosive allegation emerged: Bechard claimed Broidy became violent during sex. A Broidy lawyer, in turn, denounced Bechard's allegations as "false and disgusting attempts to malign Mr. Broidy's character and embarrass him."
The Apprentice | Summer Zervos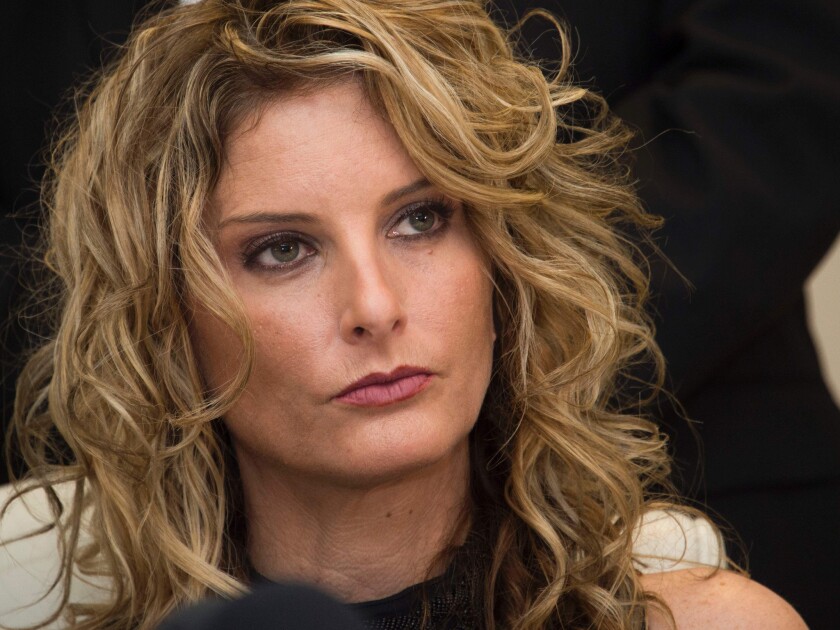 Summer Zervos, 43, was a 2005 contestant on Trump's make-believe boardroom drama. A few weeks before the 2016 election she held a tearful news conference and accused the GOP presidential nominee of trying to force himself upon her during a 2007 dinner in his Beverly Hills Hotel bungalow. Trump called Zervos a liar, and she promptly sued him for defamation.
A New York judge rejected Trump's request to delay the case until the end of his presidency. In the months ahead, Trump could be forced to sit for a sworn deposition. He has agreed to respond in writing to some Zervos questions later this month. Adding to the legal peril, Zervos has subpoenaed internal campaign communications, including any discussion regarding a leaked 2005 audiotape in which Trump boasted of forcibly grabbing women by the crotch.
The Fixer | Michael Cohen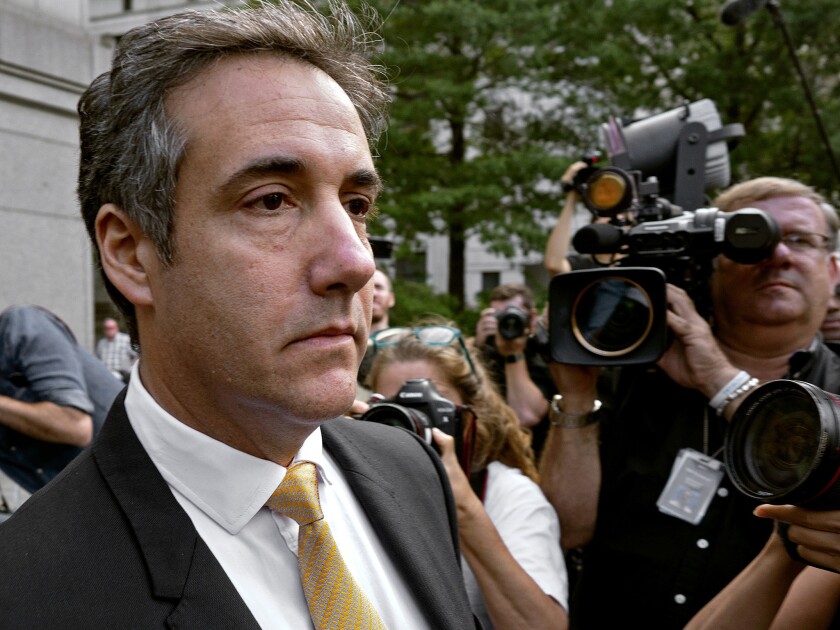 Michael Cohen, 52, served for decades as Donald Trump's personal lawyer, fixer and all-around pit bull. Among other functions, he browbeat journalists whose work did not portray Trump as he wished. "I'm warning you, tread very ... lightly because what I'm going to do to you is going to be ... disgusting, do you understand me?" he once threatened a Daily Beast reporter in a 2015 tirade captured on tape and later released.
It turns out Cohen was also a criminal. He admitted last month in New York federal court that he evaded taxes on millions of dollars in income, lied to a bank that lent him money and violated campaign finance laws by arranging the payoffs to Daniels and McDougal.
Cohen once famously said he would take a bullet for Trump. No more. Facing a stiff prison sentence, Cohen has made clear he is prepared to cooperate with special counsel Robert S. Mueller III's investigation of Russian interference in the 2016 presidential election.
The Financier | Elliott Broidy
Elliott Broidy admitted paying kickbacks to New York state officials in 2009 in return for their investment of public pension money in his private equity firm. He managed to avoid prison but was fined $18 million. Broidy's untoward history was all but forgotten by the time he was raising gobs of money for Trump. He was even granted a private Oval Office meeting with the president.
Then, in April, Broidy was again enmeshed in scandal when the Wall Street Journal disclosed that Cohen and Beverly Hills lawyer Keith Davidson brokered the hush-money deal with Bechard, the Playboy Playmate whom Broidy impregnated. Broidy resigned his high-level finance post with the Republican National Committee.
The Tabloid Attorney | Keith Davidson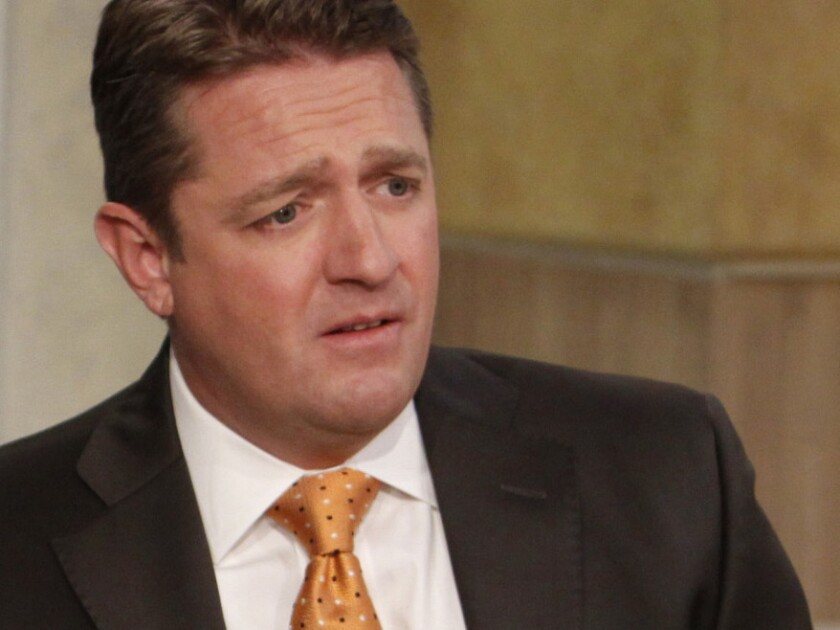 It was no accident that Keith Davidson, 47, surfaced as the lawyer who negotiated payments to Daniels, McDougal and Bechard in exchange for their silence about their alleged sexual encounters. Nondisclosure agreements are a longtime specialty of Davidson's Beverly Hills law practice. He extracts money from celebrities for clients threatening to release sex tapes or share embarrassing stories with the media.
It can be a lucrative area of law but a treacherous one; targets sometimes hit back with lawsuits claiming extortion. Before the Trump scandals erupted, Davidson was best known for trying to get Hulk Hogan to pay a client $300,000 for a secretly taped video of the wrestling star having sex. An FBI sting operation killed that deal.
Davidson was not charged with wrongdoing.
Twitter: @markzbarabak
Twitter: @finneganLAT
---
For reporting and exclusive analysis from bureau chief John Myers, get our California Politics newsletter.
You may occasionally receive promotional content from the Los Angeles Times.