Newsletter: Essential California: Is the Golden State ready for the golden years?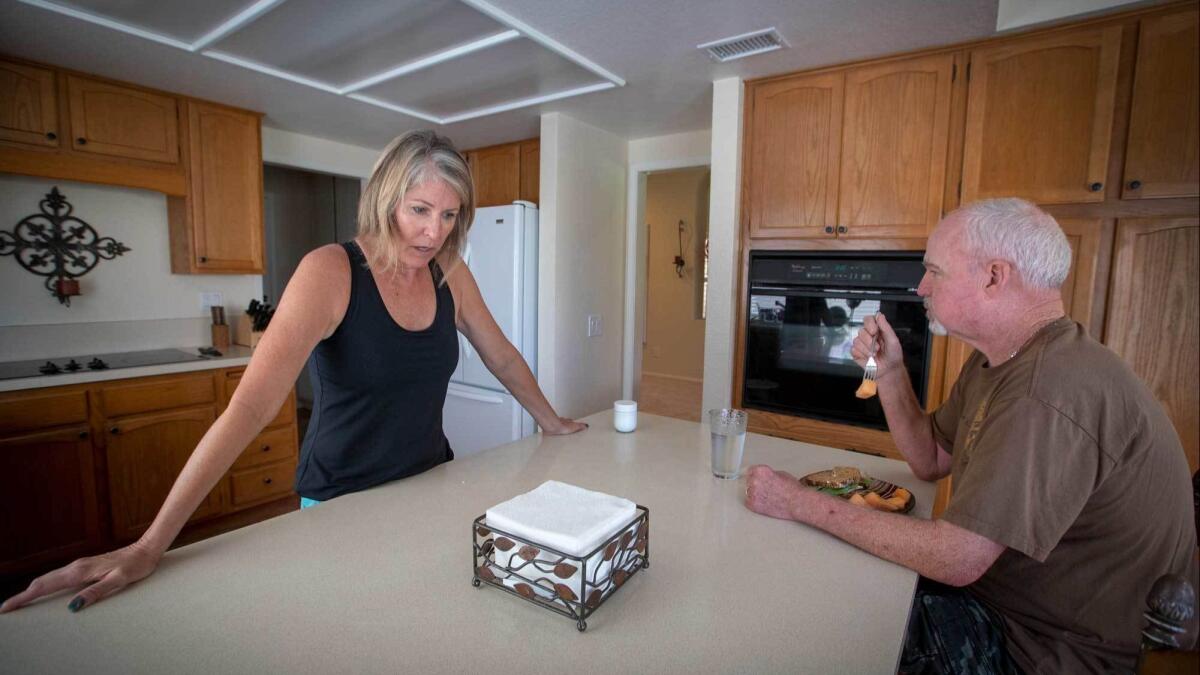 Good morning, and welcome to the Essential California newsletter. It's Monday, Oct. 8, and here's what's happening across California:
TOP STORIES
California's long-held self-image — a blend of Tomorrowland and Fountain of Youth — is colliding with the inescapable fact that the Golden State is getting old. Seniors will be California's fastest-growing population. Between now and 2026, the number of Californians 65 and older is expected to climb by 2.1 million. Is the Golden State prepared for the golden years? Los Angeles Times
Under review
Los Angeles County's inspector general has launched an investigation into whether a Sheriff's Department highway enforcement team engaged in racial profiling when it stopped thousands of innocent Latino drivers in search of drugs on the 5 Freeway. The move comes after The Times reported that nearly 70% of drivers pulled over from 2012 to last year were Latino and that two-thirds of them had their vehicles searched — a rate far higher than motorists of other racial and ethnic groups. Sheriff's officials have denied the team engages in racial profiling. Los Angeles Times
Bucking the trend?
"Little-box" stores like Dollar General — and its main competitor Dollar Tree — have taken over a gigantic segment of the American household economy in the last decade by expanding into small towns overlooked by larger operators. Dollar General alone now has more than 15,000 stores nationwide, slightly more than the total number of McDonald's locations. Its annual sales exceed $6 billion. Now, these stores are trying to move into California. But some residents are pushing back. Los Angeles Times
Rock 'n' roll's toll
Overdose deaths in the music business are well documented — a tragic consequence in cases like Jimi Hendrix, Janis Joplin and the Doors' Jim Morrison of lives lived to excess. But as the decades have rolled on, lives are being lost to the realities that come with defying Pete Townshend's credo of "Hope I die before I get old." Musicians who extend their careers into their 50s, 60s, 70s and even 80s confront physical aches and pains as much or more than the psychic and emotional wounds for which many have turned to substances — legal and illegal — for comfort. This is the story of Tom Petty. Los Angeles Times
Get the Essential California newsletter »
L.A. STORIES
That light in the sky: Relax, it was a SpaceX launch. Los Angeles Times
Warriors: Two men and their tireless devotion to a noble cause: helping L.A.'s mentally ill. Los Angeles Times
The Airbnb effect: A debate over whether renters in L.A. should be able to reap the benefits of the short-term rental market. Los Angeles Times
Plus: A rare stripping of rent control in Los Angeles. Los Angeles Times
Back home: Meach Sovannara recounts his time in Cambodia's Prey Sar prison. The longtime political activist, who spent three years jailed overseas, has safely returned to his family's home in Long Beach. Los Angeles Times
Ouch: "I crashed my scooter so you don't have to." Pasadena Star-News
CRIME AND COURTS
Hazards of duty: How police are dealing with dangerous opioids such as fentanyl, which are showing up in illicit pills and powders sold on streets, potentially putting officers at risk of accidental exposure. San Diego Union-Tribune
Wall of silence: The fight to get answers in a prison groping case. Sacramento Bee
Murder case: Another appeal in the Kevin Cooper saga. New York Times
POLITICS AND GOVERNMENT
Domino effect? Several of California's contested congressional races are in districts that overlap with Republican-held seats in the state Legislature. Political consultants are watching closely to see if voters who choose Democrats for Congress might unexpectedly sweep GOP incumbents out of Sacramento. Los Angeles Times
Backlash: The resistance to a proposal to transform empty schools into housing for teachers in Silicon Valley. Mercury News
Argh: A tough year for the Sierra town of Mariposa, made worse by Google Maps. San Francisco Chronicle
Smoked grapes? A debate about what to do with Napa grapes affected by last year's firestorms. San Francisco Chronicle
Endangered species: California's candidates for governor and U.S. Senate are infiltrating television, Facebook feeds and mailboxes with campaign ads and slick mailers, but there's one place voters aren't likely to see them — the debate stage. Los Angeles Times
CALIFORNIA CULTURE
Back story: The real-life story of "Transparent" from the L.A. creator. The New Yorker
Brave new world: Thirty years after his death, Roy Orbison (at least the digital version of him) is going on a national tour, the latest and possibly the most ambitious example to date of how holographic technology is transforming the music industry. Los Angeles Times
Back to the wild: An Orange County seal lion's fight for survival. Orange County Register
That vintage look: He makes Alcatraz look old again. San Francisco Chronicle
CALIFORNIA ALMANAC
Los Angeles area: Sunny, 76, Monday. Partly cloudy, 73, Tuesday. San Diego: Sunny, 71, Monday and Tuesday. San Francisco area: Sunny, 73, Monday. Sunny, 67, Tuesday. San Jose: Sunny, 82, Monday. Sunny, 78, Tuesday. Sacramento: Sunny, 85, Monday. Sunny, 83, Tuesday. More weather is here.
AND FINALLY
This week's birthdays for those who made a mark in California:
Lt. Gov. Gavin Newsom (Oct. 10, 1967), Rep. Ed Royce (Oct. 12, 1951) and Clippers Coach Doc Rivers (Oct. 13, 1961).
If you have a memory or story about the Golden State, share it with us. Send us an email to let us know what you love or fondly remember about our state. (Please keep your story to 100 words.)
Please let us know what we can do to make this newsletter more useful to you. Send comments, complaints and ideas to Benjamin Oreskes and Shelby Grad. Also follow them on Twitter @boreskes and @shelbygrad.
Sign up for Essential California for news, features and recommendations from the L.A. Times and beyond in your inbox six days a week.
You may occasionally receive promotional content from the Los Angeles Times.