Newsletter: Essential California: The non-debate debate between the candidates for governor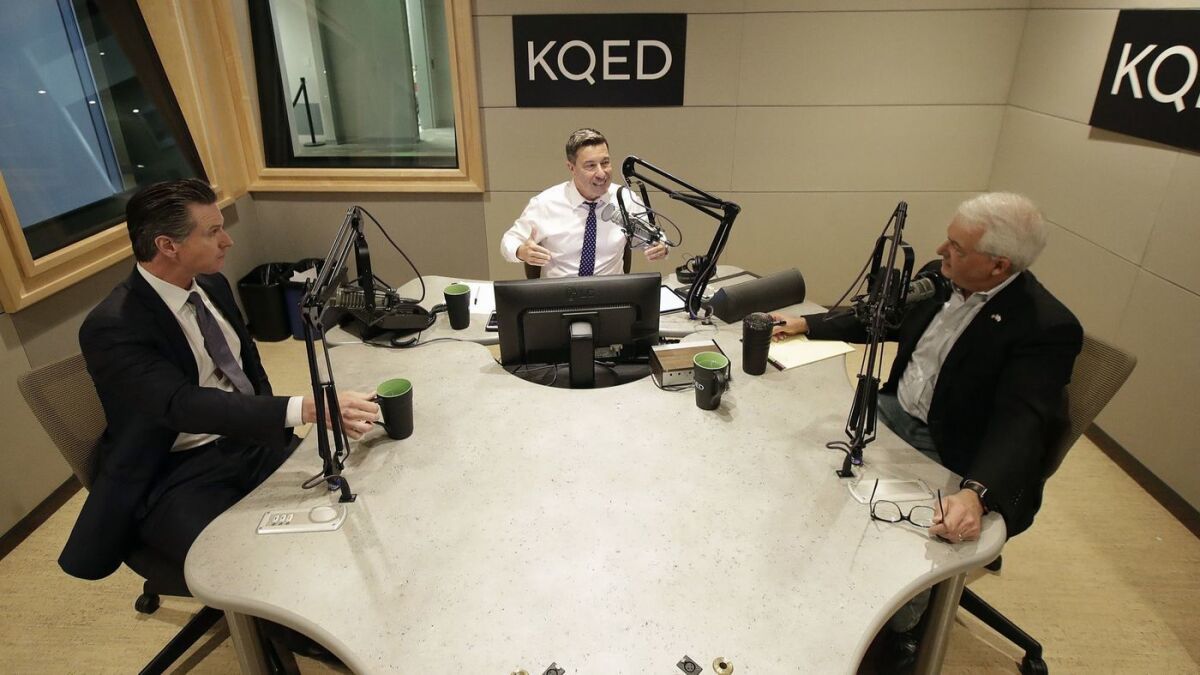 Good morning, and welcome to the Essential California newsletter. It's Tuesday, Oct. 9, and here's what's happening across California:
TOP STORIES
Inside a San Francisco radio studio, away from the glare of television cameras and during a workday, the two candidates for California governor faced off in their only one-on-one debate before election day. Advertised as a "wide-ranging conversation" instead of a formal political debate, the meeting between Democratic Lt. Gov. Gavin Newsom and Republican businessman John Cox was noteworthy for lacking the prime-time television audience that traditionally sees candidates competing for the most powerful and coveted political post in the nation's most populous state. Los Angeles Times
-- Cox was asked about his past statements on gay marriage. Los Angeles Times
-- And Newsom was asked about his history of tussling with other elected officials — be it colleagues on the San Francisco Board of Supervisors, Gov. Jerry Brown when Newsom briefly ran against him in 2010, or leaders in the California Legislature. Los Angeles Times
Orange County's own
As he faces his toughest reelection fight in decades, a review of Rep. Dana Rohrabacher's record and his brushes with the Russia-focused investigations led by special counsel Robert S. Mueller III and two congressional committees — as well as interviews with dozens of his acquaintances and others familiar with his career — finds a lawmaker who has taken provocative political stances but secured few legislative achievements. In May 2016, for example, when Rohrabacher sought to change a U.S. law that Russian President Vladimir Putin opposed, the congressman proposed an amendment that mirrored talking points given to him by a Russia-affiliated lobbyist, The Times found. Rohrabacher failed to persuade his colleagues to make the change. Los Angeles Times
Reckoning with its past
California has a racist past. But removing monuments sparks debate about how to reflect an ugly history. And as these monuments and mascots are now deemed offensive and removed from public spaces, leaders and historians are left to ponder how the past should be preserved without adding fuel to hate groups that sometimes use the symbols as a source of power. Los Angeles Times
Plus: Amid festivities celebrating Los Angeles' inaugural Indigenous Peoples Day in downtown's Grand Park, a statue of Christopher Columbus — the holiday's previous namesake — was covered. It's slated for removal. Los Angeles Times
Get the Essential California newsletter »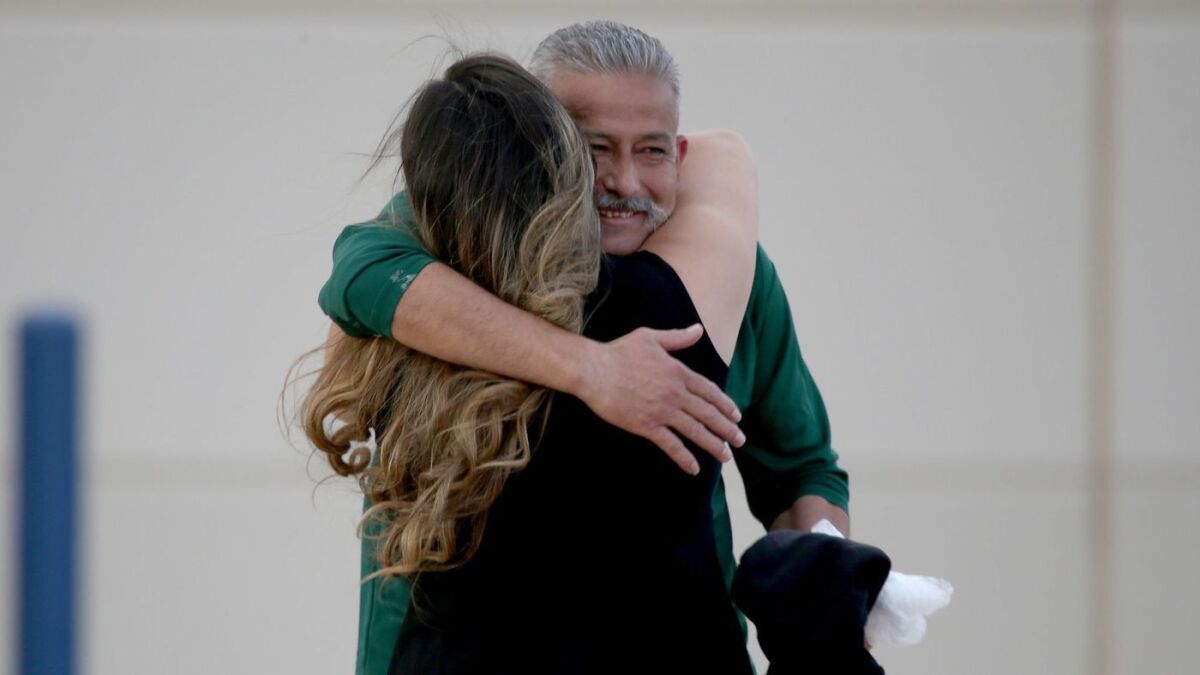 L.A. STORIES
Go Blue! The Dodgers are going to the National League Championship Series on the back of a big home run from Manny Machado. Los Angeles Times
Robin Abcarian reports: In Ramona, a conservative town in northeast San Diego County in the heart of the 50th Congressional District, U.S. Rep. Duncan Hunter, under a federal indictment on allegations that he stole campaign cash, is not quite as popular as he used to be. Afternoon drinkers at the Turkey Inn and VFW post explained why. Los Angeles Times
A history lesson: That time "Old Woman's Gun" saved Los Angeles. Los Angeles Times
Old school: Before LAFC inspired a new generation of soccer fans in Los Angeles, there were the Los Angeles Aztecs. L.A. Taco
IMMIGRATION AND THE BORDER
Romulo's story: An L.A. immigrant who spent six months in detention describes harsh conditions at the Adelanto facility. Los Angeles Times
Plus: "An ICE memo lays out the differences between Trump and Obama on immigration enforcement." BuzzFeed
POLITICS AND GOVERNMENT
Fun story: Two of the political podcasting world's biggest juggernauts are based miles from each other in Los Angeles. Washington Post
Live from D.C.: Can the FCC really block California's net neutrality law? Wired
CRIME AND COURTS
Wild scene: Several people were injured in Hollywood late Monday when Los Angeles police showed up to a rapper's event, prompting the large crowd to run away and trample one another, authorities said. Los Angeles Times
Nabbed: A man possibly armed with a knife was arrested Monday roughly five hours after he barricaded himself inside an apartment in Valley Village, prompting a SWAT team to respond, police said. Los Angeles Times
Checking in: After three years in a foreign prison, a Cambodian political activist wonders how he can help his homeland from California. Los Angeles Times
Chilling: The Roman Catholic Diocese of San Bernardino, which includes Riverside and San Bernardino counties, released a list of priests credibly accused of child sexual abuse since 1978. Many spent time ministering in or near the Coachella Valley. Desert Sun
CALIFORNIA CULTURE
Important story: "Life on the dirtiest block in San Francisco." New York Times
Plus: The Snapcrap app aims to provide exposure to San Francisco's public poop problem. Los Angeles Times
No more Google+: "Google opted not to disclose to users its discovery of a bug that gave outside developers access to private data. It found no evidence of misuse." Wall Street Journal
Coming soon: Bravo announced that its upcoming scripted series "Dirty John," based on the Los Angeles Times' popular serialized print series and podcast, will premiere in November. Los Angeles Times
New stadium, maybe: Should the Oakland A's build a stadium at the Howard Terminal site? San Francisco Chronicle
On the horizon: "Yuba City, a town whose origin is steeped in the legacy of the Church of Jesus Christ of Latter Day Saints, will soon be home to one of 12 new temples being built across the world." Sacramento Bee
CALIFORNIA ALMANAC
Los Angeles area: Partly cloudy, 71, Tuesday. Partly cloudy, 68, Wednesday. San Diego: Sunny, 71, Tuesday. Sunny, 69, Wednesday. San Francisco area: Sunny, 68, Tuesday. Partly cloudy, 65, Wednesday. San Jose: Sunny, 79, Tuesday. Partly cloudy, 72. Wednesday. Sacramento: Sunny, 83, Tuesday. Partly cloudy, 75, Wednesday. More weather is here.
AND FINALLY
Today's California memory comes from Mary Billiter:
"When I was 10 years old, my family moved from Louisville, Ky., to Huntington Beach. My introduction to the Golden State was made through my Irish grandparents, Howard and Norma Flanagan. I had buck teeth, a thick Kentucky accent, and unruly curls that looked like I had been zapped by electricity. But when I awoke in my grandparents' Lakewood home, I was introduced to my first orange picked from their backyard tree. I discovered that toast tastes better with orange marmalade, and when my grandmother Flanagan took me shopping, she told me, 'Every California girl should know the magic of a sundress.' And it worked. When I saw myself in the mirror, I felt pretty."
If you have a memory or story about the Golden State, share it with us. Send us an email to let us know what you love or fondly remember about our state. (Please keep your story to 100 words.)
Please let us know what we can do to make this newsletter more useful to you. Send comments, complaints and ideas to Benjamin Oreskes and Shelby Grad. Also follow them on Twitter @boreskes and @shelbygrad.
---