Investigators are continuing to seek clues in the Las Vegas shooting that killed 58 people and injured nearly 500, hoping to create a picture that would explain Sunday's massacre.
TOP STORIES
Did the Las Vegas Shooter Act Alone?
A gun-buying spree: 33, mostly rifles, in the last year. A gambling binge: more than $100,000 in recent months and, reportedly, eight hours the night before the attack. An Airbnb room: rented in September overlooking an even larger music event for an unknown reason. Investigators are wondering whether something changed in the gunman's life around October 2016, and whether he acted alone. As President Trump and the first lady visited victims and first responders in Las Vegas, agents interviewed the gunman's girlfriend in L.A. "He never said anything to me, or took any action I was aware of, that I ever understood to be a warning that something horrible like this was going to happen," she said, according to a statement read by her attorney.
More About the Shooting
-- Inside the emergency room: How doctors, nurses and paramedics saved lives.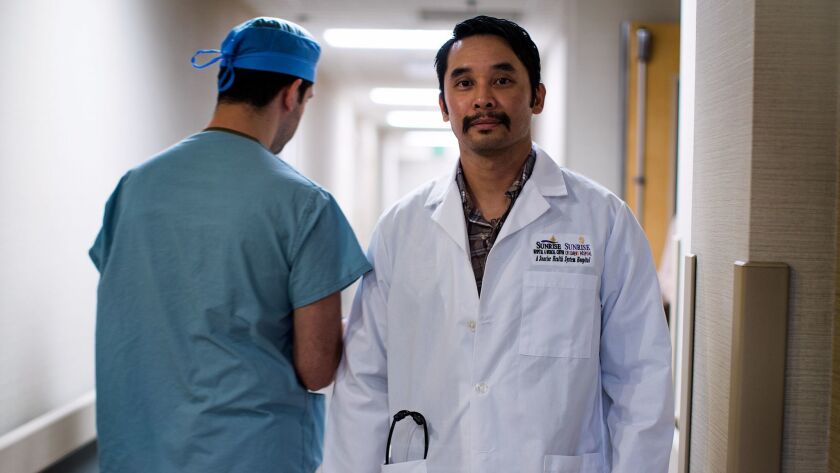 -- Sen. Dianne Feinstein proposed legislation that would ban gun "bump stocks," and some Republicans seem open to the idea.
-- The trigonometry of terror: why the Las Vegas shooting was so deadly.
-- Is that Las Vegas shooting charity legitimate? Here are some tips to help you find out.
She Tried to Forgive and Forget
Debra Newell had more than 300 pages of documents about her husband John Meehan's past. She dreaded winding up like her older sister, dead at the hands of her own husband. Yet Meehan had an explanation for everything, and Newell had been raised to always see the good in people. Part 4 of our weeklong "Dirty John" series of stories and podcasts looks at how she could forgive him.
Civil Servants Say the Climate Isn't the Best
Interior Secretary Ryan Zinke said last week he believes nearly a third of his workforce is disloyal to the Trump agenda. Could that be a reason why about 50 of the department's most experienced and highly paid managers got reassignment papers, often to jobs unrelated to their skills? One whose work focused on climate change was moved to auditing fossil fuel company leases. He quit — and filed a whistler-blower complaint. He's not alone in alleging the Trump administration is sidelining longtime civil servants with environmental expertise.
More Politics
-- Secretary of State Rex Tillerson denied reports he planned to resign over foreign policy differences with President Trump, but he sidestepped whether he had called Trump a "moron."
-- A federal judge ordered the Trump administration to enforce new restrictions on the release of potent methane emissions at oil and gas drilling operations on public land.
-- Leaders of the Senate Intelligence Committee say it has not reached a conclusion whether the Trump campaign cooperated with Moscow during the 2016 election.
Does the Nuclear Watchdog in Iran Need More Teeth?
The head of the United Nations' nuclear watchdog agency says its inspection program in Iran is the "world's most robust." Some Trump administration officials and outside experts say it's not aggressive enough, especially when it comes to military sites. The transcontinental monitoring program is central to the Iran nuclear deal, which President Trump has often called "an embarrassment" but several top aides have urged that the U.S. stay in. Another deadline for the president to recertify the program is coming up.
MUST-WATCH VIDEO
-- Which buildings could be salvaged? A tour of earthquake devastation in the Mexican town of Jojutla.
-- Watch these "transformer" robots fold themselves into boats, wheels and other useful shapes.
-- The former Johnny Carson estate in Malibu has been listed for sale at $81.5 million.
CALIFORNIA
-- L.A. County supervisors have fired the head of the county's housing and community development programs, but offered no public explanation.
-- Sidewalk vending isn't supposed to be a crime anymore in L.A., but activists say vendors are still at risk.
-- After more than a year and a half, authorities have charged four men in connection with the 2016 killing of a 1-year-old girl who was shot in her crib in Compton.
-- Documents show former "Glee" star Mark Salling admitted to possessing a massive cache of child pornography and agreed to spend up to 20 years in federal prison.
HOLLYWOOD AND THE ARTS
-- A former Sound City engineer details how Tom Petty and Stevie Nicks' "duet" on "Stop Dragging My Heart Around" came to be.
-- Will the Las Vegas massacre change country music's view of guns?
-- Late-night host Stephen Colbert gave a scathing play-by-play of Trump's Puerto Rico visit.
-- Kate Winslet, who told some horror stories about working with James Cameron on "Titanic," will reunite with the director for the coming sequels to "Avatar."
CLASSIC HOLLYWOOD
Moe and his brother Jerome "Curly" Howard performed in the late 1920s as a three-man act with failed violinist and boxer Larry Fine. Eventually they'd be known as the Three Stooges. Fine, who was born on this date in 1902, said most of the early films' comedy routines were ad-libbed. "The screenwriters made up the situation," he said. "But on the script the only directions were, 'The Stooges enter and do their stuff.' "
NATION-WORLD
-- First person: "What being undocumented, with and without DACA, has taught me." The deadline to file is today.
-- Rep. Tim Murphy (R-Pa.) has announced he won't seek reelection after reports surfaced indicating the publicly antiabortion politician had urged his mistress to have an abortion.
-- A German former actress has become the fourth woman to come forward to accuse director Roman Polanski of sexual assault, when she was 15 years old.
-- Will Vladimir Putin run for president of Russia again? He's not saying yet.
-- Kazuo Ishiguro, best known for the novels "The Remains of the Day" and "Never Let Me Go," has won the Nobel Prize for literature.
BUSINESS
-- Ratings for the broadcast networks' premiere week were down 11% from a year ago, continuing the long-term trend of viewers shifting away from watching TV live.
-- An Arkansas family that complained of bed bug bites at a Rancho Cucamonga hotel has been awarded $546,000, perhaps the biggest bed-bug judgment ever.
SPORTS
-- The Dodgers will face the Arizona Diamondbacks when their postseason starts Friday.
-- The Minnesota Lynx defeated the Los Angeles Sparks, 85-76, to win the franchise's fourth WNBA championship.
OPINION
-- A Duke University professor says President Trump is a racist, pure and simple.
-- Tom Steyer says, "I'm a billionaire. Please raise my taxes."
WHAT OUR EDITORS ARE READING
-- In 2012, Ivanka and Donald Trump Jr. were being investigated by the Manhattan district attorney's office for claims about a development. Then Trump lawyer Marc Kasowitz, a donor to the D.A., entered the case, and soon it was dropped. (The New Yorker)
-- "Buddhism's bad boy": A famous Tibetan lama, whose public outbursts include punching a nun, is accused of a long list of abuses. (South China Morning Post)
-- After one woman lost her job as a marketing executive, she became a movie extra as a temporary gig and found out it wasn't half bad as a way to make a living. (The Atlantic)
ONLY IN CALIFORNIA
What to do with those big, unsightly trash bins on the street? In Huntington Beach, artists have painted a variety of scenes on 30 dumpsters and will enlist the mayor and others to push them down Main Street this weekend. The Dumpsters on Parade project shows that one man's trash bin is another man's treasure.
If you like this newsletter, please share it with friends. Comments or ideas? Email us at headlines@latimes.com.
---