Kazuo Ishiguro wins the Nobel Prize in literature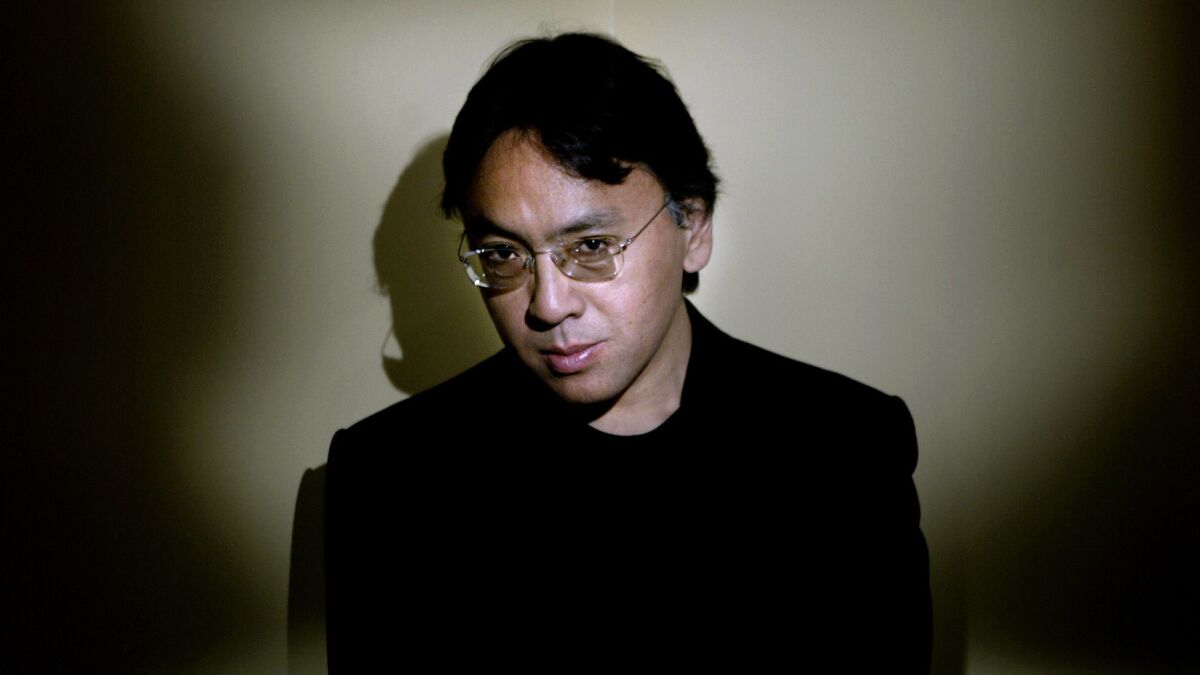 Kazuo Ishiguro is the winner of the Nobel Prize in literature, the awarding Swedish Academy said Thursday. Born in Japan and raised in Britain, Ishiguro is best known for the novels "The Remains of the Day" and "Never Let Me Go."
He is one of a handful of authors who write bestselling books while winning prestigious literary awards.
Published in 1989, "The Remains of the Day" won the Man Booker Prize and was adapted into the 1993 film starring Anthony Hopkins and Emma Thompson, nominated for eight Oscars. It's the story of a butler, Stevens, at an English country estate, and begins in the comedic vein of P.G. Wodehouse's Jeeves stories and ends somewhere quite different.
"In British and Japanese society, the ability to control emotions is considered dignified and elegant," Ishiguro told The Times in 1990. In Stevens, there is "the tendency to mistake having any emotions at all with weakness."
"Ultimately," he continued, "the book is about the tragedy of a man who takes that thing too far, who somehow denies himself the right to love and be human. This is something the middle-class and upper-middle-class English do a lot."
In its citation, the Nobel committee praised Ishiguro "who, in novels of great emotional force, has uncovered the abyss beneath our illusory sense of connection with the world."
Ishiguro is the author of seven novels, a short-story collection and work for the screen.
Ishiguro's "books share a fascination with memory, identity, with the tension between obligation and desire," wrote Times book critic David L. Ulin in a review of 2015's "The Buried Giant," Ishiguro's most recent novel, which is set in the time of King Arthur's England.
Sara Danius of the Swedish Academy said, "If you mix Jane Austen and Franz Kafka you have Ishiguro in a nutshell — and you have to add a bit of Proust into the mix."
The literary references were clear. Last year, the Nobel in literature was awarded to American musician Bob Dylan, citing his work as poetry. The decision made headlines, not all of them good. Danius declined to comment, in a streaming interview, on how the selection of Ishiguro might be received.
Instead, she focused on Ishiguro's work. "He's not out to redeem the past," she said. "He's exploring what you have to forget to survive as an individual and a society."
Ishiguro was born in Nagasaki, Japan, in 1954 and moved to England with his parents at age 5. His mother had survived the atomic bomb attack as a teenager; his father was an oceanographer. His parents intended to return to Japan but the family never did, and the idea of the nation he didn't know left such a lasting impression that it was a setting for Ishiguro's first two books, "A Pale View of the Hills," published in England in 1982, and "An Artist of the Floating World," published in 1986.
But it was when he turned to England that Ishiguro's work found its center. "The Remains of the Day" looks back on the period between the world wars and, through the butler Stevens' eyes, observes British leaders that the reader can see are making dangerous choices. "The author's subtlety and coolness are fascinating," wrote Patricia Highsmith in our review. "'The Remains of the Day' is a book to make the reader feel happy and at ease on being introduced to the world of the civilized Stevens and his social superiors. The humor is sly, unwitting, and charged with social comment."
Ishiguro attended British boarding schools and took time off, in 1973, to hitchhike across the U.S. with his guitar. He studied philosophy and literature at the University of Kent, when he sang and played in a band, and then got a master's in creative writing at the University of East Anglia. Steeped in the idealistic social movements of the 1960s and '70s, he worked for several years helping the homeless and on housing rights. Yet he also worked flushing grouse for hunters at the British royal family's castle Balmoral, in Scotland.
In his chilling 2005 novel, "Never Let Me Go," three young friends grow up in an idyllic British boarding school that is not what it seems. The book was his fourth to be shortlisted for the Man Booker Prize and was made into a film in 2010 starring Carey Mulligan, Keira Knightley and Andrew Garfield.
"By age 10, we start to be able and powerful enough to begin to make the journey out of the protected world the adults around us have created. It's a conspiracy, really, to keep children in this bubble with nice things and nice people," he told The Times in 2000. "We may not remember the transition intellectually, but this nostalgia for childhood is an important emotion. Remembering when the world was a better place is the foundation of our idealism; it can lead to the urge to make the world a better place."
Regularly publishing books every five years, Ishiguro often features unreliable narrators in his work. Such is the case in "When We Were Orphans" (2000), which starts in Shanghai in the early years of the 20th century, shifts locations, times and, surprisingly, narrative style to become something like a detective novel — an "ambitious experiment." In 1995's "The Unconsoled," a successful pianist is troubled by dreamlike anxieties over a weekend celebration during which it seems he can accomplish nothing; it's written with "characteristic grace and offbeat pungency," Richard Eder wrote in our review.
It was, Eder wrote, another of Ishiguro's "tersely sculpted novels of moral complexity."
"I've always thought that Ish is an amazing writer. The breadth of his work as a novelist is astonishing," said Sonny Mehta, editor in chief of Knopf. "We've had the good fortune of being his publisher since 'The Remains of the Day,' a book that readers around the world have come to cherish. This acknowledgment from the Swedish Academy is the most wonderful news, and a very happy occasion for all of us at Knopf and Vintage."
"Although Kazuo Ishiguro has spent much of his career writing about small events in the lives of modest people, wrote poet Troy Jollimore in our review of his 2009 short story collection, "Nocturne," "there is nothing modest about his accomplishments. His immaculate prose is unassuming to the point of near-invisibility, like a lake whose still surface belies the turbulent currents beneath. And he has mastered the art of creating characters whose statements mean more than they say."
Ishiguro described his writing style to The Times with characteristic understatement: "I try to say things as simply and cleanly as possible."
ALSO
The 2017 National Book Award finalists
Ansel Elgort is slated the lead in the adaptation of 'The Goldfinch' by Donna Tartt
The bestselling novel 'Sweetbitter' is coming to TV
---
UPDATES:
7:45 a.m.: This post was updated with more information about Ishiguro's books.
6:30 a.m.: This post was updated with more information about Ishiguro's life and work, and a comment from his publisher.
This post was originally published at 4:25 a.m.
---
Get the latest news, events and more from the Los Angeles Times Book Club, and help us get L.A. reading and talking.
You may occasionally receive promotional content from the Los Angeles Times.