Sidewalk vending isn't supposed to be a crime anymore in L.A., but activists say vendors are still at risk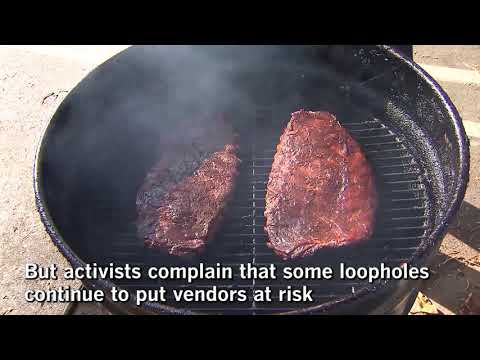 L.A. decriminalized sidewalk vending to protect immigrants from deportation. (Oct. 3, 2017)
Fearing a federal crackdown on immigrants in the country illegally, Los Angeles lawmakers vowed to protect vendors who hawk food and goods on city sidewalks.
No longer would the sidewalk sellers shilling ice cream or hot dogs wrapped in bacon face criminal charges that could lead to deportation, they declared.
The City Council voted overwhelmingly to decriminalize sidewalk vending in February and said it would soon move to legalize and regulate the bustling business that thrums along walkways in MacArthur Park, the Fashion District and other stretches of the city.
In the meantime, vendors could still get administrative citations with fines, but they would not face criminal convictions.
But activists complain that L.A. left some loopholes that continue to put vendors at risk of criminal charges. "There's a lot of fear and confusion about why the city was so enthusiastic about decriminalization in February — but still hasn't finalized this," said Doug Smith, a staff attorney with the nonprofit law firm Public Counsel.
Los Angeles stripped out criminal penalties for violating a key section of the Municipal Code that outlawed sidewalk vending, but it did not touch other code sections that target vending in parks and peddling food from a pushcart. Both are typically charged as infractions, but repeated violations for vending in the parks can also be punished as a misdemeanor.
The L.A. Street Vendor Campaign and other advocates have also warned that street vendors charged for "peddling" can end up facing misdemeanors if they miss a court hearing. And they say that under the Trump administration, merely having criminal penalties on the books could put immigrant vendors in peril.
Meanwhile, lawmakers have yet to approve regulations to let vendors do business legally. A little more than a month after the City Council vote, Maria Medrano was ticketed for an infraction, for allegedly selling hot dogs from a pushcart downtown. In a recent interview, Medrano said she was saddened that little seemed to have changed.
"All we are asking for, that we are fighting for, is a permit," Medrano said in Spanish.
In reaction to the concerns raised by activists, Councilman Gil Cedillo said he wants to remove any possible criminal penalties for those sections of the Municipal Code, reducing them to administrative citations. He and Councilman Jose Huizar introduced a proposal Wednesday asking city officials to report back on decriminalizing "peddling."
Cedillo is also exploring whether the city should impose a moratorium on enforcing either of the two codes until vending regulations are in place. His spokesman Fredy Ceja said they had not taken action earlier because they had expected L.A. to move quickly to legalize vending.
"We've been clear that we don't want to criminalize people who are selling paletas," Cedillo said, using the Spanish word for popsicles. Being ejected from the country "is too high a price for someone trying to make an honest living."
But tackling some of those code sections could prove complicated.
Dennis Gleason, policy director for Councilman Joe Buscaino, pointed out that the same code that penalizes pushcart vendors includes other kinds of sellers — including people hawking food from trailers attached to vehicles. That could be an issue in congested areas, he said.
"If sidewalk vendors are still getting infractions under that code section, we want to address that," Gleason said. "But if it's trailers, that wasn't really the council direction."
Councilman Mitch O'Farrell, who heads a council committee that oversees parks, "is exploring what it would look like to remove the misdemeanor sections" for park vending, his spokesman Tony Arranaga said. But Arranaga added that parks "are governed differently than city sidewalks" under the city charter.
The Los Angeles Police Department said that from January to September, it had issued 31 citations under the municipal code section that targets peddling from a trailer, wagon or pushcart — all of them infractions — and none for vending in the park. The City Attorney's Office said it has only filed two misdemeanor charges under those two sections in the past five years. Prosecutors have routinely rejected such charges for inadequate evidence or in the "interest of justice."
But immigrant advocates say that even categorizing it as a crime could put immigrants in jeopardy. Michael Kaufman, a staff attorney with the ACLU of Southern California, stressed that President Trump has instructed immigration officials to target not only convicted criminals for deportation, but also people who have committed "acts that constitute a chargeable criminal offense."
"As long as these ordinances remain on the books, ICE can say you engaged in criminal conduct," Kaufman said.
As long as these ordinances remain on the books, ICE can say you engaged in criminal conduct.
— Michael Kaufman, staff attorney with the ACLU of Southern California
LAPD First Assistant Chief Michel Moore said that officers are supposed to try to guide vendors to voluntarily relocate if complaints arise from the community, instead of immediately issuing a citation: "99.9% of the time I don't believe there's any enforcement being taken," Moore said.
However, "if we have a problematic vendor or someone raising community concern, it is possible they may rely upon an existing ordinance such as this," Moore said.
Despite the broad agreement among lawmakers that vending should be legalized, the council has wrestled with how to regulate it, facing concerns about blocked sidewalks, trash and negative effects on brick-and-mortar shops. Council members have been especially divided on whether some neighborhoods should be able to ban vending in their borders.
In the meantime, Guillermina Lopez, a tamale vendor who has repeatedly gone to city hearings to argue for legalization, said she was frustrated that she was continuing to get costly tickets. The South L.A. resident said she had stopped selling her homemade tamales and was scrambling to find other work before her rent was due.
"We're frustrated," Lopez said in Spanish. "We thought everything was moving forward well in our favor."
Twitter: @LATimesEmily
ALSO
She was shot by a sniper in 1966. The Las Vegas massacre brings her pain — and anger about inaction on guns
Years after suing Insomniac, L.A. Coliseum panel to get $3.5 million in corruption scandal settlement
L.A. sues federal government over threats to withhold funds
---
UPDATES:
1 p.m., Oct. 4: This article was updated with Councilmen Gil Cedillo and Jose Huizar introducing a proposal asking for a report on decriminalizing "peddling."
This article was originally published at 5 a.m. on Oct 3.
Sign up for Essential California for news, features and recommendations from the L.A. Times and beyond in your inbox six days a week.
You may occasionally receive promotional content from the Los Angeles Times.