Newsletter: Today: Is Legal Pot Going Up in Smoke?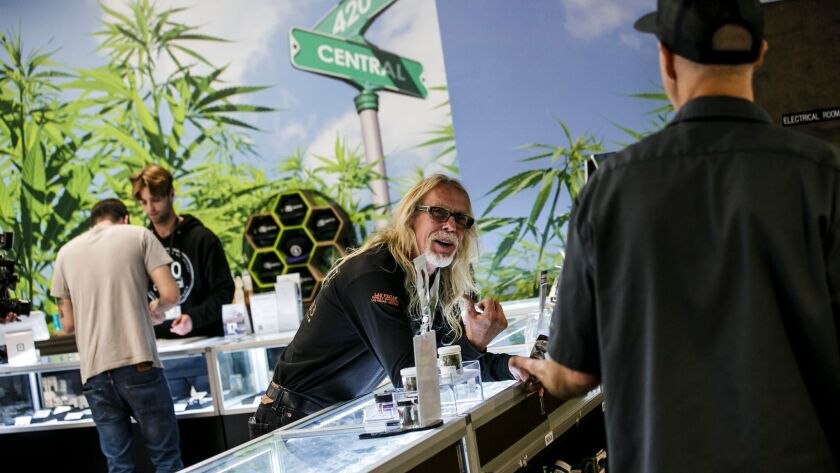 The Justice Department puts a cloud of uncertainty over the marijuana business, and states such as California are preparing to fight back.
TOP STORIES
Is Legal Pot Going Up in Smoke?
The high didn't last long. On Day 4 of legal recreational marijuana in California, U.S. Atty. Gen. Jeff Sessions ended an Obama-era policy that made way for marijuana sales here and in five other states, drawing criticism from Democratic and Republican lawmakers alike. Though the move may not necessarily lead to a wave of federal drug busts, it does cast uncertainty on an industry expected to generate billions of dollars — and, most immediately, when it comes to plans to get all that money into banks. Customers at a Santa Ana pot store were a bit bummed out, not terribly surprised and hopeful their point of view would prevail.
Trump's Plan to Take the Offshore Oil
Republicans may have backed off the "Drill, baby, drill!" slogan after the massive BP oil spill in the Gulf of Mexico in 2010, but the underlying sentiment is back in the Trump administration. Interior Secretary Ryan Zinke has unveiled a proposal to open up the largest expanse of the nation's offshore oil and natural gas reserves ever offered to global energy companies. The Democratic governors of California, Oregon and Washington as well as Florida's Republican Gov. Rick Scott have all voiced their opposition to the plan.
The Book the President Doesn't Want You to Read
Before it was even released, "Fire and Fury: Inside the Trump White House" shot to No. 1 on Amazon, led the president to attack his former chief strategist Stephen K. Bannon (new nickname for him: "Sloppy Steve") and prompted Trump to sic his lawyer on Bannon and the publisher. The response: Henry Holt & Co. decided to roll out the book not next week, but today. Here's a closer look at author Michael Wolff, who's never shied away from controversy.
More Politics
-- The Trump administration says it's suspending security assistance to Pakistan until the country moves aggressively against militants who have attacked U.S. troops in Afghanistan.
-- Trump indicated he would postpone long-planned joint U.S. military exercises with South Korean forces to ease tensions on the Korean peninsula during the Winter Olympics.
-- Republican candidate David Yancey won the drawing to decide a tied Virginia House of Delegates race. That means the GOP stays in charge.
A Question of Privacy vs. Transparency at LAUSD
It's been four months since Los Angeles Unified School District Supt. Michelle King went out on medical leave. Given that her illness has not been disclosed, speculation has abounded about when she'll return to the job. A spokeswoman says King plans to come back Jan. 22, but several district leaders privately express concern about that. Some observers feel King and the LAUSD board could strike a better balance between privacy and transparency.
The Rams Hope This Is a Game-Changer
It was just a few months ago that the Rams were synonymous with pictures of empty seats, in their second season back in L.A. On Saturday, the team will play host to the Atlanta Falcons in the first NFL playoff game at the Coliseum in 39 years. "Will this be the moment Los Angeles embraces the Rams?" columnist Bill Plaschke asks. And if you're wondering how the team got so good, this graphic breaks it down.
FLASHBACK FRIDAY
On Jan. 7, 1911, the first copies of The Times to be delivered by airplane made their way from Los Angeles to San Bernardino courtesy of French aviator Didier Masson. The idea was to land in Pomona along the way. Instead, Masson got lost, landing in a vineyard two miles beyond Cucamonga. Four hours later, Masson and the papers made their final destination.
MUST-WATCH VIDEO
-- Golden Globes host Seth Meyers rolls out the red carpet on press preview day at the Beverly Hilton. The awards will be handed out Sunday.
-- Encino's most expensive home sale of 2017: an estate that once belonged to Smokey Robinson.
CALIFORNIA
-- The earthquake that rattled the Bay Area early Thursday morning offers a preview of something much worse.
-- A federal grand jury indicted a Modesto man accused of plotting a Christmas Day terrorist attack on San Francisco's Pier 39. He is scheduled to be arraigned today.
-- Authorities say a 75-year-old man has been charged with fatally shooting his wife of 35 years, Donie Vanitzian, a longtime Times contributor who wrote about homeowners associations.
-- L.A. County's first case of sexually transmitted Zika virus has been confirmed by health officials.
YOUR WEEKEND
-- Which diet is best? Try the Mediterranean, or the Dash.
-- The lighter side: Eleven recipes to help you recover from the holidays.
-- Still haven't put away those holiday decorations yet? Here are some tips.
-- Prune back your rose bushes now, for beautiful spring blooms. These classes will show you how.
HOLLYWOOD AND THE ARTS
-- The late Michael Curtiz, the director of "Casablanca," "The Adventures of Robin Hood," "Mildred Pierce," "Yankee Doodle Dandy," "White Christmas" and more than 100 other films, is finally getting some respect.
-- Ridley Scott's "All the Money in the World" and Steven Spielberg's "The Post" offer a revealing study in directorial contrasts, writes film critic Justin Chang.
-- Where did your food come from? The Netflix documentary series "Rotten" offers some harrowing tales.
NATION-WORLD
-- In Iran, some people flaunt their Maseratis, while others hawk their own kidneys to get enough money for food. Those inequalities have fueled unrest, and the country's divided leadership is fearing and capitalizing on the tumult.
-- Call it a "bomb cyclone" or whatever you like, but a monster storm pummeled the Northeast U.S. with snow and ice, blowing down trees and power lines with hurricane-force winds.
-- A look at accusations of China's pervasive attempts to exert its influence in Australia.
-- Humans may "look for the helpers," as Mr. Rogers said, but bonobos prefer the troublemakers, and that finding may shed light on the origins of social interaction among people.
BUSINESS
-- The Trump administration has proposed to further loosen regulations on health insurance plans by making it easier for self-employed Americans, small businesses and others to form associations. The catch would be to no longer require a basic set of health benefits.
-- Lawyers for 35 states, including California, are urging the Supreme Court to revisit shielding internet purchases from sales tax. Billions of dollars are at stake.
-- The Dow Jones industrial average closed above the 25,000-point mark, just five weeks after its first close above 24,000.
SPORTS
-- After the worst loss of the season for the Lakers, the team was ready to simply move on.
-- Who is the greatest Dodger of all time? Send your list of the top 10.
OPINION
-- Why believe Michael Wolff? Because, for now, this stuff is too good not to, writes Virginia Heffernan in her first regular column for the Opinion section.
-- It's up to Congress to make sure that legalized marijuana doesn't go away.
WHAT OUR EDITORS ARE READING
-- Here's the real story behind an image of a woman and a young child lying on a blanket before a military veteran's grave that Trump tweeted out. (San Diego Union-Tribune)
-- The "open secret" at the center of Wolff's book about Trump. (The Atlantic)
-- Some Chinese farmers are becoming internet stars by live-streaming their daily rural life. (NPR)
ONLY IN L.A.
The Great Recession hit Angela Sanchez hard. She and her father were evicted and ended up living in an emergency church shelter. At her Glendale high school, she kept her homelessness secret. Outside the classroom, she and her dad filled time by making up stories about a scruffy dog and an egg. Now those tales form the basis of a children's book available via Amazon and at L.A. stores.
If you like this newsletter, please share it with friends. Comments or ideas? Email us at headlines@latimes.com.
---