Newsletter: Today: The Salvadoran Question: Go, Find a Way to Stay, or Hide?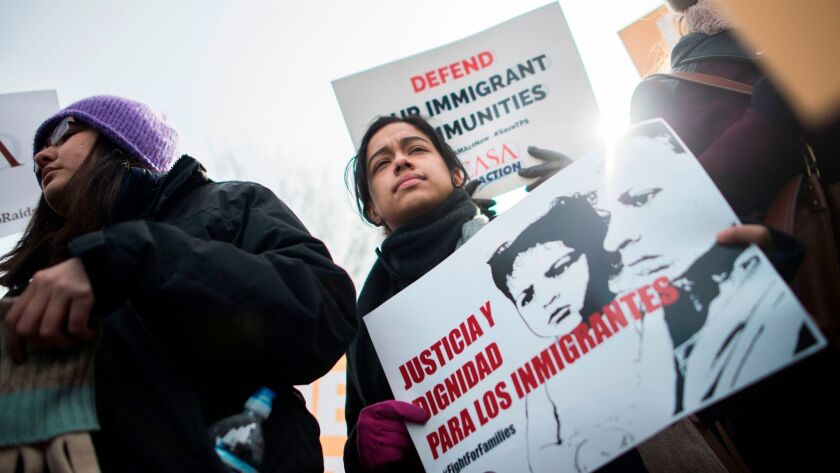 Salvadorans living in the U.S. with temporary protected status — and their families — are facing an uncertain future.
TOP STORIES
The Salvadoran Question: Go, Find a Way to Stay, or Hide?
For more than 260,000 Salvadorans who've been living legally in the United States, many of them with American-born children, the news is devastating but not unexpected: The Trump administration has rescinded the temporary protected status granted to them nearly 17 years ago after two devastating earthquakes. Department of Homeland Security officials say El Salvador has recovered, though people there tend to say the conditions are worse, given the violence from gangs, including MS-13. Barring further action from Congress, those affected now have 20 months to decide whether to go to the small Central American country, find another way to stay legally, or hide. "People will have to decide whether hiding from immigration agents is better than hiding from MS-13," says one immigrant who became a U.S. citizen.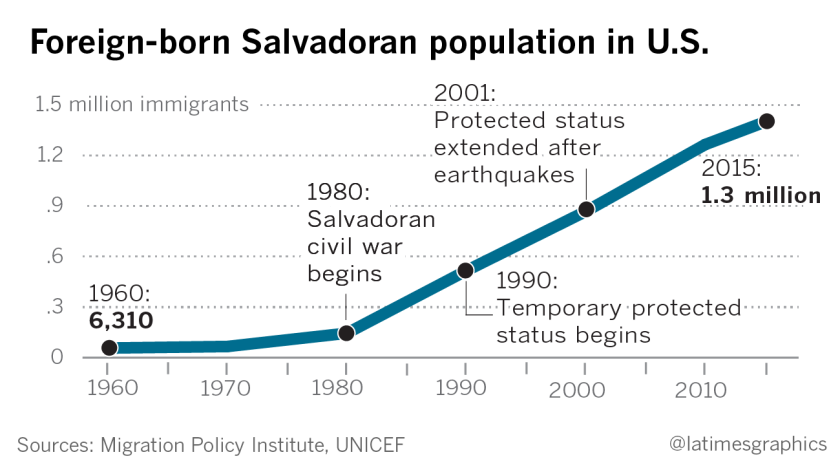 The Oprah Effect on Politics
A few years ago, the thought of a billionaire TV personality becoming president of the United States seemed a stretch. These days, not so much. For whatever it's worth, the chatter suggesting Oprah Winfrey should make a run at the White House in 2020 ignores some hard realities — for now, at least. After all, back in 1999, Donald Trump said that "Oprah would always be my first choice" for a running mate. And what's this? Even the president's daughter Ivanka tweeted about Winfrey's "empowering & inspiring speech."
More Politics
-- Officials from North Korea say they want to send athletes and a high-level government delegation to the Winter Olympics next month in South Korea. The statement came during the first day of diplomatic talks between the two countries.
-- Special counsel Robert S. Mueller III has told Trump's legal team that his office is likely to seek an interview with the president.
-- A Trump administration plan to force utilities to purchase more coal and nuclear power was rejected by federal regulators, undermining Trump's promise to revive the coal industry.
-- House Foreign Affairs Committee Chairman Ed Royce, whose congressional seat is largely in Orange County and has been considered vulnerable to Democrats, will not run for reelection.
-- San Francisco billionaire and major Democratic donor Tom Steyer says he won't run for the U.S. Senate or the California governor's office this year, ending months of speculation about his future.
An LAPD Shooting and the Video That Was Kept Secret
The 2015 police shooting of Charly "Africa" Keunang, an unarmed black homeless man on L.A.'s skid row, became a lightning rod in the national debate over use of force when bystander video of the deadly encounter emerged. But for almost three years, the Los Angeles Police Department kept the officers' body camera recordings under wraps. Now The Times has published the footage, which offers a unique look at the moments leading up to the killing.
In L.A., Garbage Complaints Heap Up
The RecycLA program, championed by Mayor Eric Garcetti, was supposed to increase recycling, decrease pollution from trash trucks and improve the lot of sanitation workers. Since it began in July, the complaints, and the garbage, have piled up. Customers have filed more than 28,000 reports of missed collections at businesses, large apartment buildings and condominium complexes in L.A. — on top of disputes over costlier bills.
MUST-WATCH VIDEO
-- Gov. Jerry Brown plants the seeds of his next chapter on a Northern California ranch.
-- Why did they wear black to the Golden Globes? The stars explain.
CALIFORNIA
-- Areas of Southern California were ordered to evacuate for the second time in as many months as a powerful rainstorm dumped water onto burned slopes. Authorities have warned about mudslides, flash floods and debris flows.
-- L.A. prosecutors won't charge fugitive director Roman Polanski in connection with an allegation he molested a woman when she was a minor in 1975, saying the statute of limitations has expired.
-- The legal battle over Charles Manson's body and property has begun in a downtown Los Angeles courtroom, and it keeps getting more complicated. A decision could be weeks away.
-- California might soon have an official state horse under new legislation from a San Diego assemblyman. Yay or neigh for the California Vaquero?
HOLLYWOOD AND THE ARTS
-- Despite starring no superheroes or Jedi warriors, dramas like "Darkest Hour," "The Shape of Water" and "Lady Bird," which all won at the Golden Globe Awards, are drawing impressive audiences at the multiplex.
-- Marchesa MIA: The fallout over the Harvey Weinstein sexual harassment scandal led to the Globes trend you didn't see.
-- Russian-born pianist Igor Levit brought down the house, in a good way, when he played in Costa Mesa over the weekend. Music critic Mark Swed took it all in.
-- Ray Thomas, a founding member of British rock group the Moody Blues, has died at age 76.
CLASSIC HOLLYWOOD
Joan Baez, who turns 77 today, has never pretended to be a rocker. Yet in 2017 she was among those inducted into the Rock and Roll Hall of Fame. "I would make a lousy rock star," she told The Times last year. "I don't have the right voice for it. I don't have the 'sex, drugs and rock 'n' roll' spirit. But the greatest flattery in the last couple of years is being called a 'badass' by young singers."
NATION-WORLD
-- A federal judge in Nevada ruled that the federal government may not retry Cliven Bundy and his sons after rebuking prosecutors for withholding evidence stemming from an armed standoff in 2014.
-- The Supreme Court voted to give a black inmate convicted of murder in Georgia a chance to overturn his 27-year-old death sentence because of racist comments made by a white juror years later.
-- Despite the Trump administration's latest move on pot, Vermont, New Jersey and Michigan are among the states looking to legalize marijuana.
-- Chinese state media said an oil tanker that caught fire after colliding with a freighter off China's eastern coast was at risk of exploding and sinking.
-- Why the United States is "the most dangerous of wealthy nations for a child to be born into."
BUSINESS
-- Super-fast 5G wireless technology is coming this year, but will it be worth the extra cost? Consumer columnist David Lazarus explores.
-- Skybell Technologies, an Irvine smart doorbell startup, has filed a lawsuit claiming its Santa Monica competitor, Ring, copied its technology.
SPORTS
-- Roll Tide! Alabama won the College Football Playoff national championship in overtime over Georgia, with a freshman quarterback leading the way.
-- The most alarming part of LaVar Ball's comments that were critical of Lakers coach Luke Walton was the reaction of son Lonzo, columnist Bill Plaschke writes. Is the drama worth it for the team?
OPINION
-- Oprah for president: Have we learned nothing?
-- L.A. City Atty. Mike Feuer writes that we need a homelessness czar.
WHAT OUR EDITORS ARE READING
-- The deadly work of private garbage collection at night in New York City. (ProPublica)
-- The long arm of Beijing: How Chinese nationalism is posing challenges to American and other western universities that host Chinese students. (Inside Higher Ed)
-- Vhy do zee bad guys in cartoons speak with foreign accents? (The Atlantic)
ONLY IN L.A.
Unlike Hollywood, Beverly Hills or Santa Monica, West Covina hasn't received a whole lot of attention in movies or TV shows over the years. Some people may be familiar with the city's mall; others with its Filipino community; and a few might know it primarily for being west of Covina. But the CW show "Crazy Ex-Girlfriend" has brought the spotlight to this San Gabriel Valley suburb, and despite a few details being off, West Covinans have been pleasantly surprised.
If you like this newsletter, please share it with friends. Comments or ideas? Email us at headlines@latimes.com.
---