Newsletter: Today: Pruitt's Swamp Song
Scott Pruitt is leaving the EPA amid scandals. Here's what's next.
TOP STORIES
Pruitt's Swamp Song
The $43,000 phone booth. The first-class flights at taxpayer expense. The $50-a-night condo a block from the Capitol. The pursuit of a used mattress from a Trump hotel — and a Chick-fil-A franchise for his wife. Luxury lotion. Environmental Protection Agency chief Scott Pruitt is stepping down amid an array of scandals and more than a dozen official inquiries into them. But environmentalists won't be pleased with who's taking over as acting director: Andrew Wheeler, a former coal lobbyist and longtime Washington insider. That means the Trump EPA's agenda, driven by the fossil fuel industry, will continue — and be led by someone who knows even better how to rewrite the rules.
More Politics
-- Secretary of State Michael R. Pompeo will be in North Korea to press ruler Kim Jong Un on his stated willingness to disarm his nuclear arsenal, amid reports that Kim actually is expanding the program.
-- With tit-for-tat tariffs between the U.S. and China ready to kick in, they could upset the global economy. Here's what could happen, at a glance.
-- Former Fox News executive Bill Shine is joining the White House as deputy chief of staff for communications.
-- A big orange blimp depicting Trump as an infant in a diaper has received permission to fly over Parliament Square Garden when the president visits London next week.
The Mystery of a Notebook at the Border
At the San Ysidro Port of Entry in Tijuana, people from all over the world are hoping to enter the U.S. to make their case for asylum. But first, they need to get in "the notebook." No one is willing to say exactly how the list of 2,000 names began. Since U.S. border officials began to limit the number of those at the port, the notebook has become a way for immigrants to keep track of who's next in line. And the keeper of the list? It's always an asylum seeker, who hands it off to a new arrival.
It Turns Out, Even More Kids Were Separated
Despite protests and a judge's order for family reunification with a looming deadline, the Trump administration said it had separated hundreds more children from their parents after illegal border crossings than had previously been revealed — and that none of the families had yet been reunited. Health and Human Services Secretary Alex Azar said the number of children may be as high as nearly 3,000. And he objects to a court order that children younger than 5 be reunited with their parents by Tuesday and the remainder by around the end of July.
In California, Internet Surfers Rule
It's not a done deal until California lawmakers vote and Gov. Jerry Brown signs off on it, but Democratic state legislators have reached a compromise on net neutrality rules after last month's repeal at the federal level. The proposal would stop internet service providers from blocking, speeding up or slowing down websites and video, as well as charging websites fees for fast lanes.
Hatching a Bad Idea?
If you've been in Santa Monica or Venice lately, you've seen Bird scooters on the sidewalks. Just unlock one with your phone, zoom off and leave it there for the next rider. At first, columnist Robin Abcarian thought it was liberating. Then she crashed.
Sign up to get Today's Headlines delivered to your inbox. »
FLASHBACK FRIDAY
The old Los Angeles County Hall of Records was completed in 1911 and stood in downtown L.A. until July 7, 1973, as the "Civic Center's most charming and idiosyncratic landmark." That's when it was demolished to make way for a parking lot. Today, it's part of Grand Park. Get a look at its former glory here.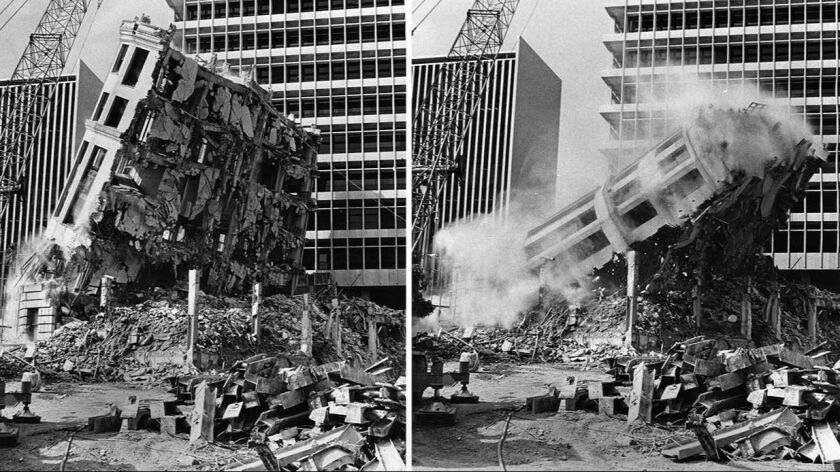 MUST-WATCH VIDEO
-- Fireworks are illegal in the city of Los Angeles, eh? You'd never know it from this time-lapse on the Fourth of July.
CALIFORNIA
-- An early legal victory for the "sanctuary" law: A federal judge refused to block the state from restricting local law enforcement cooperation with immigration agents.
-- Stay cool: A dangerous heat wave will hit Southern California this weekend. Even parts of the coast could reach about 100 degrees.
-- L.A. authorities say they are seeing more gangs turn to homemade guns as it becomes more difficult to acquire real ones.
-- Aerospace giant Northrop Grumman says it is taking "immediate action" to look into a report that one of its engineers is part of a white nationalist group.
YOUR WEEKEND
-- A dozen granita recipes to keep you cool this summer.
-- The joy of eggplant: Culinary expert Evan Kleiman suggests making a timbale.
-- Get inspired to burn off some of those calories with this fitness gear, including a bike without a seat.
-- On a weekend escape to Pacific Beach in San Diego, you can party on the boardwalk and chill on the bay.
HOLLYWOOD AND THE ARTS
-- Looking for something original? Dwayne Johnson and writer-director Rawson Marshall Thurber discuss "Skyscraper," the only major studio release in July that is not part of an existing franchise.
-- "Whitney" is the third documentary in a year to explore Whitney Houston's life, but film critic Kenneth Turan says it expertly sheds new light on the singer.
-- Why make another movie out of "Little Women"? Screenwriter Robin Swicord explains why it's the perfect time for Greta Gerwig's new version.
NATION-WORLD
-- Thai authorities say a former navy SEAL working to rescue boys trapped in a cave has died from lack of oxygen.
-- In Syria, rebels are expecting no help from their onetime ally, the U.S., as a government offensive bears down.
-- A British official accused Russia of using Britain as a "dumping ground for poison" after two British citizens were exposed to a nerve agent.
-- A series of explosions in fireworks workshops killed 19 people and injured at least 40 in a town just north of Mexico City.
-- Once zealously controlled by a religious sect, the small town of Colorado City, Ariz., is trying to rehab its image with beer.
BUSINESS
-- Chinese officials fear the movie business there is going too Hollywood, so they're taking measures to rein in movie stars' pay.
-- Admit it: You've taken a nap at work. Some businesses are providing high-tech napping pods and specially designed break rooms to boost productivity.
SPORTS
-- Russia's performance in the World Cup and the country's history are raising suspicions of doping. It plays Croatia today.
-- From unknown to indispensable: Second baseman Max Muncy is putting up All-Star numbers for the Dodgers.
OPINION
-- Trump didn't gut affirmative action, but its future is far from secure.
-- Protecting your skin and saving baby corals don't have to be mutually exclusive.
WHAT OUR EDITORS ARE READING
-- Putting out the Capital Gazette, a week after the massacre. (The New Yorker)
-- Three kinds of bias that can bring fake news into your social media feed. (Nieman Lab)
-- Ice cream in America: It's an amazing tale. (Boston Globe)
ONLY IN CALIFORNIA
Religious organizations usually answer to a higher power, but one church in Newport Beach may have to answer to a judge after the city accused it of being a marijuana dispensary violating local law. The Church of the Holy Grail's attorney wrote in a letter that the location's use of marijuana is "a lawful exercise of religion," but officials say that's just blowing smoke.
If you like this newsletter, please share it with friends. Comments or ideas? Email us at headlines@latimes.com.
---