Newsletter: Today: Danger: No Clearance?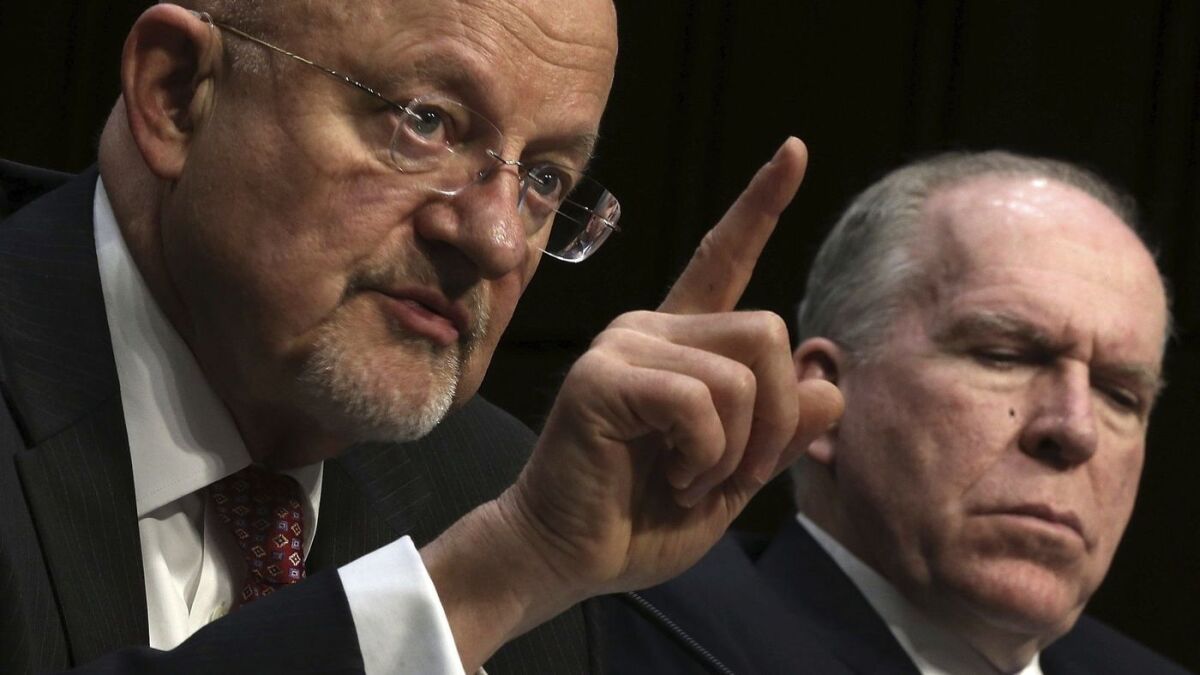 President Trump is threatening to take away the security clearances of former officials as punishment for their criticism of his recent actions.
TOP STORIES
Danger: No Clearance?
All that criticism of President Trump from former national security and law enforcement officials isn't going over well in the White House, and now Trump is considering a way to punish half a dozen by revoking their security clearances. Press Secretary Sarah Huckabee Sanders accused them of having "politicized and in some cases monetized their public service and security clearances, making baseless accusations of improper contact with Russia." Among the president's targets: former CIA directors John Brennan and Michael Hayden, former Director of National Intelligence James R. Clapper and former national security advisor Susan Rice. But former FBI officials James B. Comey and Andrew McCabe, who were also named, say their clearances were deactivated when they were fired.
Tough Talk on Iran
An all-caps tweet from the president. A harsh speech by the secretary of State. A sharp statement from the national security advisor. Trump and his senior advisors have sharply escalated tensions with Iran this week. Critics immediately branded the threats as Trump's attempt to divert attention from widespread, bipartisan disapproval of his troubled dealings with Russia. But the tough talk comes just weeks before the administration plans to slap strong economic sanctions on the country.
More Politics
-- Trump has tried to keep the FBI surveillance controversy alive, though new FISA court documents still don't support his claims.
-- The Senate has confirmed Pentagon official Robert Wilkie to be secretary of Veterans Affairs.
-- A federal judge has delayed the trial of former Trump campaign chairman Paul Manafort until next week and approved special counsel Robert S. Mueller III's request to grant immunity to five witnesses.
No Time to Breathe Easy
First, the good news: California hit its target to reduce greenhouse gas emissions below 1990 levels in 2016, four years ahead of schedule. The bad news: Though emissions from electricity generation have plunged, those from the biggest source of pollution — transportation — went up. Further complicating matters: a Trump administration plan to weaken fuel economy standards and revoke California's power to set its own, stricter rules.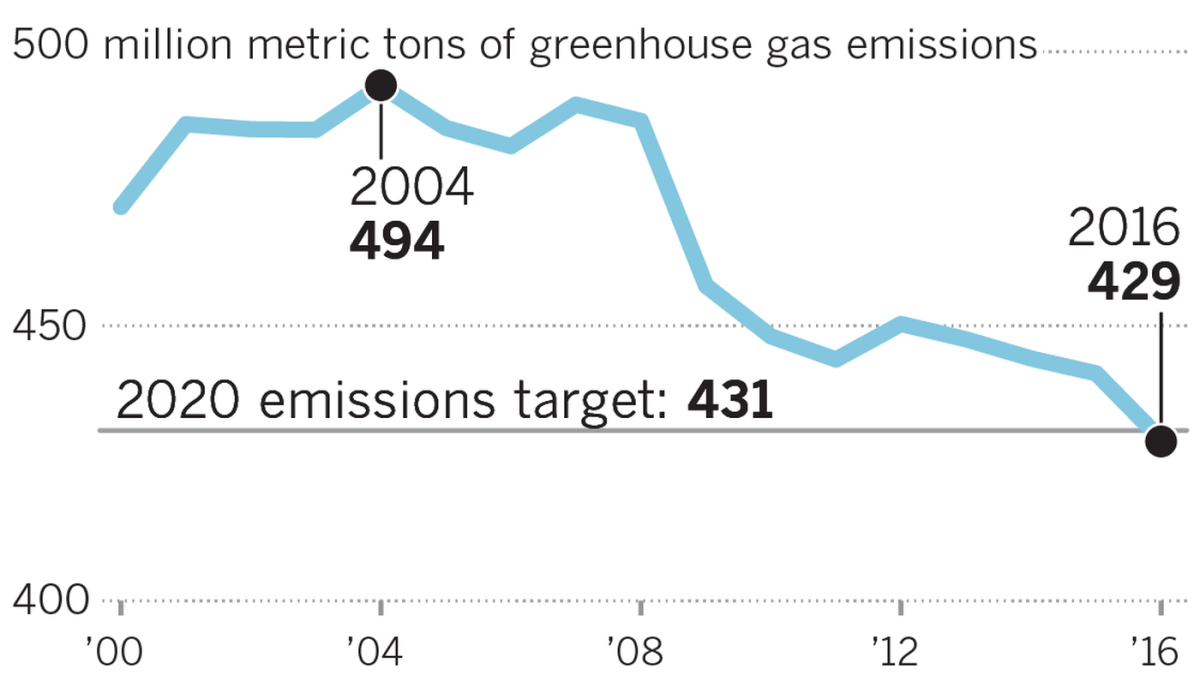 A Dramatic Fall From Power
Just over a year ago, Ref Rodriguez was leading the new charter school-backed majority on the L.A. Board of Education as president. Then came criminal charges, leading him to give up his presidency. Now, he has resigned — and pleaded guilty to a felony count of conspiracy as well as three misdemeanor counts of assumed-name contribution. Rodriguez admitted that he was part of a scheme to conceal that he was the true source of early donations to his campaign.
Sign up to get Today's Headlines delivered to your inbox. »
MUST-WATCH VIDEO
-- The casts of "The Walking Dead," "Star Trek" and more celebrity boomerangs from the L.A. Times Comic-Con studio.
CALIFORNIA
-- The LAPD is searching for surveillance video and witnesses to the Trader Joe's shootout in Silver Lake. Police are working to determine if a slain employee was fatally wounded by the suspect or officers.
-- USC was hit with lawsuits from 51 more patients of former campus gynecologist Dr. George Tyndall. The chair of the university's board of trustees says he wants to see the litigation resolved "as quickly as possible."
-- Health officials have issued a heat alert for Los Angeles County's inland valleys, warning that a multi-day heat wave expected for Southern California will put the community's most vulnerable residents at risk.
-- A Palos Verdes Estates teenager has been acquitted on charges of murder and two counts of attempted murder in connection with the fatal shooting of a 21-year-old man in South L.A. last year.
HOLLYWOOD AND THE ARTS
-- The myths and realities of the toxic "Star Wars" fanbase from the perspective of last weekend's Comic-Con.
-- The Starz drama "Vida" is the rare program that features a broad range of Latinas across race, class and sexuality. Two writers debate what it does well and what it could do better.
-- Dan Harmon, co-creator of the animated show "Rick and Morty" and creator of the comedy series "Community," has deleted his Twitter account and apologized after a disturbing 2009 video resurfaced.
-- Soul singer R. Kelly has released a 19-minute song that addresses news stories that have accused him of being a sexual predator.
CLASSIC HOLLYWOOD
In the 1964 film "Dr. Strangelove," Peter Sellers played a weak-willed American president, a sappy Royal Air Force officer and the titular scientist whose arm keeps involuntarily snapping into a Nazi salute. Director Stanley Kubrick said he wasn't trying to save money by using him in three roles: "It is just that there is nobody else in the world who can play each of those parts like Sellers." The actor died on this date in 1980 at age 54.
NATION-WORLD
-- Members of the French Parliament demanded answers after a senior security aide to President Emmanuel Macron was indicted on charges of engaging in "gang violence" and impersonating a police officer.
-- How pregnancy and childbirth may protect some women from developing dementia.
-- Can moderate Democrats rise again? The answer may be in Ohio.
BUSINESS
-- Walt Disney Co. has reached a tentative settlement with three unions at the Disneyland Resort. The agreement appears to end a heated, months-long contract dispute with about 9,700 employees.
-- If Tesla is asking suppliers for refunds, that's unusual and "troubling," an analyst says.
SPORTS
-- Did you ever hear the story of the Dodgers and the magical pebble? Ron Fairly still has the small stone.
-- Lakers forward Michael Beasley has some thoughts about people questioning his new team's roster.
OPINION
-- Let voters pick Ref Rodriguez's replacement on the school board, not his allies on the board.
-- Los Angeles is filthy, so this man started picking up trash — and could use some help.
WHAT OUR EDITORS ARE READING
-- How is Trump changing environmental policy? This running list keeps track. (National Geographic)
-- Mel Brooks is 92 and, after 75 years in show business, is still going strong. (The Atlantic)
-- What do you do with your chopstick wrappers? This man has collected 15,000 pieces of origami from the discards. (Atlas Obscura)
ONLY IN L.A.
Something big is coming to the Arts District: Two Bit Circus. What is it exactly? Well, that depends on what day you ask the founders. It might be described as a modern-day arcade, or a live-action video game, or even the future of theme parks. When it opens in September, Two Bit Circus will have no rides, but among its splendors will be midway-style games, a place where you can pretend to go on missions on the bridge of a "Star Trek"-like starship — and a full bar to get you in the mood to play.
FOR THE RECORD: An item in yesterday's newsletter incorrectly described the race between two Republicans in Georgia as the runoff for governor; it's the runoff in the GOP primary election for governor.
If you like this newsletter, please share it with friends. Comments or ideas? Email us at headlines@latimes.com.
---