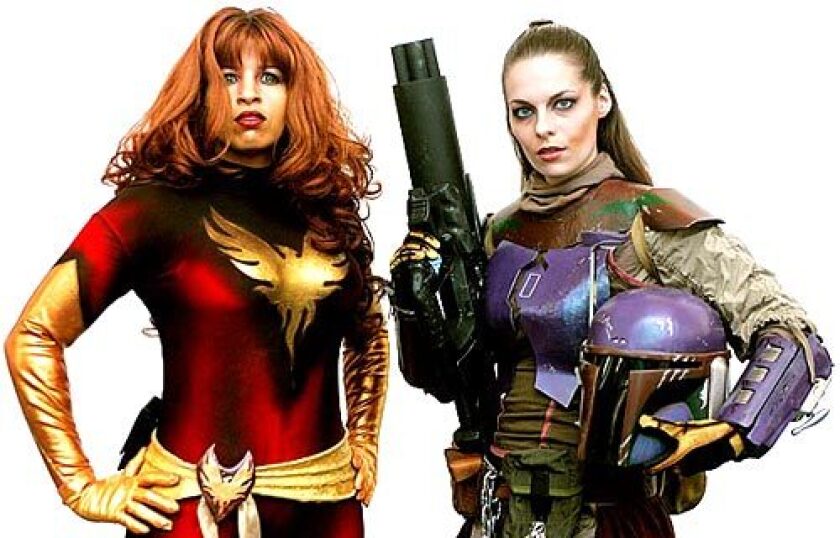 Los Angeles Times Staff Writer
IT'S THE Cannes of Capes, the World's Fair for Fanboys, the ultimate Bazaar of the Bizarre. Comic-Con International gets underway today at the San Diego Convention Center and 125,000 fans will attend this frothy celebration -- and hard sell -- of pop culture.
Like at a rock festival with multiple stages, you can go to Comic-Con and have an experience completely different from the next fan. If you're lucky enough to get into Hall H, the hangar-sized site where Hollywood sends its stars and filmmakers to promote upcoming films, then the convention is all about getting the fresh scoop on next summer's blockbusters. But you can also devote your Con entirely to video games, anime, horror, television shows, collectible cards, toys or even, if you're old school, actual comic books.
There's a dizzying variety of niche panels. Interested in collecting Asian ball-jointed resin dolls? Check out Room 8 at 11 a.m. on Sunday. Maybe you're a big fan of Little Lulu, the newspaper comic strip that ended in the Nixon era? Grab a seat in Room 24A on Saturday at 3 p.m. Curious about the use of the biblical figure Abel in fiction? That discussion raises some Cain in Room 2 at 5 p.m. on Friday.
The good news is there is something for everyone. The bad news is that pretty much everyone shows up to find it. Comic-Con is sold out completely and tickets are being auctioned on EBay. The lines can be brutal in some spots. If you want to get into Hall H, the wait might be six hours. It's first-come, first-served and many fans will get a seat and drop anchor for hours. You need to choose wisely, young Jedi.
Reflect on the Con's scruffy beginnings in 1970 and it's hard to fathom how that musty, nerdy event at the U.S. Grant Hotel become a mecca for movie stars. But, well, life is funny. This year, the previews and panels in the cavernous Hall H (capacity 6,500) start this morning with 20th Century Fox hyping its December release "The Day the Earth Stood Still," with scheduled appearances by Keanu Reeves and Jennifer Connelly. Hall H will also be visited over the weekend by Samuel L. Jackson (for "The Spirit"), Mark Wahlberg and Ludacris (both for "Max Payne") Benicio Del Toro ("The Wolf Man"), Dwayne Johnson ("Race to Witch Mountain"), Seth Rogen ("Pineapple Express") as well as the cast of "Heroes," including Masi Oka, Hayden Panettiere and Zachary Quinto (the latter will also be raising eyebrows as Mr. Spock when "Star Trek " reboots next year).
Hall H will also see such fan-favorite creators as Judd Apatow, Frank Miller, Zack Snyder, Jeph Loeb, Kevin Smith and Joss Whedon.
The Hall H panels you don't want to miss? The four centered on films that will take fan-beloved properties into a new medium or era. Snyder is bringing "Watchmen," the revered 1986 graphic novel by Alan Moore and Dave Gibbons, to the screen in March, and the panel will stir a Super Bowl energy level with true believers 11:55 a.m. on Friday. At 2:45 p.m. on Friday, first-time solo director Miller brings along Jackson and the other cast members of the December release "The Spirit," which will put Will Eisner's beloved masked man amid Miller's "Sin City" sensibilities. (The writer of this article, by the way, will be the moderator for that panel.)
Today at 1:15 p.m., it's the cast and creators of "Twilight," the December adaptation of the beloved teen vampire novel (collectors can nab free trading cards). On Saturday at 1:15 p.m., director McG is bringing footage from "Terminator Salvation," which reboots the killer-robot franchise made famous by Arnold Schwarzenegger. (We hear the filmmaker might be bringing rebel-fighter armbands to give away; we also hear he won't be bringing the new John Connor, Batman actor and recent arrestee Christian Bale.)
The Universal films rundown, Saturday at 3:45 p.m., includes "Land of the Lost" and a taped message from funnyman Will Ferrell. He stars in the Brad Silberling film, a $100-million comedy remake of the Saturday morning show that was famous for its cheesy effects and its Sleestaks, the lizard men who chased a trio of stranded humans through a jungle.
In the ballrooms, it's a (slightly) less mad scene where TV shows and stars will come to woo their fans. At noon today, Ballroom 20 hosts the best of Brit sci-fi with back-to-back hours devoted to "Dr. Who" and "Torchwood," the sexed-up hybrid of "CSI" and "Men in Black" based in Wales, as unlikely as that sounds. (Again, the writer of this story will be helping at the microphone for those two BBC panels.) On Saturday morning, there's no place like Homer; "The Simpsons" panel, an annual favorite in San Diego, convenes at 10:45, led by Matt Groening and Al Jean.
A Saturday must-see will be at 2:15 p.m., as Ronald D. Moore, the creator of the Peabody Award-winning "Battlestar Galactica" join cast members such as Tricia Helfer, Katee Sackhoff and James Callis to talk about the celebrated show as it winds down in its final season. Filmmaker Kevin Smith, a true icon in fanboy circles, will moderate and make jokes about toasters.
Friday is "Star Wars" day at the Con and at 10 a.m. supervising director Dave Filoni will be in Room 7AB with his team to talk about "The Clone Wars," the new computer-generated animation show (and the tie-in animated film of the same name due in theaters on Aug. 15). The advance word on the show has been strong, so expect a lot of cheering storm troopers.
If you prefer utility belts to light sabers, go instead at 10 a.m. to Room 6B for a look at "Batman: Brave & Bold," the new animated series featuring the ubiquitous caped crusader who, in recent pop culture at least, is more powerful than his friend from Krypton.
The best part of Comic-Con may be wandering the massive showroom floor where you can buy wookiee backpacks, $20,000 copies of old Superman issues sealed in archival slabs and life-size cutouts of Klingons. Director Robert Rodriguez ("Sin City") is bringing Red Sonja, the redheaded barbarian queen, to the movie screen in 2010 and he's hosting a panel about it at 2 p.m. today in Room 6CDEF. His star, Rose McGowan, is attending but probably won't show up in a chain-mail bikini, but, well, you never know. . . .
The life of celebrated designer Chip Kidd is a visual-arts safari, so, for an offbeat hour, check out his slide-show today on the secret history of Batman in Japanese manga from the 1960s. It's at 3:30 p.m. in Room 30AB. If you get weary of celebrity worship, make a snap decision on Friday and go by the Lego presentation in Room 4 at 11 a.m. to see the handiwork of builders who have devoted years of their life to the interlocking plastic brick toys from Denmark.
Singer Tori Amos has become an interesting figure in the comics community due to her friendship with acclaimed writer Neil Gaiman, who paid homage to Amos in his groundbreaking "Sandman" series. She repaid the compliment by weaving Sandman tales into her music. Now Amos music has a 480-page coffee-table book with 50 stories based on her songs. The singer leads a panel on the Image Comics release in Room 6B at Saturday at 11:30 a.m.
Just need a laugh? Drop by the panel at 12:30 Friday in Room 6A: It's a homage to the loopy, edgy and defunct British comedy "Spaced," with Jessica Hynes, Simon Pegg and Edgar Wright. "Spaced" launched "Shaun of the Dead" and "Hot Fuzz," and now it's on DVD. Wright might also talk about "Ant-Man," his planned project for Marvel Studios.
What to do after you've left the building but you just haven't had enough pop culture? Try the screenings all weekend of "Sex Drive," at the Gaslamp 15 Theatre. Seth Green and other cast members will be introducing tonight's screenings (8:55 and 9:20), and the film about a Facebook romance is getting major buzz as the new "Superbad." Green, a veteran of Comic-Con, said he can't wait for the weekend. He'll be there to join "The Family Guy" panel (Friday, 3:30 p.m., Ballroom 20), promote the DVD release "Robot Chicken" (his hysterical stop-motion animation comedy show) and tell fans about his comics work in "The Freshman."
Like Comic-Con, Green is bit scattered in his pursuits. "Comic-Con is just overwhelming," Green said. "I wander around and take it all in. You need a plan, but in the end it doesn't matter, you just go with it."
---