Editorial: New lethal injection protocol isn't the answer to California's death penalty debate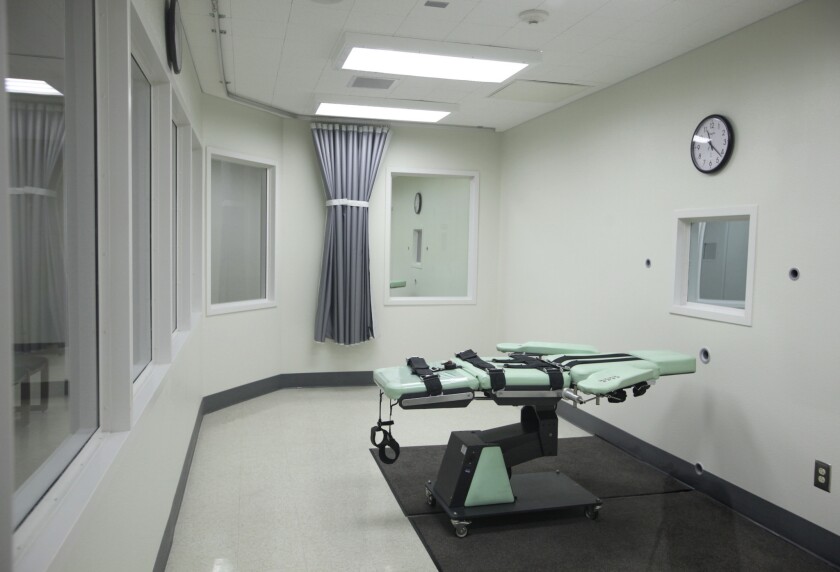 The California Department of Corrections and Rehabilitation has finally settled on four barbiturates — amobarbital, pentobarbital, secobarbital and thiopental — as the poisons of choice for its proposed new method of executing people. A single dose from any of the four would replace the previous three-drug protocol, which a state judge threw out in 2011 — not because killing someone by lethal injection would be cruel and unusual punishment but because the state failed to follow the proper administrative rules in adopting the old protocol.
That doesn't mean the state is about to execute its first prisoners in nearly a decade, however. Friday's posting of the proposed new, simpler protocol is just the start of a fresh review process that will inevitably draw lengthy legal challenges. Meanwhile, the state continues to appeal a ruling by U.S. District Judge Cormac J. Carney last year that barred executions in California. Carney found the state's system for determining whom to execute unconstitutionally arbitrary and so slow that executions ultimately serve no retributive purpose.
State voters may also weigh in on the subject next year; backers of two death penalty initiatives are seeking spots on the 2016 ballot. The dueling proposals offer a stark and unambiguous choice: Resume the "machinery of death," as Justice Harry A. Blackmun once called it, by speeding up the appeals process for death sentences, or end the barbaric practice altogether and sentence convicted murderers to life without parole. Given our blanket opposition to capital punishment, it's easy to guess which way we lean.
As things stand today, Californians have it both ways, with courts sentencing convicted murderers to death at a pace of about one every three weeks but with no executions being carried out. In fact, California has executed only 13 people since capital punishment was made legal again nearly four decades ago, while 112 condemned prisoners have died, primarily from natural causes or suicide. As Carney pointed out, these days a California death sentence is in practice a sentence of life without parole — except with lengthy, costly appeals.
Granting the state the right to execute its citizens is an abhorrent breach of morality and human dignity. There also are grotesque national disparities in who receives a death sentence, as judgments are weighted by race, geography and, occasionally, politics. That's not justice. It's racially skewed vengeance tainted by gamesmanship, which has led to arbitrary death sentences and scores of wrongful convictions.
Now that California is taking the first steps toward resuming executions, Californians need to take a close look at what we are asking the state to do in our name. Murder is a serious crime, and it demands a serious punishment. But execution is not it.
Follow the Opinion section on Twitter @latimesopinion and Facebook
---
A cure for the common opinion
Get thought-provoking perspectives with our weekly newsletter.
You may occasionally receive promotional content from the Los Angeles Times.