Editorial: California needs one single-use plastic law to rule them all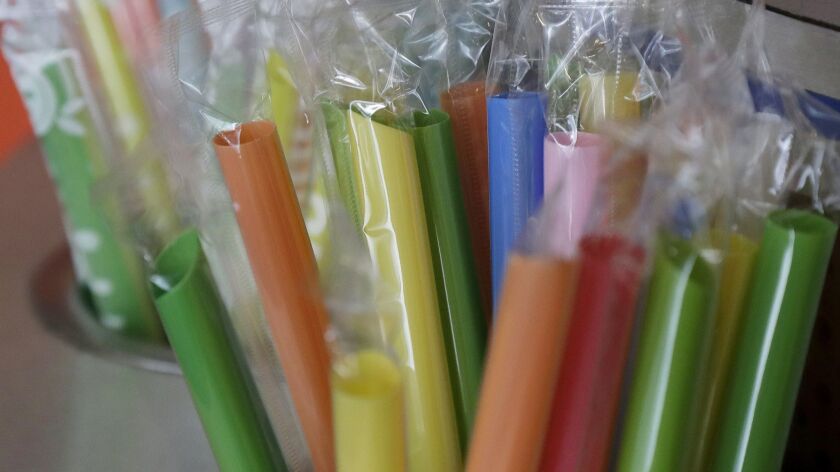 The Los Angeles County Board of Supervisors is expected to give its final blessing this week to a sweeping ordinance that will prohibit some 1,300 restaurants and other food vendors in the unincorporated portions of the county from automatically handing out plastic straws or coffee stirrers with to-go beverages. Beginning Jan. 3, employees at any business that sells food will have to ask customers if they want a straw before giving them one. Even self-serve straw dispensers will be a no-no, unless the straws they are packing are made of paper or another biodegradable substance.
Meanwhile, the Los Angeles City Council is expected to vote on its own effort to rein in plastic straws Tuesday. The city's measure will be subtly but significantly different from the county's. Under the proposed city "straws on request" ordinance, employees at restaurants, fast food joints and coffee shops may not even mention straws unless they are working the drive-through window. A customer has to ask for a straw to get one.
And that's not all. Malibu, Santa Monica and Manhattan Beach have banned plastic straws outright, as well other types of plastic takeout ware. California oceanfront cities have been the leaders in restricting single-use plastic items because so much of it ends up on their beaches. They know that not only is plastic litter bad for the environment, but it's not great for their local economies. No one wants to sunbathe on a beach littered with used soda straws, latte cup lids and potato chip bags.
California needs consistency not just on straws, but on all single-use plastic items.
But wait — didn't California just pass some sort of statewide plastic straw ban? And shouldn't that make all these other local straw laws go away?
The answer to the first question is a kind-of yes, but the second gets a definite no. Despite the national attention it received, California's straw law — another "straws on request" formulation — is so mild it is nearly symbolic. When it goes into effect Jan. 1, it will apply only to full-service sit-down restaurants, even though the bigger source of disposable plastic straws is from businesses that serve to-go beverages, like fast food restaurants and convenience stores.
Don't blame the bill's author, Assemblyman Ian Calderon (D-Whittier), for its weakness. His first proposal would have included all food providers, but it was watered down by the time it passed the Legislature.
The statewide measure served an important purpose nonetheless by raising awareness of the harm caused by a seemingly innocuous item that is contributing to the world's growing problem with plastic waste. But symbolism doesn't solve the problem, so it's understandable that local governments are coming up with their own rules to curb disposable plastic, including straws, coffee stirrers, sporks and soda cups. But it's ridiculous that consumers and businesses should be required to deal with so many different rules about single-use plastic in different communities around the state.
Enter the Fray: First takes on the news of the minute from L.A. Times Opinion »
The proliferation of straw laws is confusing, unmanageable and ultimately unsustainable, and may eventually prompt lawmakers to do the right thing. A similar patchwork of local plastic grocery bag restrictions created such a headache for retailers that they stopped opposing efforts to pass a statewide ban on single-use plastic grocery bags. Even then it was a tough fight to enact a bag ban, but ultimately one was embraced by Californians and has shown real results.
California needs consistency not just on straws, but on all single-use plastic items. In case you hadn't noticed, discarded plastic takeout cups, containers and other detritus of our disposable lifestyle are trashing many of the the Golden State's beaches, parks and other areas. That's not good for the environment or the economy. With the global market for plastic recyclables in free-fall and the production of disposable plastic items growing every year, more trash cans aren't enough.
Calderon and his colleagues returned to Sacramento this week. If they haven't done so already, they should prepare to take the next big step: enacting a comprehensive plan to wean the state of its disposable plastic habit.
Follow the Opinion section on Twitter @latimesopinion and Facebook
---
Life is stressful. Our weekly mental wellness newsletter can help.
You may occasionally receive promotional content from the Los Angeles Times.