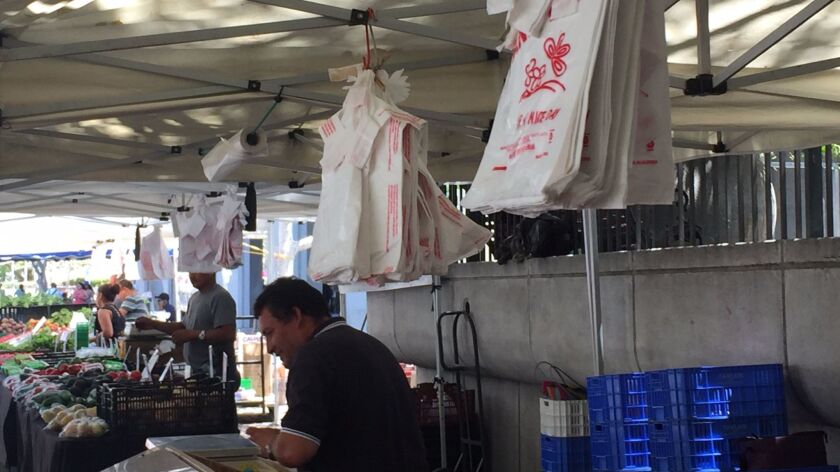 Among the blazing orange carrots, ripe red strawberries and deep green kale leaves that line the farmers market stalls is one incongruous product that never goes out of season: disposable white plastic bags.
I am an avid farmers-market shopper, which means more than half of my food comes from the three I visit regularly. I am also an avid plastic-bag avoider, which means that my farmers market excursions are trips behind enemy lines. At nearly every stall the vendor pushes a bag at me before I have even taken a good look at the wares. Over and over I must explain that, no, I don't need a plastic bag. This reusable sack in my hand is all I need, thank you very much. Sometimes I have to say it twice.
On the one hand, I appreciate the attentive service from vendors. You don't always get that kind of help at commercial supermarkets. But it is offset by the constant reminder that, as far-reaching as California's landmark plastic bag ban is, it has significant, and ironic, exemptions.
Of all the businesses that ought to be exemplars of good environmental stewardship, it is California's certified farmers markets, about 60 of which are in Los Angeles. The farmers market movement took off in the last decade (from 514 across the state in 2005 to 817 in 2016, according to the California Department of Food and Agriculture) in part because consumers care about the environmental benefit of locally grown food.
Certainly it is more convenient to get your food at a chain grocery store. But the payoff is the satisfaction that comes from putting your money where your conscience is when you choose produce from a local grower over the mass-produced output of a factory farm. At least for me, that good feeling is deflated by all those fresh veggies dumped into environment-choking plastic bags.
California lawmakers passed a statewide ban on single-use plastic bags in 2014, but it didn't take effect until last year, when voters reaffirmed the ban in the November election. The state prohibits the largest enablers of the state's 15-billion-bags-a-year habit — grocery stores, convenient stores and other retail outlets — from giving away the kind of thin plastic bags that are made to be used once and then tossed. Instead, stores can sell paper or durable reusable plastic bags to consumers who want them.
Farmers markets, restaurants and some retail stores were not included in the state's ban and thus still have carte blanche to hand out flimsy plastic bags until the cows come home, unless their city or county has adopted an expanded ban. The state law allows that, and if the state's certified farmers markets don't start to voluntarily comply with the ban, cities such as Los Angeles ought to declare that the season for single-use plastic bags is over.
Follow me @marielgarzaLAT
Follow the Opinion section on Twitter @latimesopinion and Facebook
---