Editorial: Eric Garcetti is done flirting with 2020? Good. L.A. needs him to get to work at home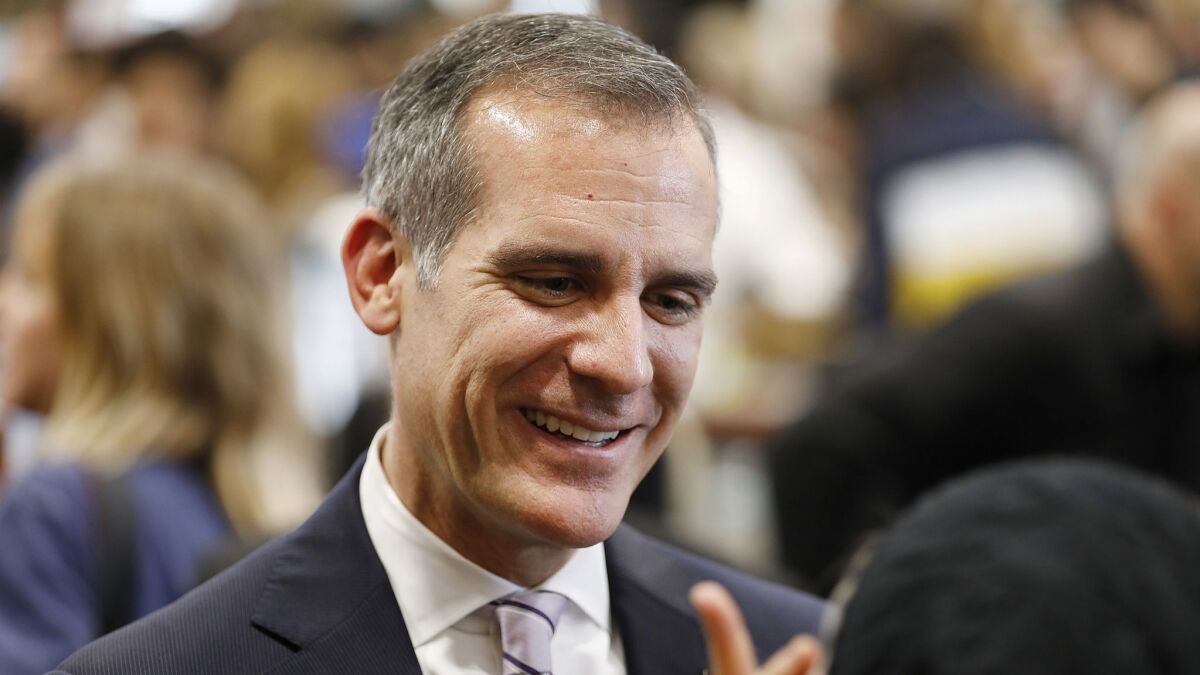 After more than a year of exploring a 2020 bid for the White House and spending an abnormally large amount of time in South Carolina, New Hampshire and Iowa, Los Angeles Mayor Eric Garcetti finally announced Tuesday that, no, he will not run for president. That was the right decision.
Los Angeles is a big, complicated city with serious challenges and tremendous opportunities. It's a city that needs a full-time, fully invested mayor.
"This city deserved my attention and this position deserved my attention," Garcetti said as he explained his decision.
When the Times Editorial Board endorsed Garcetti for a second, super-sized term in 2017, we said Los Angeles needs more than a placeholder mayor and we hoped he would serve all 5½ years. We still believe it. Running for president is not a part-time job. And although Garcetti would certainly have promised not to abandon the city, the reality is that he would've spent the next two years — or one year, or six months or three months, depending on his performance — in New Hampshire, Iowa and other delegate-wooing destinations around the country.
Enter the Fray: First takes on the news of the minute »
That would've been bad news for a city that needs leadership, now as always. There are more than 50,000 homeless people across Los Angeles County, and we've only begun to figure out how to address their needs. There's a reason Los Angeles has consistently failed to "solve" homelessness — it's politically fraught, expensive work that requires years of focus and follow-through and leadership from the region's elected officials, the mayor in particular.
But there's more — Los Angeles suffers from a terrible shortage of affordable housing, and a related question of how to build a denser, more mobile city.
Garcetti's new police chief is facing questions about racial profiling in some of the city's poorest neighborhoods. An ambitious rebuilding of the city's mass transit infrastructure is underway. The need to improve our schools — which the recent strike by Los Angeles Unified School District teachers made clear — is crucial.
The list goes on and on. Water recapture. Recycling. Potholes. Earthquake retrofitting. Attracting 21st century jobs and developing a workforce to fill them. These are not issues that can be taken care of on the phone from Michigan or Florida.
Last week we saw Garcetti focused, working to end the disruptive and costly teachers' strike. Although schools aren't a formal part of his job, he jumped into the midst of the strike that had left nearly 500,000 students stranded, held Supt. Austin Beutner's and union leader Alex Caputo-Pearl's feet to the fire, and helped resolve an impasse that could have crippled the city for weeks.
That's the Eric Garcetti we'd like to see more of during the remaining four years of his mayoralty. Indeed, for all the times we've been critical of Garcetti, especially for his cautiousness in wading into difficult political issues, we have seen that when he chooses to step into the fray and lead, he can get results.
That leadership will be more vital than ever, especially as the Los Angeles Unified School District pursues a local tax measure to keep the city's public schools from falling off the financial cliff. Garcetti helped Los Angeles win the 2028 Olympics, and now he has to help build the transportation and tourism infrastructure to support the Games and deliver lasting benefits to the region.
Garcetti is still relatively young, and he's likable and articulate. He's going to have plenty of chances to move ahead in politics, in California and nationally in due time.
"I have a tremendous sense of renewal about this job," Garcetti told reporters Tuesday night.
Good. The city needs Garcetti to throw himself into being the best possible mayor, engaged, visible and authoritative, for now and for the coming years.
Follow the Opinion section on Twitter @latimesopinionand Facebook
---
Life is stressful. Our weekly mental wellness newsletter can help.
You may occasionally receive promotional content from the Los Angeles Times.