Editorial: Don't let the window close on a Yucca Mountain nuclear waste storage deal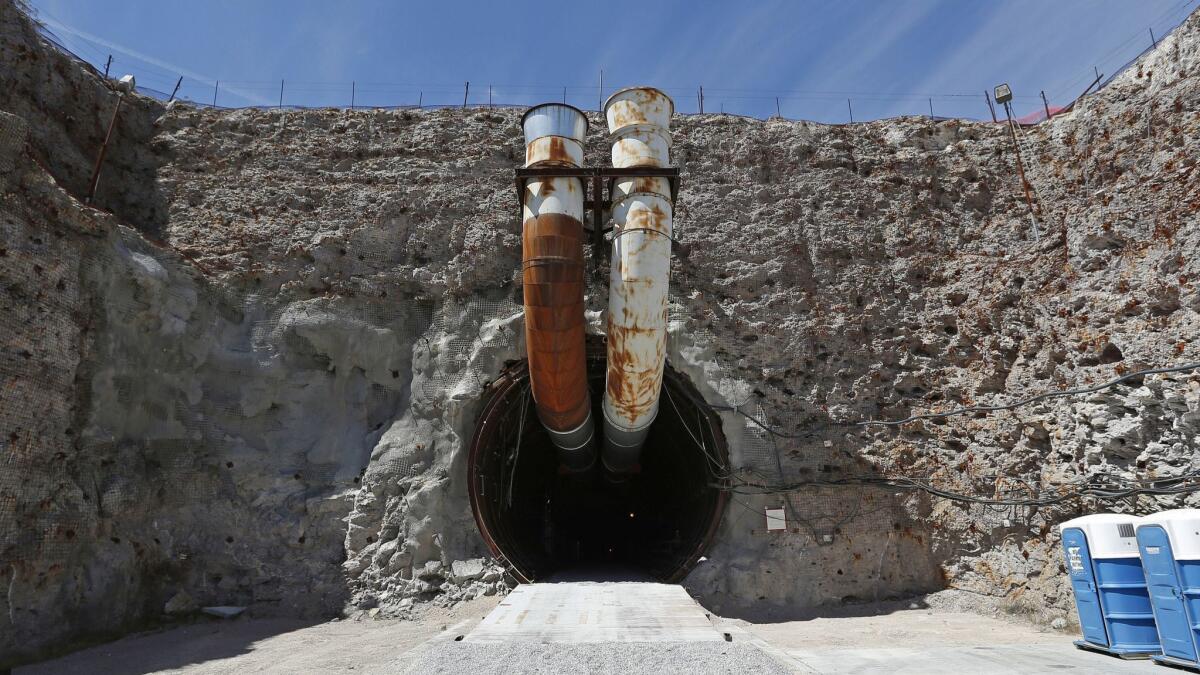 As the final days of the 115th Congress tick down in a blur of last-minute negotiations over government spending and President Trump's border wall, time is running out for lawmakers to restart a long-stalled effort to build a permanent nuclear waste repository. They should make it a top priority.
At issue is the proposed repository in remote Yucca Mountain, Nev., adjacent to a Cold War-era nuclear weapons test site. About a decade ago, the federal government stopped the licensing process for the site when Senate Majority Leader Harry Reid (D-Nev.), a powerful longtime opponent, persuaded President Obama to cut its funding. In the intervening years, nuclear waste has continued to pile up (not just metaphorically) at more than 60 active plants around the country.
Spent fuel rods and other reactor waste also remain stored at about 30 inactive plants, including the San Onofre Nuclear Generating Station south of San Clemente, which permanently shut down its reactors in 2013. Southern California Edison and the other co-owners of the shuttered plant have had no choice but to cool spent fuel rods on site, pack them into steel-lined concrete containers at the edge of the Pacific Ocean and then pray that no catastrophic events or serious equipment failures occur before a permanent home is found.
The prospect of 30 more years of homeless radioactive waste decaying at decommissioned sites never intended for long-term storage is truly terrifying.
It's an untenable situation, and Congress should be moving heaven and Earth to fund a long-term nuclear storage site — and interim sites while the permanent one is made ready — before the session ends next week and all the hard work of the past year is scrapped.
Both the House and the Senate agree on developing interim nuclear storage sites — waste way stations, if you will — that could be ready to accept spent fuel rods as soon as the 2020s. Two private companies in Texas and New Mexico are working on opening temporary waste facilities, and the governors of those states support them because of the jobs they would produce.
The sticking point on Yucca Mountain, by contrast, is local opposition. Reid has retired, but Nevada's current senators have made it clear they will never support a repository at Yucca Mountain, and they have the support of Sen. Dianne Feinstein (D-Calif.) and other colleagues. Feinstein owes it to Californians to act in their interests first.
It would be great if no state had to bear the responsibility for the toxic output of the nation's nuclear power plants. But leaving highly radioactive waste scattered across the country at scores of nuclear plants poses far too much risk; Congress wisely decided more than 30 years ago to create a single national site for spent fuel rods and other reactor waste. And it chose Yucca Mountain because it is uniquely suited for the task, given its history, topography and empty surroundings. Since then $11 billion of about $35 billion paid by ratepayers for the purpose has been spent developing the remote Nevada site.
Enter the Fray: First takes on the news of the minute from L.A. Times Opinion »
If there was another reasonable option to safely store this toxic material for the millennia it will take to lose its lethality, then we'd be all for considering it. There is not, however, and giving up on Yucca Mountain now will set back the process by years, if not decades.
And storing waste in a desolate, dry and stable site in the Sierras is considerably safer than stacking up canisters of spent rods on the beach in seismically sensitive, wildfire-prone Southern California in an era of rising sea levels. One accident at that spot could cause incalculable damage to the environment and to the major population centers to the north and south. And even with redundant safety measures, things can go wrong; accidents happen. Earlier this year workers at San Onofre found a loose bolt inside one of newly designed canisters being used to store radioactive materials. That one was fixed while it was still empty, but the plant had already filled other new canisters. There's no way to know if those filled containers might be structurally unsound. We just have to hope there's no reason to find out.
If this Congress adjourns without resuming work on Yucca Mountain, then it may never happen. Rep. Nancy Pelosi (D-San Francisco), the presumptive incoming House speaker, has said she won't support Yucca Mountain as long as Nevada's leaders are opposed. The prospect of 30 more years of homeless radioactive waste decaying at decommissioned sites never intended for long-term storage is truly terrifying.
Follow the Opinion section on Twitter @latimesopinion and Facebook
A cure for the common opinion
Get thought-provoking perspectives with our weekly newsletter.
You may occasionally receive promotional content from the Los Angeles Times.