Editorial: A shameful Sacramento power play on the future of the state's electric grid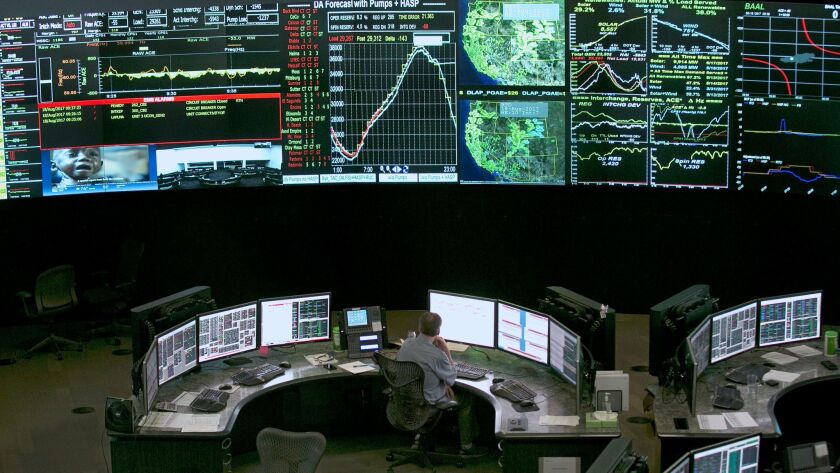 There are times when last-minute rule bending is the only way to accomplish important legislation in Sacramento, and sometimes it results in good law. But in most cases, it is an indefensible abuse of power to ram through legislation at the 11th hour without a thorough public airing.
The current attempt by Assemblyman Chris Holden (D-Pasadena) to rush through a complicated and half-baked proposal to create a multi-state electricity market in the final days of this legislative session clearly falls into the latter category. There are far more responsible ways to go about restructuring the state's electric grid. Legislators should put a halt to Holden's bill and insist that next time it go though the proper legislative process of hearings, votes and, you know, representative democracy.
This legislation could have undergone more than a year of vetting by now. Following up on a 2015 law that let the organization that oversees California's wholesale power market be transformed into one serving the needs of multiple states in the region, Gov. Jerry Brown proposed the details of the transformation last year. His proposal had the laudable goals of saving as much as $1.5 billion dollars, making the power supply more reliable and opening up opportunities for California to sell its surplus renewable power to other participating states, which could then cut their own reliance on fossil fuels. Cleaner skies and a stable power supply as California pushed ambitious renewable energy goals — what was not to love?
This year's regional market proposal arrives with no time left in the session for even a single committee hearing for stakeholders to weigh in on the details.
A lot, actually. The proposal raised red flags as well as a slew of questions that needed answers: Would it give other states too much sway over California's power infrastructure? Would municipal utilities, such as the Los Angeles Department of Water and Power, lose autonomy? Would it backfire, like the deregulation in the 1990s that led to soaring electric prices, blackouts and the recall of a sitting governor? Legislators, environmentalists and consumer advocates, among others, pushed back and demanded the governor slow the regionalization ship down. (We did too.) There was no need to ram through such a complicated and potentially transformative restructuring of the power grid in the final weeks of the legislative session.
In the intervening year, interest in regionalization seemed to wane after the presidential election — perhaps because it amplified the political divide between red and blue Western states. President Trump's agenda also meant California's leaders had more pressing issues to deal with. Or so it seemed until late Friday, when the governor's old proposal emerged again, shoved into the shell of what had been a non-controversial bill (AB 726) by Holden, chairman of the Assembly Utilities and Energy Committee.
This year's regional market proposal is worse than last year's because it arrives with no time left in the session for even a single committee hearing for stakeholders to weigh in on the details. What little debate the bill is receiving is going on in private. The current language raises the same issues as before, plus some new ones, such as what it means if the regional electricity board has to answer to Trump appointees on the Federal Energy Regulatory Commission. It also includes what seems to be an unwelcome attempt to undermine the nascent movement in which communities bypass investor-owned utilities to buy their own electricity in the wholesale market. If it weren't for Proposition 54's new requirement that bill texts be made public at least 72 hours before they're passed, those opposed to the proposal might not have seen it in time to raise the alarm.
Even people who don't understand the complexity of supplying electricity to businesses and homes in California — and that is most of us — deserve the opportunity to hear both sides of this important debate. And why not? There is nothing to be lost by having a full and open vetting. Let's do this the right way and unplug this last-minute power play.
Follow the Opinion section on Twitter @latimesopinion and Facebook
---
A cure for the common opinion
Get thought-provoking perspectives with our weekly newsletter.
You may occasionally receive promotional content from the Los Angeles Times.