Editorial: Sacramento's sickness: A pervasive pay-to-play culture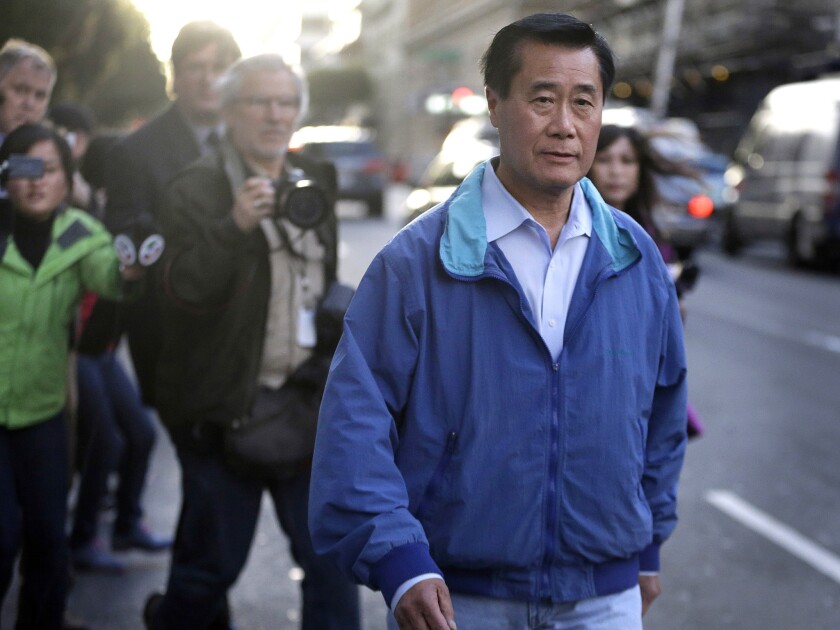 If it is true that state Sen. Leland Yee consorted with criminals and did them political favors in return for campaign cash, it is indeed "sickening," as Senate President Pro Tem Darrell Steinberg said. But this newest scandal, along with the indictment of Sen. Ronald S. Calderon on bribery and corruption charges in February, is merely an extreme example of the long-standing and pervasive pay-to-play culture that permeates the Capitol.
Yee, a San Francisco Democrat, was swept up in an FBI sting targeting a gangster known as "Shrimp Boy" and faces federal charges related to public corruption and conspiracy to illegally import firearms. Court documents portray Yee as aggressively trying to raise money to pay off $70,000 in debt from his unsuccessful run for San Francisco mayor in 2011 so that he could begin building a war chest for his campaign to be secretary of state (which he abandoned Thursday). Starting in 2011, undercover FBI agents posing as donors met with Yee to negotiate contributions in exchange for specific political acts, such as urging a Department of Public Health manager to support a contract for the donor's client or introducing a donor to legislators involved with writing medical marijuana bills.
According to the affidavit, Yee made some minimal efforts to draw a line between out-and-out bribery and the normal way of doing business, complaining when the undercover agent openly discussed how much he would pay for specific political favors. Yet perhaps because he was desperate for money, Yee "never walked away from quid pro quo requests."
Yee now faces the possibility of prison time. So does Calderon, a Democrat from Montebello, who is accused of soliciting and accepting bribes to push legislation. But there are many transactions between politicians and donors that occur on the legal side of the line with no explicit promises but that work on the same principle — campaign cash for political favors. Why else is there such a feverish flurry of contributions in the final days of the legislative session in Sacramento, when most bills are passed or killed?
It takes between $700,000 and $1 million, on average, to win a seat in the Legislature. The sheer cost of running, coupled with term limits that keep politicians perpetually jockeying for the next open seat, have created a culture in which legislators are always in need of additional donations. Even those who don't break the law are aware of how the game must be played.
California needs fundamental change in the way politicians raise money and run for office. A first step would be to ban campaign contributions during the legislative session. But substantially more will be needed, whether it's public financing of political campaigns or another "clean money" reform, or even more FBI stings. If Sacramento doesn't begin to change, voters are likely to act on their own.
---
Life is stressful. Our weekly mental wellness newsletter can help.
You may occasionally receive promotional content from the Los Angeles Times.