Editorial: L.A., a minimum wage island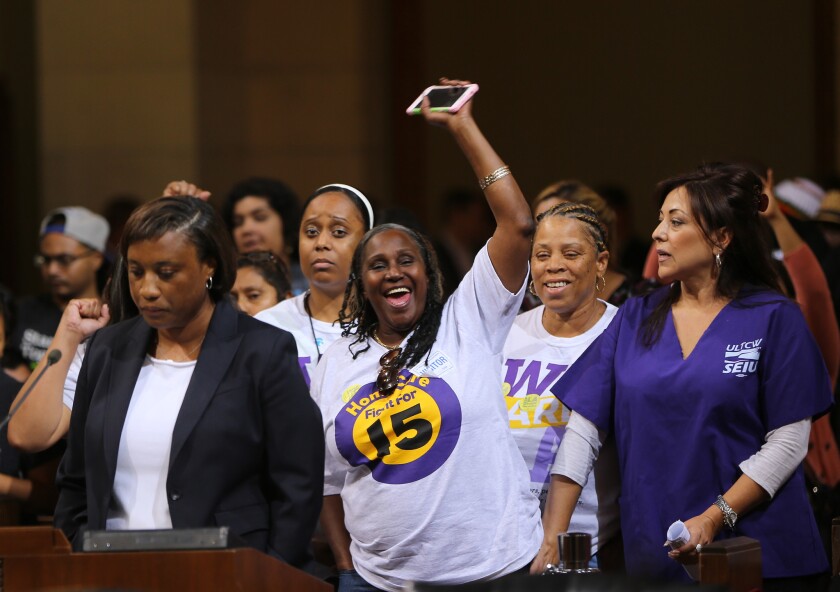 The City Council is on the verge of finalizing Los Angeles' plan to raise the minimum wage to $15 by 2020, but another last-minute wrinkle demonstrates the difficulty of setting minimum wages city by city. The sooner the rest of Los Angeles County adopts a regionwide wage, the better it will be for workers, businesses and regulators.
Under the draft ordinance released last week, an employee who performs two or more hours of work a week in the city would be entitled to the new minimum wage for those hours — even if his or her employer is located outside the city. This is the way San Francisco, Oakland and all other California cities with minimum wages operate as well. But business groups have warned that such a rule will be confusing, will involve a lot of paperwork and will be difficult to enforce, especially for workers — such as those who make deliveries — whose jobs require them to travel throughout the region.
That's true. It will be complicated. But the city has a responsibility to make sure the wage mandate is applied fairly so that people working in Los Angeles get the increase as intended. Is two hours a week the appropriate threshold to qualify? Is there a better way to determine who gets the city wage? The ordinance should be carefully drafted so that it meets the objectives of the City Council, is fair to business, and is as clear and easy to enforce as possible.
No matter how the issues are resolved, the result will no doubt be messy as long as L.A. is a high-minimum-wage island, which is why the city cannot go it alone. Some 30 cities and swaths of unincorporated county area touch the borders of Los Angeles, and commerce and workers cross jurisdictional boundaries every day. Mayor Eric Garcetti, his council colleagues and advocates for the working poor have to use whatever political and moral leverage they have to encourage surrounding cities to raise their minimum wage too. The Los Angeles County Board of Supervisors is considering raising the minimum wage in unincorporated areas, as are the cities of West Hollywood and Santa Monica. That's a good start, but there is a lot more work to do to help ensure that the region develops a coherent wage policy.
Los Angeles' minimum wage isn't the end of the fight to help the working poor make ends meet in one of the nation's most expensive regions. It should be just the beginning.
Follow the Opinion section on Twitter @latimesopinion and Facebook
---
A cure for the common opinion
Get thought-provoking perspectives with our weekly newsletter.
You may occasionally receive promotional content from the Los Angeles Times.