Editorial: All those scooters everywhere? That's a good thing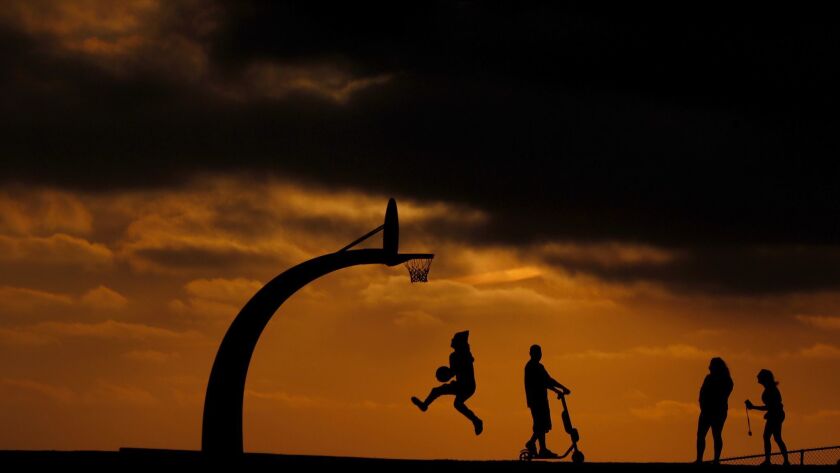 It may seem as if rent-per-ride electric scooters are already ubiquitous in Los Angeles, either in use or parked on the sidewalk. But the scooter population in the city is about to boom. Starting this month, 11 companies will be permitted to put 37,000 dockless scooters and bikes on city streets. Most of the companies have sought permits for shared electric scooters rather than bikes.
If companies take advantage of the city's new rules, which allow for even more shared bikes and scooters if they are placed in certain disadvantaged communities, Los Angeles could soon have more than 100,000 of the vehicles on the streets.
Some people may see this as a nuisance or a safety threat, but the coming ubiquity of scooters should actually be an exciting moment for Los Angeles. The city is about to engage in an experiment to see if regulations can curtail the negatives of scooters (tipped over vehicles, blocked sidewalks, careless riders) and allow the positives (environmentally friendly, fun, car-free travel) to flourish.
Scooters could become an important piece of the urban transportation system. They are a convenient, affordable option for people who want to travel a short distance, including those who need to traverse the "first-mile, last-mile" distance between their homes and jobs and transit stations. More broadly, the popularity of scooters could help increase the number of people advocating for protected lanes and smarter road design — thereby increasing safety and giving people more transportation choices than driving, which in turn would help reduce the tailpipe emissions that foul the air and warm the planet.
But all those potential benefits are contingent on getting the scooter situation right. They have to be safe, responsible and convenient.
Enter the Fray: First takes on the news of the minute »
To their credit, Los Angeles leaders have been working hard on the responsible part. Beginning this month, Angelenos can report broken or improperly parked vehicles on the city's MyLA311 service request form or app, and the companies are required to resolve the problem within two hours. If a company fails to respond, the city could impound the scooter and ultimately revoke the company's permit. For scooters to be more than a novelty, scooter companies need to be held to a high standard.
The biggest challenge is making scooters safe — both for riders and the people around them.
Motorized scooters are a relatively new mode of transportation, and there are lots of inexperienced riders, who may underestimate the risk and overestimate their ability to ride safely. There were quite a few more scooter-related injuries (249) than bike (195) or pedestrian (181) injuries seen at local emergency rooms on the Westside, according to UCLA researchers, who conducted the first limited analysis of scooter injuries. They also found that riders rarely wore helmets and that a significant number of injured riders were younger than 18 — which is the minimum age for renting an electric scooter.
Scooter companies and local governments need to develop more aggressive safety policies. Police must ticket riders who operate in a dangerous manner. Companies could find ways to automatically throttle down scooter speeds in certain high-risk areas. Companies say they are developing technology that could automatically shut scooters off if people try to ride on the sidewalk. And — most important — cities need to build the infrastructure, such as protected bike lanes, that enable and encourage scooter riders to cruise safely.
There's a learning curve with scooters and other "micromobility" services, and experience should shape the policies and regulations to make them safer and better for everyone.
That's why a recent proposal by Councilman Gil Cedillo is so frustrating. He wants to ban scooters for at least a year in his district, which includes Chinatown, Echo Park, Highland Park and Westlake. Those are some of the most transit-friendly areas of the city, and they could benefit from having scooters as a first-mile, last-mile connection. They are also communities that the city has specifically targeted to ensure that scooter companies don't just serve wealthy enclaves, but also poorer neighborhoods that could be helped by more low-cost mobility options.
Los Angeles is a city that needs more transportation choices and innovation if it is serious about getting people out of their polluting, traffic-clogging cars.
Follow the Opinion section on Twitter @latimesopinion and Facebook
---
A cure for the common opinion
Get thought-provoking perspectives with our weekly newsletter.
You may occasionally receive promotional content from the Los Angeles Times.