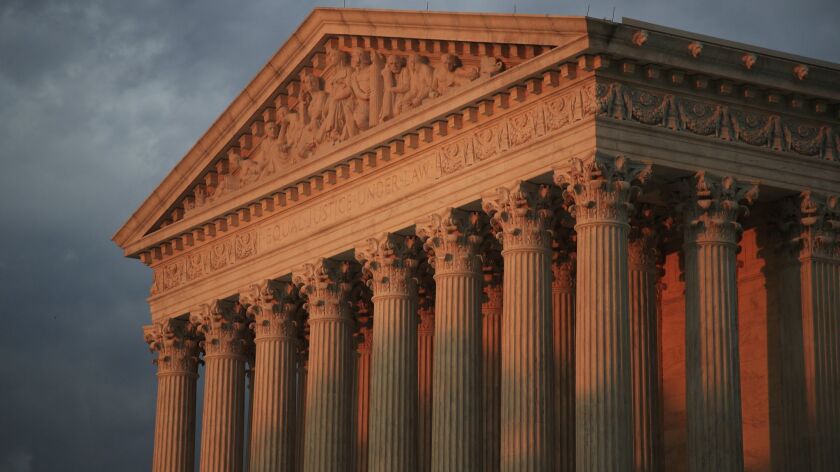 The Supreme Court on Wednesday heard arguments about whether federal courts should be required to defer to the executive branch's interpretation of its own rules, if that interpretation is reasonable. This may sound like a technical, legalistic dispute — and it is — but the wrong decision could make it vastly harder for the federal government to protect the public.
If courts start to second-guess executive-branch agencies' reasonable interpretation of their own rules, it will be easier for business and other interests to undermine efforts to protect the environment, keep workplaces safe and promote public health. Deference to agency interpretations also makes sense because those charged with enforcing federal laws typically possess more expertise than federal judges and can set national standards.
The case argued on Wednesday grows out of a challenge by James L. Kisor, a Marine veteran of the Vietnam War, to a decision by the Department of Veterans Affairs to limit the disability payments he could collect for post-traumatic stress disorder.
The dispute turned on an interpretation of language in a VA regulation. In ruling against Kisor, the U.S. Court of Appeals for the Federal Circuit concluded that, even though the rule in question was open to several meanings, the court would defer to the interpretation made by the Board of Veterans Appeals.
To the maximum extent possible, agencies should proactively publish their regulations — and their interpretations of those regulations.
In deciding to defer, the appeals court followed a 1997 Supreme Court decision, Auer vs. Robbins, in which the justices unanimously held that an agency's interpretation of its own regulations "is controlling unless plainly erroneous or inconsistent with the regulations being interpreted."
Kisor's lawyer asked the Supreme Court to overturn the Auer decision and a 1945 decision, Bowles vs. Seminole Rock & Sand Co., on which it relied. Some justices were receptive. Justice Neil M. Gorsuch suggested that having judges, not agency officials, interpret ambiguous regulations would better serve the interests of "the least and most vulnerable among us, like the immigrant, like the veteran, who may not be the most popular or able to capture an agency the way many regulated entities can today."
But Justice Stephen Breyer countered that overruling Auer would look like a "judicial power grab" and would involve judges in interpreting from scratch "hundreds of thousands, possibly millions of interpretive regulations," some based on technical or scientific considerations with which judges aren't familiar. Breyer also noted that, under the Auer decision as it has been recently interpreted, judges can set aside regulations that are unclear, "unreasonable" or "inappropriately considered." No one is suggesting that federal courts abdicate their responsibility to strike down regulations that are clearly illegal.
Representing the Trump administration, Solicitor Gen. Noel Francisco argued for a similarly pragmatic approach. One of the advantages of the 1945 precedent, he told the court, is that when there are multiple reasonable interpretations of a regulation, "the choice of which one to adopt is made by a single more politically accountable agency, rather than in dozens and perhaps hundreds of different district courts across the country."
Enter the Fray: First takes on the news of the minute »
Gorsuch suggested that always putting judges in the driver's seat would benefit vulnerable people. But it's far more likely that allowing judges to substitute their own interpretation for that of an agency — even if the court accepts that the agency's interpretation is reasonable — will weaken regulatory protections and create confusion.
In suggesting that the VA's interpretation of the rule should prevail in this case, we aren't saying that administrative agencies always operate in a transparent and responsive way. There would be less litigation about how to interpret ambiguous regulations if agencies revised them to remove confusion. Congress also is at fault for enacting vague or open-ended statutes that encourage improvisation by agencies, just as it bears the blame for inaction on important issues (such as immigration) that tempts presidents to overreach with executive action.
Finally, the Administrative Procedure Act provides for a process by which many regulations don't take effect until after notice and a period of public comment. It's true that not all legal determinations by regulatory agencies are preceded by notice and comment. Some arise in adjudication of claims such as Kisor's. But to the maximum extent possible, agencies should proactively publish their regulations — and their interpretations of those regulations. That's a better cure for confusion than a "power grab" by the courts.
Follow the Opinion section on Twitter @latimesopinionand Facebook
---