Editorial: Smog is making a comeback in Southern California. That's beyond unacceptable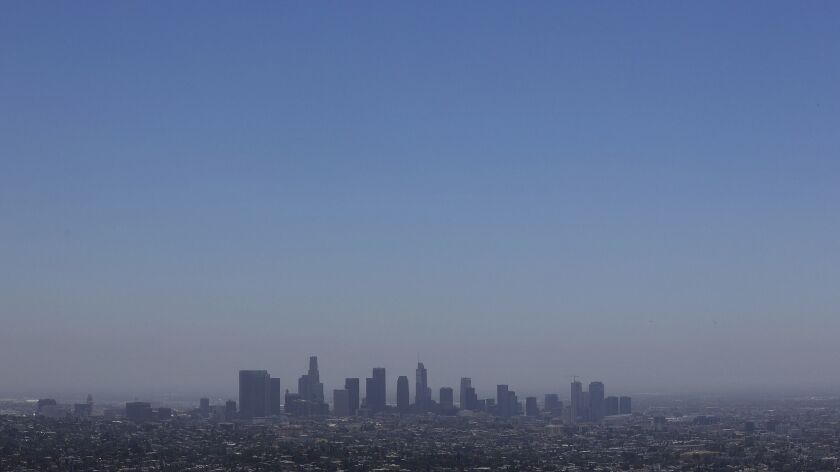 For years, California has celebrated what is undoubtedly a great environmental achievement: the dramatic reduction of the lung-searing, eye-burning pollution that used to blanket Southern California and that made this region the smog capital of the United States.
But smog is making a comeback. The worst effects are being felt in San Bernardino, Riverside and other inland communities, which have seen an uptick in unhealthful air days over the last few years, The Times reported.
The worsening air quality comes as the region is facing a federal deadline to slash smog-forming pollution 45% by 2023, or risk penalties, including the loss of federal funding. It was always going to be a struggle to meet that deadline and the more stringent ozone standards that will come in the next decade. But now researchers say climate change appears to be making pollution conditions worse, which means it could be even harder for Southern California to finally clean up its air.
After decades of progress, Southern California can't afford to lose the fight for clean air.
This is yet another potent reminder of how critical it is that California move as quickly as possible toward a zero-emission future, both to protect residents living in the smoggiest areas and to help prevent the most devastating effects of climate change.
Last year, San Bernardino had 102 days when smog reached unhealthful levels. That's more unhealthful days than the city has logged since the mid-1990s. High levels of ozone pollution can permanently damage children's lungs and raise adults' risk of heart attacks and other deadly health effects.
Inland communities, which tend to be lower income, bear the brunt of the region's air pollution problem. Pollution from cars, trucks and factories gets blown inland, where heat and sunlight transform the chemicals into ozone — or smog — which is trapped over the region by the mountains and weather conditions. By comparison, the coastal Westside had just two unhealthful air days in 2018. Cutting smog-forming emissions is also an environmental justice issue.
But Southern California is facing tremendous challenges. People are driving more. Public transit ridership is down. The movement of goods from the region's giant shipping ports to warehouses and distribution centers is a rapidly growing, highly polluting industry. More than 80% of the region's smog-forming pollution is created by vehicles, which are regulated by the state and federal governments. (The transportation sector is also the state's largest source of the greenhouse gases responsible for climate change.)
The region is falling behind on its plans to meet federal Clean Air Act standards. In 2016, the South Coast Air Quality Management District — the agency responsible for cleaning up the air — adopted a blueprint to slash pollution that relied on somehow procuring $1 billion a year to provide incentives to businesses and individuals to switch to low-emissions cars, trucks and other equipment.
The AQMD has said it needs to raise a total of $14 billion by 2031; so far, the agency is on track to raise about a quarter of that amount. Various funding proposals have been floated, from a fee on shipping containers to a sales tax increase. The Times editorial board has been skeptical of a tax increase.
Enter the Fray: First takes on the news of the minute »
The region needs a lot more help from the state and federal governments. Unfortunately, the U.S. Environmental Protection Agency under President Trump appears more interested in rolling back air quality protections. But at a minimum, we hope the federal government — which is responsible for enforcing the Clean Air Act — will put up a lot more money to help subsidize the purchase of cleaner vehicles to help the region meet its smog-cutting deadlines.
California has sought to be a world leader on climate change, with ambitious goals to slash greenhouse gases over the coming decades. But the state should also be moving much faster to clean up its transportation systems, and particularly its diesel trucks, in the near term through incentives and regulations. That would do double duty — reducing emissions responsible for smog as well as for climate change.
After decades of progress, Southern California can't afford to lose the fight for clean air.
Follow the Opinion section on Twitter @latimesopinion and Facebook
---
A cure for the common opinion
Get thought-provoking perspectives with our weekly newsletter.
You may occasionally receive promotional content from the Los Angeles Times.