Putin plays with fire in Ukraine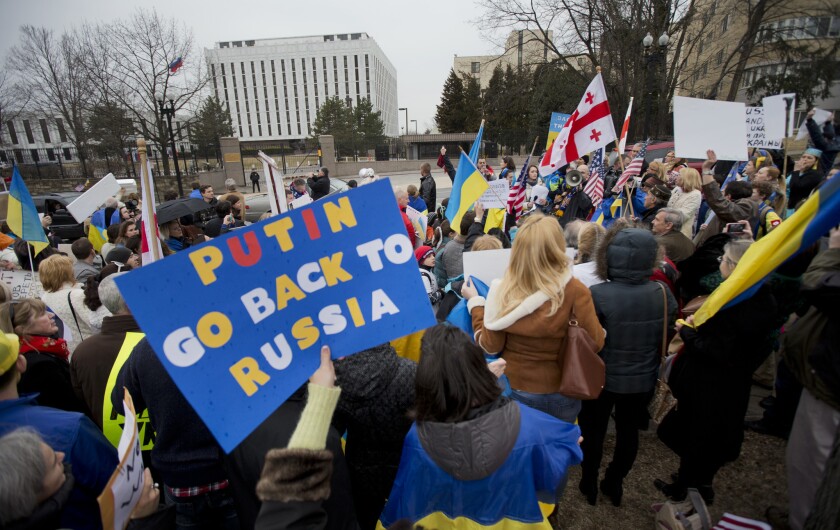 Secretary of State John F. Kerry is right: Russia's deployment of troops in Crimea is an "incredible act of aggression" that violates express promises Russia made two decades ago to respect Ukraine's territorial integrity. If Russia doesn't reverse course, the United States and countries in Europe should impose economic sanctions. But even as they weigh such measures, the United States and its allies must be willing to show Russia that its concerns can be resolved, in Kerry's words, "according to the standards of the 21st century."
Some of those concerns are legitimate. Ukraine's elected, pro-Russian president, Viktor Yanukovich, was driven out of office by his own people even after he agreed to reforms and early elections. The forces now in control in the capital of Kiev include some ultranationalists who are hostile to Russian-speaking Ukrainians. Russians remember how Russian-speaking minorities in other former Soviet republics were targeted for discrimination after independence was achieved.
But neither its desire to protect Russian-speakers nor the existence of a Russian naval base in Crimea justifies the invasion. Speaking to U.N. Secretary General Ban Ki-moon, Russian President Vladimir Putin referred to "violent actions in relation to the population living in the eastern regions of Ukraine and in Crimea." But even if Russian-speakers were in imminent danger — and that seems doubtful — there were options other than an invasion. (Of course, protection of kindred groups in another country is a long-standing pretext for aggression, going back to Hitler and beyond.)
PHOTOS: Deadly clashes in Kiev
Only a few months ago, in an op-ed article in the New York Times opposing a possible American airstrike on Syria, Putin wrote: "Under current international law, force is permitted only in self-defense or by the decision of the Security Council. Anything else is unacceptable ... and would constitute an act of aggression." Putin's actions in Ukraine make a mockery of that argument.
So what should the rest of the world do? No one is suggesting that the U.S. or its allies intervene militarily in Ukraine. But President Obama was right to promise that there would be "consequences."
On Sunday, Kerry detailed a list of significant economic penalties: "visa bans, asset freezes, isolation with respect to trade, investment." Kerry added that the U.S. is "absolutely" prepared to boycott a meeting of industrialized nations scheduled to take place in June in Sochi, the site of the recent Winter Olympics that Putin hoped would be a showcase for Russian accomplishment.
PHOTOS: A peek inside 5 doomed dictators' opulent lifestyles
If Russia doesn't withdraw — or if it moves into other parts of Ukraine — the United States and other nations must be resolute in imposing and maintaining those sanctions.
That doesn't rule out continued diplomatic efforts to induce the government of Ukraine to take the concerns of its Russian-speaking citizens seriously. But Ukraine shouldn't be forced to do so under occupation by foreign forces. Ukraine is an independent nation whose territorial integrity Russia has solemnly promised to respect.
Predictably, events in Ukraine have inspired partisan attacks on Obama for his supposed pusillanimity in the face of Russian aggression. On Sunday, Sen. Lindsey Graham (R-S.C.) complained that America has a "weak and indecisive president that invites aggression." The president also has been criticized for saying last month that he didn't regard the situation in Ukraine as part of "some Cold War chessboard in which we're in competition with Russia." Picking up on that metaphor, Rep. Mike Rogers (R-Mich.), the chairman of the House Intelligence Committee, remarked that "Putin is playing chess and we are playing marbles."
This sort of sniping is unfair. Obama has been right to place the emphasis not on a contest between Russia and the West but to focus on the right of the Ukrainian people to choose their own political and economic course. Other nations can offer advice and assistance to Ukraine, and Russia can be part of that process. But military occupation is not advice.
The direst result of Russia's overreaching would be a military conflict between Russian and Ukrainian forces. But a de facto Russian annexation of parts of Ukraine would also be a disaster. The U.S. and other nations must do their utmost to prevent either outcome.
---
A cure for the common opinion
Get thought-provoking perspectives with our weekly newsletter.
You may occasionally receive promotional content from the Los Angeles Times.