For L.A. school board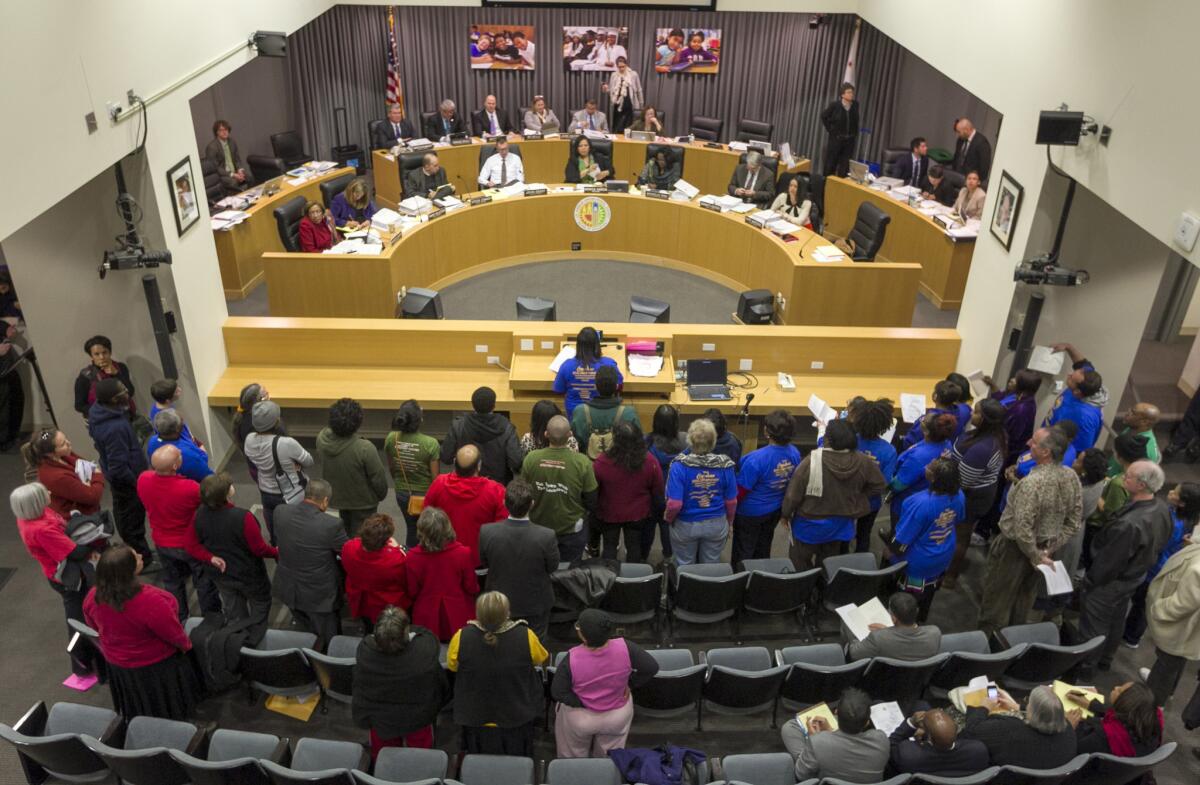 The teachers union once had a virtual lock on the Los Angeles Unified school board, and the results weren't pretty. Truly awful schools operated without accountability; the board worked harder to please teachers than to protect students. Today, with more reform-oriented members on the board — thanks to the support of Mayor Antonio Villaraigosa and like-minded organizations — the situation is very different. Schools are working harder than ever to improve. Charter schools have been welcomed with open arms.
Yet this still isn't the school board that L.A. Unified needs and deserves. At times, the reform movement is given to its own unproductive extremes. As a result, the board has switched from animosity toward charters to such a warm embrace that it fails to oversee them properly. A decade ago, the board did nothing for those disadvantaged students who were routinely channeled into vocational education instead of college-preparatory classes. But the reform adopted to address that — a policy requiring all students to pass college-prep courses with a grade of at least C — could prove just as damaging.
Meanwhile, the close allies of United Teachers Los Angeles are as hostile to reform as ever. The reform camp whispers that if the union's allies gain a majority, they'll fire L.A. Unified's hard-charging superintendent, John Deasy. That would be a terrible mistake. We periodically disagree with Deasy and think that the board should be looking at some of his proposals more critically, but at the same time, his impatience with the status quo has brought welcome new energy to the district. Much better to have a superintendent who occasionally needs to be reined in than one who isn't striving, every day, to improve the future for impoverished black and Latino students.
ENDORSEMENTS: Los Angeles City Elections 2013
In other words, the current board is sharply divided along ideological lines, with members too often focused on scoring political points and talking as though they're channeling either UTLA leadership or the most rigid of reformers, rather than thinking independently to come up with rational ideas that advance the cause of sound education. We would prefer to see more candidates who fall between the two ideological poles, but the realities of L.A. Unified politics sometimes make this impossible.
In March, voters will choose board members for three of the seven seats. Elections are by district. Steve Zimmer, who is generally considered to be more union-aligned but who does not follow a strict line one way or the other, is trying to keep his seat in District 4; board President Monica Garcia, the most closely allied with the mayor and the reform movement, also is up for reelection. Nury Martinez is leaving the board to pursue an opening on the Los Angeles City Council.
District 2: Monica Garcia
We'll be upfront about this: We consider Garcia a poor choice for the school board, and we always have. In her last reelection bid, we endorsed her only because there were no candidates running against her. Now, thorn in the side of UTLA that she is, she faces four opponents, three of them endorsed by the union. UTLA leadership is reportedly ready to go all out to unseat Garcia, and the moneyed sources that back school reform are waging a fierce battle to keep her. New York Mayor Michael R. Bloomberg alone donated $1 million to help Garcia and the other reform candidates.
To give her due credit, as board president Garcia has shortened the once unwieldy meetings, and she is known for the long hours and dedication she puts into her job. Her steady support for reform, though we sometimes disagree with her, is preferable to the knee-jerk positions of the union-allied board members who consistently block charter schools and fight any efforts to hold teachers accountable. But Garcia is a divisive and sometimes careless force on the board who lacks grace and thoughtfulness as its leader. Her positions seem less considered than reactive. Her concerns over whether schools are improving have not extended to underperforming charter schools, and her response when challenged on this is simply unacceptable: She says the district doesn't have enough money to oversee the charters properly and she doesn't want to do more to police them. Likewise, her retort about a serious conflict of interest involving former Supt. Ramon C. Cortines — "I don't know what is interesting here," she said in an interview with The Times' editorial board — reflects a dismissiveness and lack of basic understanding that is truly disturbing.
Yet we see no real alternative. The three UTLA-backed candidates spout typical anti-reform rhetoric and would set the district back years. We had hopes for Isabel Vazquez, a first-grade teacher in the district who is backed by neither UTLA nor big-money reformers. She espouses a more balanced and nuanced approach to improving schools and has a refreshing ground-level perspective on how reform plays out in the classroom. But Vazquez has made it clear that she would not vote to extend Deasy's contract once it expires. That's too great an obstacle to overlook. If it were clear that Deasy had enough support on the board to protect him, Vazquez's position might be a minor issue, but his situation is potentially precarious. The superintendent is far more important to the schools than the quality of any single board member.
District 4: Kate Anderson
Anderson, who has worked in politics more than in education, is clearly a reform-minded candidate. She opposes some teacher seniority rules and supports legislation making it easier to fire abusive teachers. But she also demonstrates the intellectual ability to form her own opinions and articulates strong and varied positions on education that don't always hew to the straight reform agenda. She is an attorney who works for Children Now, a nonprofit advocacy group on children's issues, including both health and education. She is the stronger of the two candidates in District 4, which includes the Westside and the west San Fernando Valley.
Her opponent, incumbent Steve Zimmer, has been a thoughtful board member with a yearning to bridge the gap between union and reform camps, but he has fallen short in the execution of his goals, with proposals that smacked of trying to please union bosses. Zimmer's proposal to tighten oversight of charter schools, for example — a reform that's badly needed — came with a poison-pill provision establishing a moratorium on all new charters until the district developed a new monitoring system. That wasn't just a destructive attack on charter schools; it was almost certainly illegal under state law. As a result, an important proposal went down in flames.
We have some concerns about Anderson as well. In her work with Children Now, she fought for legislation on teacher dismissals that she clearly didn't fully understand, and, in an interview with the editorial board, gave an inaccurate description of how it would work. She was quick to own up to the mistake, but it's disturbing that a lawyer would lobby for a bill without having vetted it thoroughly. If elected, she'll need to do better.
District 6: Monica Ratliff
Ratliff, a fifth-grade teacher at an inner-city L.A. Unified school that has steadily raised its standardized test scores, has the background, smarts and independence of mind to become a true leader in the district. A former lawyer for a public-interest legal organization, she switched to teaching 12 years ago. All but one of the students at her school, San Pedro Street Elementary, are impoverished and most are not fluent in English, according to the state's database, yet the school's most recent Academic Performance Index score was 814, above the state target of 800.
Obviously Ratliff knows how a successful public school operates, and she expresses a strong belief that schools cannot cite their students' disadvantaged backgrounds as an excuse for low achievement. She has practical suggestions for improving teacher training and evaluation, and she supports streamlining the procedure for firing perpetual underperformers, but in ways that are fair to teachers as well. She also calls for a longer time period before teachers gain tenure. Personable, articulate and sharp, she strikes us as a candidate who would think her positions through carefully and debate with an open mind. If only there were more candidates like her running for the school board.
All three candidates in this district, which includes the East San Fernando Valley, have UTLA's support. Ratliff's opponents, Antonio Sanchez and Maria Cano, are engaging enough but come off as lightweight, and they cannot match Ratliff's energy, thoughtfulness and thorough grasp of district issues. Cano has trouble even answering questions directly. Sanchez, who worked in Villaraigosa's office and then for the L.A. Federation of Labor, has the mayor's support, but he's far from ready for a seat on the school board. His understanding of district issues is shallow; he tends to provide answers that are politically expedient — trying to give both sides what they want, even when that's not possible — rather than making the tough decisions. He offers little in the way of new or workable ideas.
A cure for the common opinion
Get thought-provoking perspectives with our weekly newsletter.
You may occasionally receive promotional content from the Los Angeles Times.