Alec Baldwin needs to get a clue about gay slurs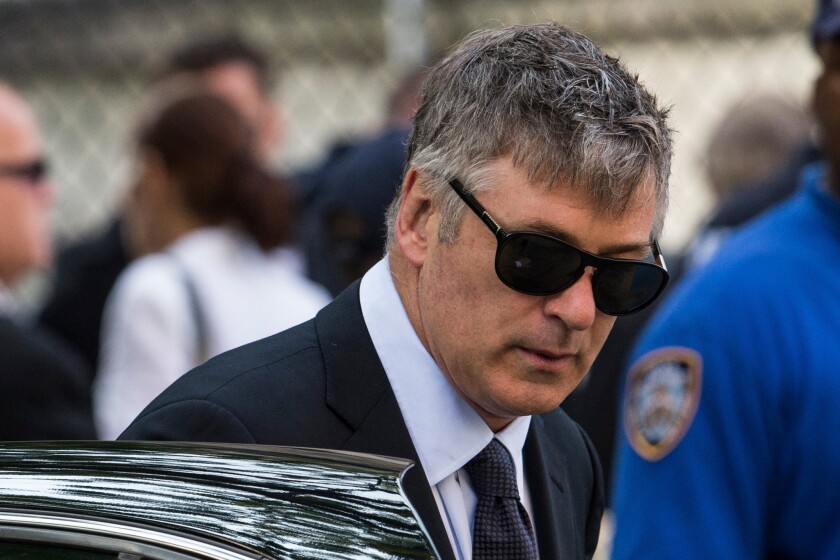 <em>This post has been updated, as indicated below.</em>
Late Thursday night, Alec Baldwin called on his 1 million Twitter followers to "straighten out" George Stark, a reporter for the Daily Mail who, by all accounts, falsely reported that Baldwin's wife had tweeted during the funeral for James Gandolfini.
It's no excuse for Baldwin's tweets, though, which all too comfortably slip into attacking Stark with gay slurs. Buzzfeed has a roundup of the tweets in which Baldwin labels Stark a "toxic little queen" and a "lying little bitch." And that's hardly the worst -- see tweet #5, the one about where Baldwin would like to stick his foot.
For the most part, reactions were fairly nonchalant: It's what we've come to expect from the rage-prone Baldwin, who once called his daughter a "rude, thoughtless little pig" and who was kicked off an American Airlines flight in December 2011.
On Friday, CNN's Anderson Cooper criticized the coverage:
Why does #AlecBaldwin get a pass when he uses gay slurs? If a conservative talked of beating up a "queen" they would be vilified. — Anderson Cooper (@andersoncooper) June 28, 2013
Cooper makes a good point. It would have been one thing for Baldwin to criticize Stark for his poor journalism. But it's another thing to discredit his report by reverting to gay slurs, as if being gay has something to do with bad reporting.
It's perhaps unfair to make the claim that Baldwin is homophobic. After all, he came out for gay marriage in 2010 and has campaigned very publicly for it since. And Friday afternoon, Baldwin cited his track record on gay rights when he apologized in a statment to GLAAD:
"My ill-advised attack on George Stark of the Daily Mail had absolutely nothing to do with issues of anyone's sexual orientation. My anger was directed at Mr. Stark for blatantly lying and disseminating libelous information about my wife and her conduct at our friend's funeral service. As someone who fights against homophobia, I apologize."
But even as he gets a pass, Baldwin, who apparently deleted his Twitter account, owes an admission. In an interview with the Gothamist, Baldwin maintained his position that the tweets were not anti-gay, while at the same time saying:
"Where people make hate speech, it's vital to me that you write this, where people make or write things that are hate speech against gays, I completely support outing those people and calling attention to those people and shining a light on those people. That's not the case with this guy Stark."
I guess it's not the case with Baldwin either. Now that Baldwin has apologized, he should be earnest about the language he used instead of pretending it was something it wasn't. An admission wouldn't make him homophobic -- it would make him honest.
Thursday night, a tweet from Baldwin's wife touched on the subject of Internet harassment:
It is shameful the bullying that the internet allows for. "Reporters", "publications", and anonymous posters. Rage, greed and pettiness hurt — Hilaria Baldwin (@hilariabaldwin) June 28, 2013
Perhaps she knows someone who might benefit from seeing that.
[Updated, 5:10 p.m., June, 28: An earlier version of this blog post linked to the Daily Mail's article alleging that Alec Baldwin's wife had tweeted during James Gandolfini's funeral. The article no longer appears on the Daily Mail's website.]
ALSO:
Paula Deen is still trying to poison us
Five reasons to stay away from Texas right now
Muppets and marriage: The New Yorker hitches Bert and Ernie
Twitter: @danielrothberg
---
A cure for the common opinion
Get thought-provoking perspectives with our weekly newsletter.
You may occasionally receive promotional content from the Los Angeles Times.