Op-Ed: Refilling Silver Lake Reservoir is inexcusably wasteful. Better to live with an empty pit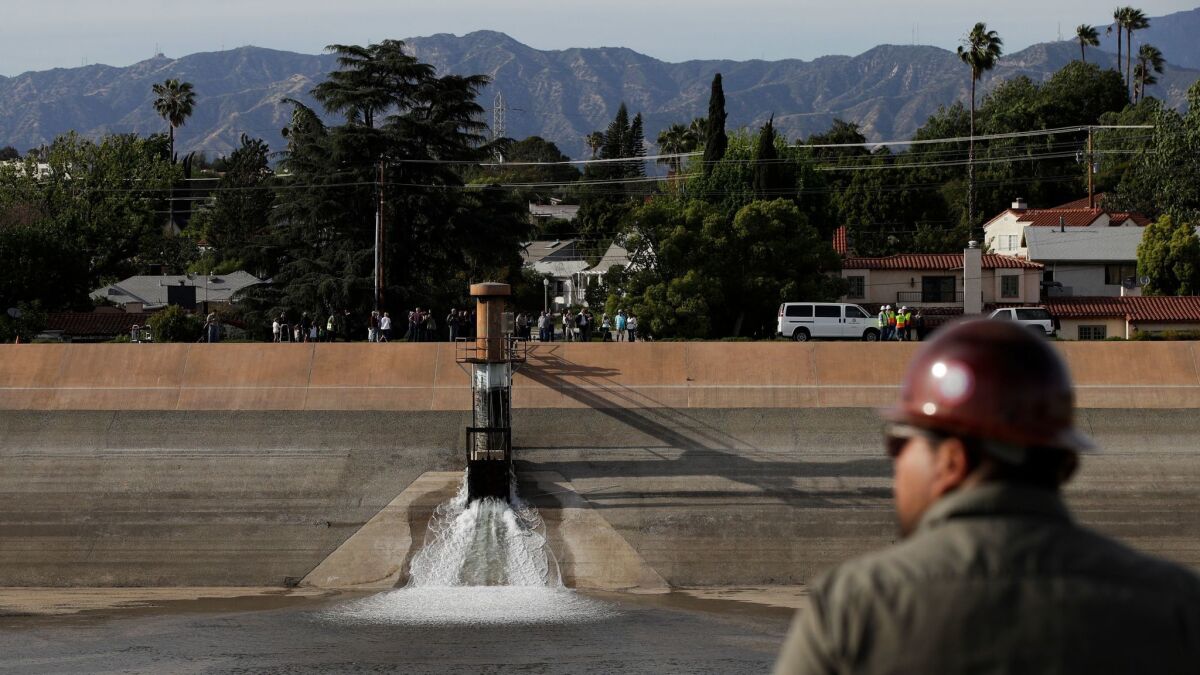 On April 7, Gov. Jerry Brown officially declared California's long drought over. On Echo Summit in the high Sierra, where the governor stood on bare ground two years earlier to announce mandatory water restrictions, there is now about 8 feet of snow. Up and down the state, reservoirs are brimming at capacity, and as much as 1 million acre-feet of water — nearly twice the amount Angelenos use annually — may run into the Los Angeles Aqueduct system in the Owens Valley as the snow in the eastern Sierra melts during this spring and summer. The expected surfeit led the Los Angeles Department of Water and Power to expedite plans to refill the Silver Lake Reservoir. Last Tuesday, nonpotable water began to rise up the concrete banks of the 776-million-gallon lake.
Completed in 1908, when the Los Angeles Aqueduct was still under construction, the William Mulholland-designed reservoir was the last hurrah of L.A.'s dependence on local water resources. The reservoir was decommissioned in 2008 (and the smaller adjacent Ivanhoe Reservoir was later taken offline) after the federal Environmental Protection Agency ordered municipalities to stop storing drinking water in open-air facilities. Two years ago, the DWP drained the lake to install a new pipeline along the weedy concrete bottom — and created what many see as more than just a physical hole in the heart of the community.
Turning Silver Lake's tap back on finally ended what has been a local obsession since the reservoir was drained: When will it be refilled? Now we have an answer, but the better question would have been: Should it be refilled at all?
Demanding precious water for an outdated, offline reservoir — largely for aesthetic reasons — is the ultimate version of complaining about the neighbor's dead lawn. The water seeping into the lake may be nonpotable, but such water can still be actively used elsewhere — even for recharging local aquifers, creating drinking water for the future. And with ambitious plans to remake the concrete basin under consideration, it is simply wasteful to fill up the reservoir now only to drain the water again at a later date. Better to live — temporarily — with an empty pit as a symbol of permanent scarcity.
A city of green frontyard lawns and shimmering-blue backyard pools, L.A. never had a truly healthy relationship with water. But when mandatory water restrictions were put in place two years ago, things began to change. L.A.'s consumption dropped by 20% compared with 2014 levels. Many in L.A. embraced brown grass, dusty cars, shorter showers and drought shaming. When the rains returned, drenching the Southland with record storms, it felt like the city had survived something together, and we seemed closer to understanding "that conservation must remain a way of life," as Brown said in early April.
So much for that in Silver Lake.
What's especially frustrating is that dueling local groups Silver Lake Forward and Refill Silver Lake Now both want to "naturalize" the reservoir's concrete banks.
Demanding precious water for an outdated, offline reservoir is the ultimate version of complaining about the neighbor's dead lawn.
Artist renderings of a reimagined reservoir put out by Silver Lake Forward show a boardwalk zig-zagging along the water's edge, and amphitheater-style seating set along a stretch of naturalized bank. Silver Lake Forward board member Mia Lehrer, whose landscape architecture firm came up with the renderings back in 2011, has said that only 20 or 30 feet of water could suffice for such a vision. With an array of berms, wetlands and other landscaped areas designed to improve water quality, the reservoir could capture and clean runoff and distribute it through existing DWP pipelines to Echo Park and MacArthur Park lakes, the L.A. River and perhaps infiltration basins, increasing local groundwater supplies. It's a vision aligned with California's water future, not its past — and it's the kind of approach residents, the city and the DWP should champion.
And yet neither Silver Lake Forward nor Refill Silver Lake Now spoke out against refilling the reservoir as a stopgap — an incredibly shortsighted decision. (In fact, the groups issued a joint statement against delaying the refill start date.) I doubt I'm the only one who worries that, once the reservoir returns to the status quo ante, there'll be no energy for an ambitious, ecologically thoughtful overhaul.
Elsewhere in L.A., projects such as Sun Valley Park are capturing and cleaning storm water that can be used for municipal purposes in the future. The DWP plans to increase local water resources to 30% of ratepayer consumption by 2035. And a multibillion-dollar effort to break the Los Angeles River out of its concrete banks is inching toward reality. By relining the 51-mile L.A. River with willow banks and seasonal wetlands, and designing spaces such as the proposed park at Piggyback Yard — where 60% of the 125-acre space will be floodable — L.A. is showing how California can not only survive but thrive in its drought cycle.
There's no telling what next winter's rainy season will bring, but the climate research suggests that dry spells will become drier, and wet years will be wetter. Just because there's hundreds of millions of gallons of extra water there today doesn't mean there will be tomorrow. A full, static reservoir is a symbolic and practical affront to that reality.
Willy Blackmore is a freelance journalist who covers food, culture and the environment. He's on twitter @willyblackmore.
Follow the Opinion section on Twitter @latimesopinion or Facebook
MORE FROM OPINION
Confederate monuments give the finger to New Orleans
The debate over police tactics spurred by the Rodney King beating still rages on
Why are cities allowing bicycle theft to go virtually unpunished?
Meet the architectural menace threatening to ruin downtown L.A.'s rebirth
---
Life is stressful. Our weekly mental wellness newsletter can help.
You may occasionally receive promotional content from the Los Angeles Times.