Opinion: The view of 'new L.A.' has an eastward tilt
It used to be when L.A. appeared on the silver screen, the view was generally of the beaches of Santa Monica, the hills of Malibu, the boutiques of Beverly Hills, the mansions of Bel-Air or the twists of Mulholland Drive. If you saw downtown L.A. at all, it was usually cast as a dystopian wasteland.
Generations of Americans grew up thinking L.A. looked like the Westside. With reason. Up until a few years ago, it's where you could find the largest concentration of high-end restaurants and where designer retailers chose to sell their wares. It's where you would be most likely to see celebrities hanging out at cafes or catching a spin class. It's where tourists stopped to get the "L.A. experience."
But the city's landscape has changed dramatically in the last few years, part of a demographic shift reshaping the urban cores of major American cities. That's no surprise to Angelenos, of course. But the view from afar has been shifting along with it, eastward.

Perhaps for the first time since it was known as El Pueblo de Nuestra Señora la Reina de los Ángeles, the city's center is actually the city's center. Sure, you still see beaches as a theatrical backdrop, but you're just as likely to see the Walt Disney Concert Hall or the 6th Street Viaduct (for at least a few more months until it is demolished for what looks to be an even more eye-catching structure) over the Los Angeles River.
Cable shows including "Fear the Walking Dead" and the second season of "True Detective" have reveled in "eastside" locations, from bucolic suburban streets in East L.A. to gritty industrial squalor along the Alameda Corridor.
Downtown and its adjacent areas are also the star of of Mayor Eric Garcetti's sales pitch for the 2024 Summer Olympic Games.
"We are a different city everywhere you look: new neighborhoods, a new transit system, all new airport terminals, a revitalized river, and new stadiums and arenas. We are investing in the future with the biggest public works project in the country."
This is the opening pitch in the "bid book" -- the mayor's 218-page document created to sell the "new L.A." to international Olympic officials as the best bet for the Games.
New L.A., in this case, seems to refer to all the things the city had or didn't have the last time the Olympic Games came to town more than 30 years ago: a massive rail and subway system, a revitalized Hollywood, a bustling downtown with actual tourist attractions and a park, new sports complexes and an appreciation for the long-abused and neglected river that runs through it all.
For the first time since it was known as El Pueblo de Nuestra Señora la Reina de los Ángeles, the city's center is actually the city's center.
This eastward bent of Garcetti's sales pitch is not surprising coming from the man who represented the neighborhoods northeast of downtown during a decade of remarkable transformation. In fact, the LA24 Committee's focus on downtown, the L.A. River and other points east-ish was absolutely intentional, according to Jeff Millman, spokesman for the Olympic bid effort.
That is in large part for practical reasons, he said. Most of the venues for large-scale sporting events are on the eastern side of the city – L.A. Memorial Coliseum, Staples Center, the L.A. Convention Center, USC's Galen Center, Dodger Stadium and Carson's Stub Hub soccer center – half of which were built after 1984.
Venues that are not already on the landscape are on the horizon – a new major league soccer field is planned for Exposition Park near the Coliseum, and Carson or Inglewood – or both? -- could have a football stadium in a few years.
And if you're looking for place to plunk down a large-scale development – say the 125-acre Olympic Village proposed for Piggyback Yard along the river near downtown -- where else are you going to go? There aren't many options available without bulldozing existing neighborhoods -- certainly not on the Westside.
But clearly there's pride at work, too, as the sales pitch embraces corners of L.A. that city officials in 1984 were more likely to want to hide from the public than to tout.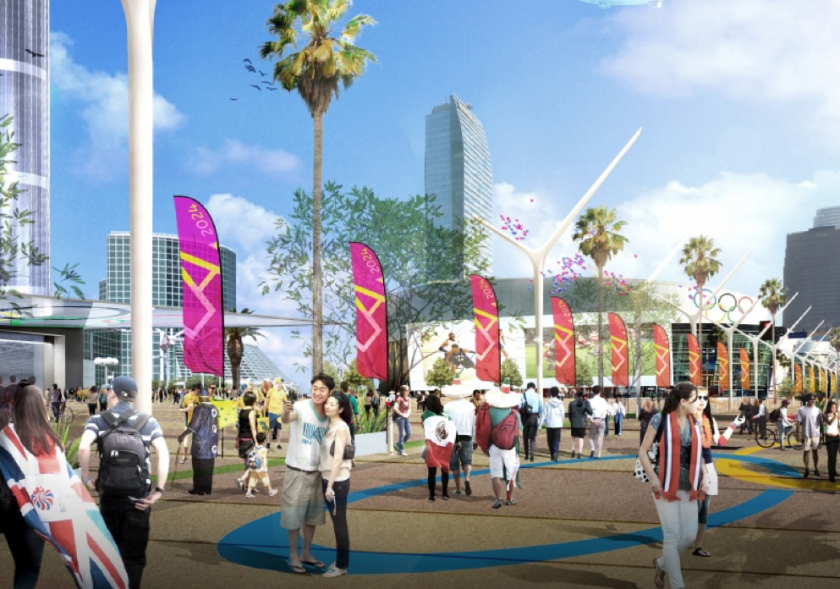 Take a look at page 129, for example. The notion that this view of Los Angeles could actually be this lovely someday isn't a far stretch of the imagination. And get a load of "Olympic Way" -- a pedestrian walkway along Figueroa Street from LA Live to USC. Can you imagine anyone thinking in 1984 that it would be a great idea to have tourists and athletes strolling along this southern stretch of downtown?
So what does the ascendancy of L.A.'s central core mean? For the mayor, it certainly means an easier sell to Olympic officials. Because L.A. really has it all now -- sun, sand, stars and a cosmopolitan urban center that, if not yet as populated, exciting and overpriced as New York or Paris, probably will be by 2024.
Follow me @marielgarzaLAT
MORE FROM OPINION:
Want to be a beekeeper in L.A.?
Why didn't USC see the red flags around Steve Sarkisian?
Patt Morrison: Meet the man who went up against Target ... and won
---
A cure for the common opinion
Get thought-provoking perspectives with our weekly newsletter.
You may occasionally receive promotional content from the Los Angeles Times.