Op-Ed: Trump's tactics sealed a deal on migration, but at what cost to U.S.-Mexico relations?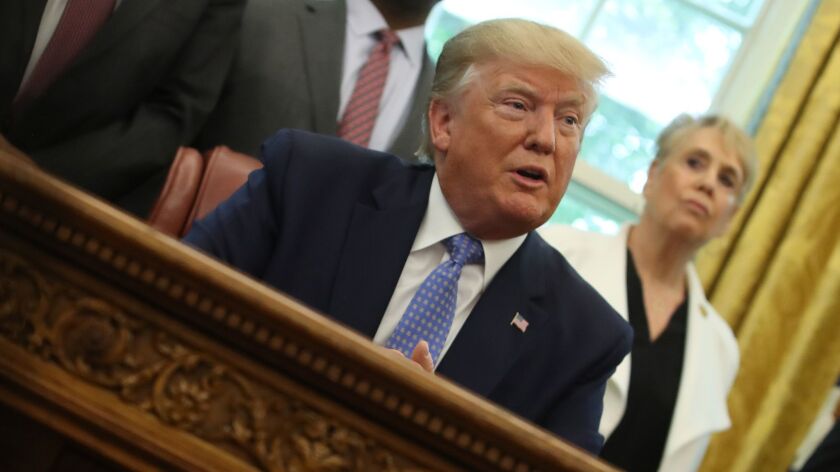 President Trump's latest trade-related pyrotechnics, threatening escalatory tariff threats on all of Mexico's exports if the country does not take new action to stymie the flow of illegal immigration, appear to have induced new action on border security by Mexico. Yet Trump's tactics, particularly if continued, are likely to have long-term consequences for the U.S.-Mexico relationship.
The aggressive tariff threats corrode a vital economic and security partnership. This tactic and Trump's myopic focus on illegal immigration sideline a host of critical U.S. priorities in the bilateral relationship, such as countering China's influence in the hemisphere and combating drug trafficking and corruption.
The deal reached in early June commits Mexico to expanding the Department of Homeland Security's Migration Protection Protocols that require asylum seekers to wait in Mexico while their cases are adjudicated. It also sends a force of 6,000 Mexican national guard troops to the border with Guatemala and includes a provision to discuss a safe third country agreement forcing Central American migrants traversing Mexico to first apply for asylum there.
Combating illegal immigration is an important goal, of course, and the significance of these commitments from Mexico should not be underestimated. Yet, other important challenges should not be lost in the fray.
Trump's threats deplete U.S. influence in the fight against organized crime at a delicate moment.
For one, Trump's threats deplete U.S. influence in the fight against organized crime at a delicate moment. President Andres Manuel Lopez Obrador has declared he will end Mexico's "war on drugs," and he has spoken about offering amnesty for drug kingpins. He has also openly mused about ending U.S.-Mexico security cooperation under the Merida Initiative, a U.S. partnership with the Mexican government aimed at disrupting organized crime and reforming Mexico's ailing police and justice system. Under Lopez Obrador, Mexico has already lost ground to its menacing cartels — homicide rates are on track this year to eclipse 2018's, the most violent year on record with over 33,000 homicides.
Instead, Mexico's president has proposed funneling the money into his so-called Central American Marshall Plan to develop southern Mexico and Central America. While the Merida Initiative has evolved away from its emphasis on military assistance, it remains crucial to the future security of the U.S. and Mexico. Today, it focuses on institution building, combating money laundering, strengthening the rule of law and modernizing Mexico's judicial system. Under Lopez Obrador, even cooperation on these matters is in doubt.
Normally, a call to scrap what has been the cornerstone of U.S.-Mexico security cooperation for the past decade would receive forceful pushback from Washington. Instead, the administration's focus on illegal immigration has shifted the policy discussion away from the necessity of fighting organized crime and promoting economic opportunities in the region.
Furthermore, the Mexican government's promise to concentrate 6,000 troops from the newly created national guard on its southern border with Guatemala — fully 10% of the total intended force — risks diminishing the elite unit meant to bolster the country's fight against drug cartels and transforming it into an arm of immigration enforcement. The challenges posed by drug cartels and illegal immigration are highly different from a law-enforcement perspective: The groups moving desperate people through the region are not the same as those moving drugs. The routes and methods they employ vary, as does the training required to interdict them.
Trump's tactics also endanger cooperation on another major policy priority for his administration — countering the expansion of China in Latin America. The crux of this effort has been the fight against China's predatory lending and limiting the participation of Huawei in the region's 5G telecommunications networks. Despite active lobbying by top administration officials, much of Latin America remains skeptical of U.S. concerns over Chinese spying. Shifting the basis of the bilateral relationship from one of cooperation to one of leverage and pressure undermines these U.S. efforts. Mexico's foreign minister clearly linked the Huawei issue with Trump's tariff threat by posing in front of a Huawei sign on his way to Washington.
Enter the Fray: First takes on the news of the minute »
While Lopez Obrador may appear accommodating in this recent showdown, he is strong at home — in terms of both his current popularity and his bold moves to consolidate political power. He has questioned the need and reduced funding for bodies like the National Institute for Transparency, which upholds the right to request information about public officials, and named friends, cronies and incompetent officials to key posts. Meanwhile, Mexico ranks near the bottom, alongside both Russia and Iran, in Transparency International's Corruption Perceptions Index.
Trump's tactics on illegal immigration make it more difficult to cajole Lopez Obrador to strengthen, rather than undermine, Mexico's institutions, much less roll up his sleeves to do the painstaking work of institutional reform.
The U.S. built its border enforcement network, albeit flawed, over the course of decades. According to the terms of the agreement, Mexico now has a mere 45 days to demonstrate significant progress on this long-standing regional challenge before a mandatory progress review. Such a short time frame, along with expectations for immediate results, means Trump could relapse into a cycle of tariff threats over illegal immigration.
As the border crisis escalates, the U.S. could be met with a more irascible Lopez Obrador, who until now has adopted a nonconfrontational stance. While Trump's tactics appear to have persuaded Mexico to take new action, the entire episode casts the future of U.S. influence and bilateral priorities in doubt at a pivotal moment.
Ryan C. Berg is a research fellow and Andrés Martínez-Fernández is a research associate at the American Enterprise Institute. Their research includes Latin American foreign policy and regional security issues.
---
A cure for the common opinion
Get thought-provoking perspectives with our weekly newsletter.
You may occasionally receive promotional content from the Los Angeles Times.