Op-Ed: Even without the Trump administration, the U.S. is upholding its commitment to the Paris climate agreement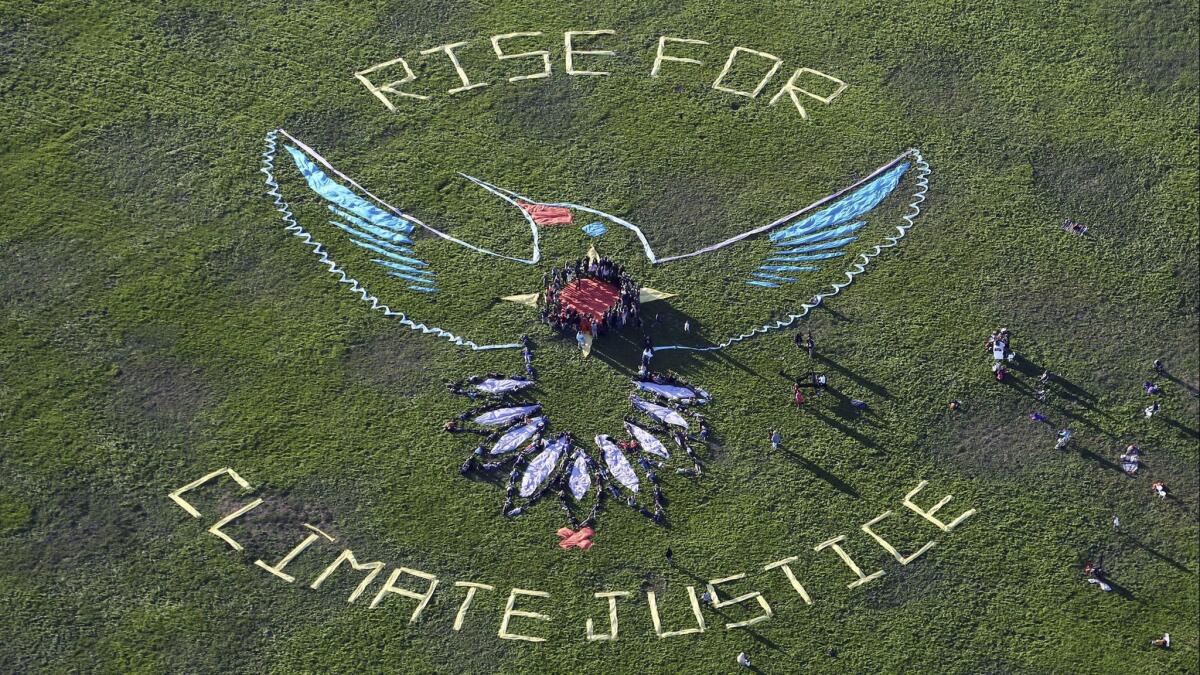 Rampant wildfires in the West, record high temperatures in the Arctic Circle, severe hurricanes in the Atlantic and the Pacific: Unless we reduce greenhouse gases now, these kinds of destructive "natural" disasters will only get worse.
It would be easy to be despondent about humanity's chances for success. The Trump administration has announced its intention to withdraw from the Paris climate agreement, moved to weaken California's fuel-efficiency standards for automobiles, sought to repeal stricter limits on methane, and attempted to prop up coal-fired plants. But it's important to keep in mind: None of those attempts has yet succeeded.
The United States cannot legally withdraw from the Paris agreement until November 2020. California and other states have filed a lawsuit challenging the EPA's assault on fuel efficiency. States' attorneys general have also gone to court to uphold limits on methane leaks. And market forces continue to drive coal plants out of business because American consumers in red and blue states want cleaner and cheaper energy — and the private sector is delivering. The cost of renewable energy is now lower than coal in much of the country.
The American people are not waiting on Washington to take action because the benefits are clear.
In fact, since the White House announced its intention to withdraw from the Paris agreement, more than 3,000 U.S. cities, states, businesses and other groups have declared their commitment to the Paris agreement. We are tracking their progress through an initiative called America's Pledge. Together, these groups form the third-largest economy in the world, and they represent more than half the total U.S. population. They have been ramping up actions to cut carbon pollution and move toward the goals in the Paris agreement, just as the rest of the world is doing.
In red states and blue states, goals have been set and are being met. Orlando, Fla., is aiming to get 100% of its energy from clean sources and is on track to hit 20% by 2020. Los Angeles has cut emissions by 26% and counting. By next year, Texas will get more energy from solar and wind than from coal. Pennsylvania enacted tougher rules to prevent methane leaks from its gas wells. Colorado's largest power utility announced plans to accelerate retirement of one-third of its coal plants and replace them with clean energy. And Walmart aims to shift 20% of its truck fleet to electric vehicles within five years.
Enter the Fray: First takes on the news of the minute from L.A. Times Opinion »
America's Pledge will report this collective progress to the Global Climate Action Summit that starts Wednesday in San Francisco. The effort, by our calculations, will put the country within striking distance of the 26% reduction in greenhouse gases, by 2025, that the United States promised to hit in Paris. The report outlines 10 areas where U.S. cities, towns and organizations can focus their attention to cut emissions even more quickly, even without support from the federal government. Our message to the world is simple: The United States is taking bold steps to uphold our end of the deal. And we have market forces and public opinion on our side.
What happens in Washington still matters, of course, and we need to vote out of office those who refuse to recognize reality. But the American people are not waiting on Washington to take action because the benefits are clear: Businesses are saving money by investing in clean energy and efficiency upgrades. Technology companies are making money by driving down the cost of wind and solar. And cities and states are improving public health by cleaning their air and strengthening their economies by modernizing their infrastructure. All recognize that improving energy efficiency and reducing pollution is in their own economic interest.
That kind of bottom-up leadership will continue driving progress on climate change, no matter what obstacles Washington throws in our way.
Jerry Brown is the longest serving governor of California. Michael Bloomberg is the founder of Bloomberg LP and United Nations special envoy for climate action. They are two of the six co-chairs of the Global Climate Action Summit.
Follow the Opinion section on Twitter @latimesopinionand Facebook
A cure for the common opinion
Get thought-provoking perspectives with our weekly newsletter.
You may occasionally receive promotional content from the Los Angeles Times.