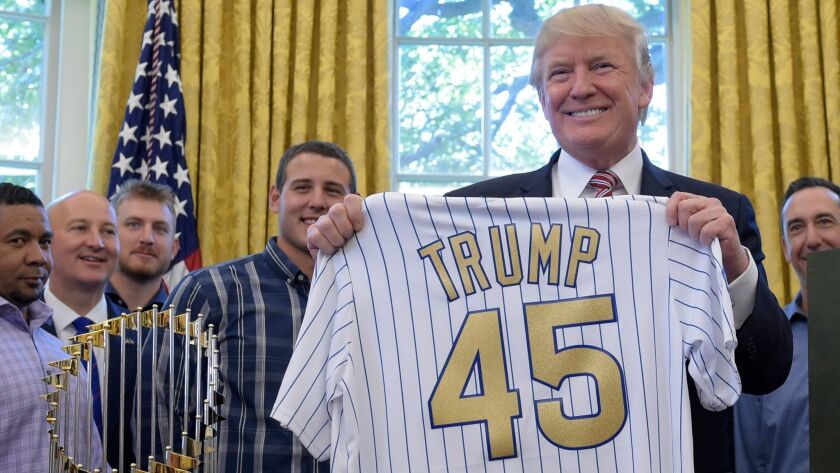 Every Major League Baseball franchise invites fans to games that celebrate various groups — pet owners, Grateful Dead aficionados, the Girl Scouts, veterans, Little Leaguers and more.
Donald Trump's election raised the profile of another American "tribe." It's time for baseball to honor the voters who spoke so loudly last November and who are still supporting the president, as we saw in Charlottesville. It's time for Alt-Right Night at Dodger Stadium.
President Trump refused to throw out the first ball at the Washington Nationals' opening game in April. And since his election, he has refused to visit California, which voted overwhelmingly against him. But he'd jump at the chance to toss out the ceremonial first ball at the Dodgers' Alt-Right Night.
This is how it would go down: Trump will harangue the crowd before the game for 15 minutes from the pitcher's mound. You can imagine his uplifting message: "I love the Dodgers when they're winners like me."
No nachos, pizza or sushi — immigrant food — will be sold on Alt-Right Night.
Expect him to unveil a new executive order: The U.S. will no longer participate in the World Baseball Classic, a globalist conspiracy to undermine America's ball-playing supremacy if there ever was one. And if an umpire ejects a pitcher for aiming a fastball at the head of a batter, expect Trump to disagree because "both sides are to blame."
To lure fans to the game, the Dodgers will give away bare-chested Vladimir Putin bobble heads. Don't be surprised to see Trump's former chief strategist Stephen K. Bannon roaming the stadium giving away specially printed copies of Breitbart News, with a scorecard insert. Anyone who doesn't take one is a "fake fan."
The Dodgers can rake in additional parking fees by placing a surcharge on electric or hybrid cars, while monster trucks and Hummers get to park for free.
To honor the president's travel ban, fans from Syria, Iran, Libya, Somalia, Sudan and Yemen will be barred from the ballpark.
On Alt-Right Night, the Dodgers and the opposing team won't be allowed to use any of their immigrant players. That means Yu Darvish, Luis Avilan, Pedro Baez, Wilmer Font, Kenley Jansen, Kenta Maeda, Edward Paredes and Hyun-Jin Ryu will remain in the Dodgers clubhouse. The team can make exceptions for Yasmani Grandal and Yasiel Puig because the alt-right likes Cuban exiles. (Puig will be identified as the alt-right fielder for the night.)
No nachos, pizza or sushi — immigrant food — will be sold on Alt-Right Night. Dodger Dogs will be allowed, even though hot dogs were brought to the U.S. by German immigrants — proving that the alt-right occasionally lets bygones be bygones.
Mexican American fans will be welcome if they show proof of citizenship or legal status. The Dodgers won't accept anyone's green money without a green card.
Transgender fans will find Dodger Stadium is off limits. Security staff will stand outside the bathrooms to assure strict segregation of the sexes.
The Dodger store will sell souvenir baseball bats that double as tiki torches.
The team will remove Jackie Robinson's No. 42 from its place of honor in the outfield. Why should fans be reminded about anything uncomfortable about our nation's past? Get over it! And for good measure, the Jewish pitching ace Sandy Koufax's No. 32 will also be taken down.
Before the game, fans will be treated to a "movie night" sequel to "A League of Their Own," starring Mel Gibson as the manager of a team of white males.
Former All-Star pitcher Curt Schilling will sing the national anthem. During last year's election, Schilling compared all Muslims to Nazis and called for Hillary Clinton to be "buried under a jail somewhere." Earlier this year, he claimed that baseball writers blackballed him from the Hall of Fame because of his support for Trump. Then he tweeted an image that supported lynching journalists.
Brought in for play-by-play announcing, Alex Jones will accuse Dodger third baseman Justin Turner of hiding a minicamera in his beard to steal the opposing team's signals.
During the seventh inning stretch, right-wing rocker Ted Nugent will perform "Take Me Out to the Ball Game." Nugent, an ardent baseball fan whom Trump hosted at a White House dinner party, once said that immigrants in the country illegally should be treated like indentured servants. "I'm beginning to wonder," he once wrote, "if it would have been best had the South won the Civil War."
The liberal elite and their media allies will no doubt cry foul at Alt-Right Night. But it's time to Make American Baseball Great Again.
Kelly Candaele's latest documentary film is "Heads, Hands, Hearts," about the workers who built the Wilshire Grand Tower. Peter Dreier is professor of politics at Occidental College and author of "The 100 Greatest Americans of the 20th Century: A Social Justice Hall of Fame."
Follow the Opinion section on Twitter @latimesopinionand Facebook
---