Op-Ed: Celebrating 100 years of Lawrence Ferlinghetti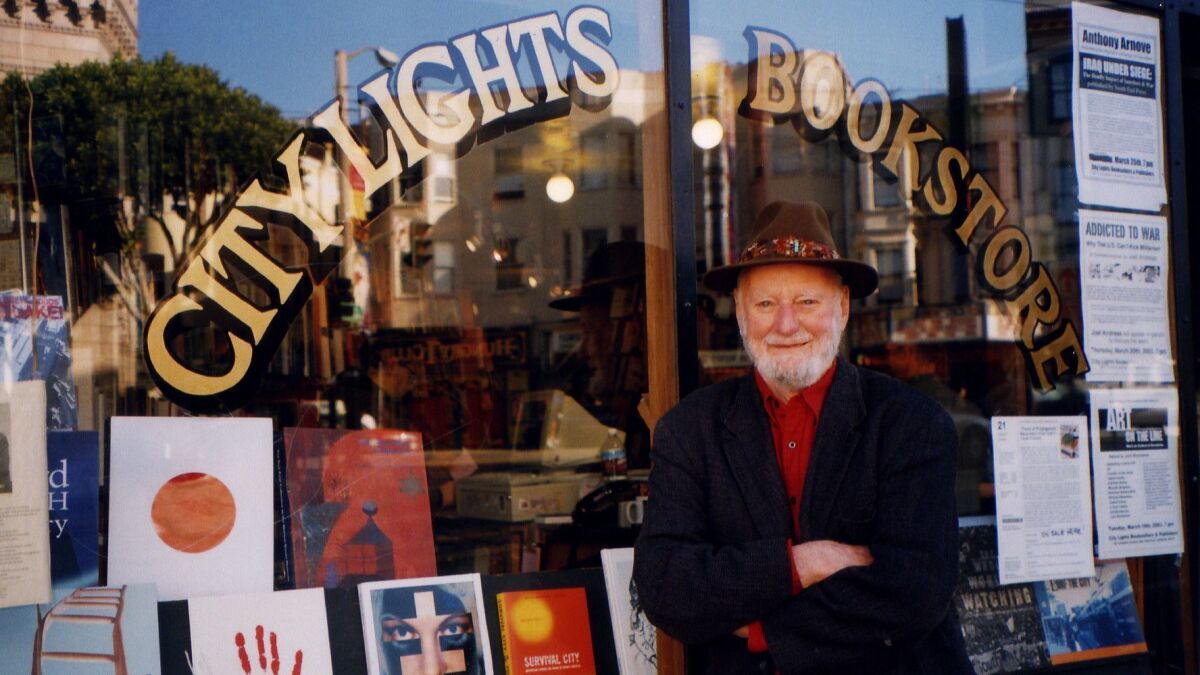 Early in 1963 — in the midst of wrangling with a local printer who refused to set type for a text vivid with expletives — Lawrence Ferlinghetti drafted a letter to his friend and fellow poet, Allen Ginsberg: "If it weren't for having that there City Lights book rack, [my wife] Kirby and I would live out of the country permanently. We both have had enough of 'the whole evil' government scene of provincial petty back-biting San Francisco especially. A real hick town… What I continue to hang around for I'll never fathom. Maybe I'll move City Lights publishing to Paris..."
It's a provocative "What if?"
The few years preceding this imbroglio had been a difficult patch for Ferlinghetti, co-founder of City Lights Booksellers and Publishers. He'd gone head-to-head with the city of San Francisco over obscenity charges against Ginsberg's "Howl and Other Poems," which he'd published in 1956. Along with the bookstore's manager, Shigeyoshi "Shig" Murao (who sold "Howl" to an undercover police officer, Ferlinghetti was arrested and put on trial. The court, however, found Ginsberg's work not obscene, and the proceedings changed the landscape of poetry and publishing, pivoting the literary world's attention toward San Francisco and the early bloom of the Beat generation.
It was a spectacular early act for Ferlinghetti, City Lights and the Bay Area's countercultural reputation. As an editor, publisher and bookseller, he would always deal in more than words on the page, modeling ways to live boldly and authentically.
City Lights has been a place to go for answers, but also it's been a place to go to help refine or explore the questions.
Now San Francisco, and the world, will show the poet just how grateful it is that he stuck it out in California through many incarnations of " 'evil' government," "provincial petty backbiting," poetic booms and busts, and the vagaries of the book business. March 24 marks Ferlinghetti's 100th birthday — he won't be in attendance at the parties (he opted out of birthday celebrations some years ago), but he is receiving cards and gifts via the bookstore.
A busy roster of festivities was set in motion earlier this month. On Sunday, Doubleday publishes Ferlinghetti's new waggish, stream-of-consciousness, autobiographical "experimental novel" "Little Boy." An open house at the Columbus Avenue store features a series of readings; exhibitions, toasts and more readings are scheduled throughout North Beach and beyond.
It's impossible to separate the man and his impact from City Lights and its influence. As well as hammering away at his own work (his 1958 poetry collection "A Coney Island of the Mind" has been translated into more than a dozen languages, with roughly a million copies in print), Ferlinghett has spent his long lifetime investing incalculable time providing writers a platform, sharpening their poetry or prose, and ushering them out into the world. Not just on his "racks," but through his imprint. The familiar City Lights glyph — a heavy circular brush stroke suspended over a "Y" found on book spines, T-shirts and tote bags — is a conversation starter connecting enthusiasts around the globe.
After a World War II Navy tour and work on a doctorate at the Sorbonne in Paris, Ferlinghetti, a Yonkers, N.Y., native, set out for the Bay Area in the early 1950s. He settled into an easy orbit — he taught French, wrote literary criticism and painted. But he also recognized something crucial — foundational — was missing. San Francisco needed, he felt, a particular sort of meeting place, where people could swap ideas, argue, shape and refine their thinking or just sit and read. Early in the summer of 1953, he and Peter D. Martin opened the store. They started publishing poetry and journals two years later.
The two-story building at 261 Columbus Ave. lives in the world's imagination in large part due to the band of bards, artists and activists who worked, scrapped and celebrated with one another there — and then committed those adventures to the page. (Jack Kerouac often referred pseudonymously to Ferlinghetti and "his great Balzacian back room in his book store" in his novels.)
The scene didn't just exist as a fictive backdrop or an insiders' clubhouse — anyone could access it, bask in it. Writers, hopefuls and hangers-on drifted through looking for friends, picking up mail, chancing on a conversation. It has never been simply a bookstore, it is a way station.
"Kind of a mecca," is how Peter Richardson, coordinator of American studies at San Francisco State University, defines the devotion City Lights inspires. "They never sold out. They were never stuck in their own amber; they were always chugging along at their own tempo."
By college, as an aspiring writer, I'd begun my own pilgrimages to City Lights. I wandered into the alley (then Adler, now Kerouac) that runs between the store and Vesuvio Café next door — and posed with my best friend under the store's venerable signage, arms flung across each other's shoulders, end-of-the-road fashion. But mostly, I wanted to get inside — find what I was looking for, or better, happen upon what I didn't yet know I needed.
Enter the Fray: First takes on the news of the minute »
When I lived in San Francisco, I came to see that the bookstore was the neighborhood, with Ferlinghetti as part of the everyday backdrop, holding forth in a cafe; paused on a traffic island, observing. The store was draped with ever-changing signs that sent out salvos against oppression, for compassion, in defense of free speech. Those messages, often Ferlinghetti's own words, were a whispering conscience.
Years later, as a reporter working on a feature about Ferlinghetti and his by-then executive director Nancy Peters passing the baton to a new director, Elaine Katzenberger, I got a behind-the-scenes tour, including the poet's office space overlooking Columbus Avenue. I sat with Katzenberger, who started working at City Lights in the 1980s, in Vesuvio in the weeks before she took charge, watching through the window as a new generation took "We made it!" photos at Columbus and Kerouac. Her new task, she acknowledged, was way "more than just curating a collection of books."
Preparing for Ferlinghetti's 100th birthday this month, Katzenberger amplified the thought. She knows the continued existence of the store — and its founder — is an anchor, even as the bohemian sensibility that City Lights has always signaled diminishes in San Francisco. "The same thing that brings the people to work here is what brings people on pilgrimages," she says. "There is an integrity that Lawrence represents and that we're trying to maintain."
City Lights has been a place to go for answers, but also it's been a place to go to help refine or explore the questions. Even Ferlinghetti's own: That "What if?" floating between the lines of his letter to Ginsberg all those decades ago was a fate averted. In closing, he reflected: "Am I to be stuck here forever, to carry on this here 'institution'?" The question, history shows, was rhetorical. San Francisco wasn't done with him and like a text still to be tinkered with, sharpened, he isn't quite finished with it yet.
Lynell George's latest book is "After/Image: Los Angeles Outside the Frame."
Follow the Opinion section on Twitter @latimesopinion and Facebook.
---
Life is stressful. Our weekly mental wellness newsletter can help.
You may occasionally receive promotional content from the Los Angeles Times.