Column: WikiLeaks' pernicious legacy — empty lulz, bothsidesism and moral flexibility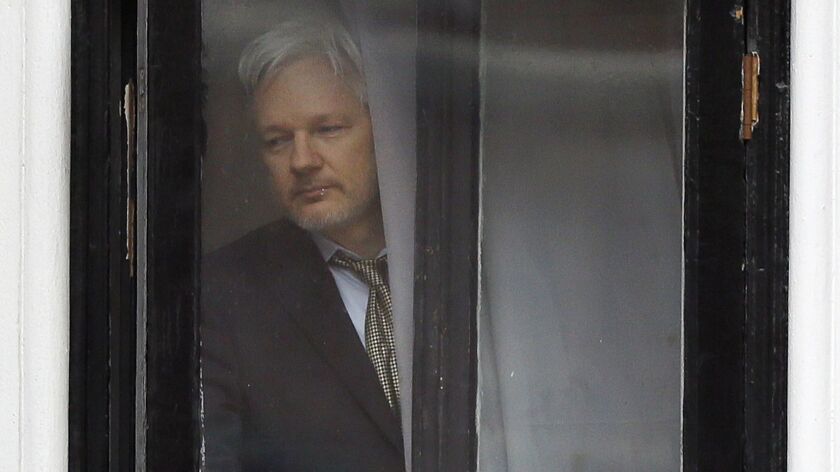 Not long ago, Julian Assange, the founder of WikiLeaks, was considered a lionhearted champion of civil liberties and government transparency.
In 2007, he helped expose human rights abuses at Guantanamo Bay. In 2009, Amnesty International gave Assange one of its Media Awards for exposing a police massacre in Kenya.
In 2010, he was Time magazine readers' choice for Person of the Year. In 2011, he won the Martha Gellhorn Prize for Journalism. An article in Forbes in 2012 likened him to the Rev. Martin Luther King Jr., and called his detractors "cowards." In 2013, he won the Yoko Ono Lennon Courage Award for the Arts.
In fact, before Assange was known for his romance with the Kremlin, and his shady contacts with scurvy Trumpites like Roger Stone and Donald Trump Jr., he was a punk idol, a hacker god. For years, he seemed like an opener of governments who could disinfect the Earth with the sunlight of his tech virtuosity and his eccentric radiance.
It's possible that the Assange still captivates the imagination of enough romantic anarchists that he'll slip the knot of public condemnation once again.
But, like many online high-fliers of the aughts, Assange lacked a moral imagination equal to his skills as a technologist. Instead he soared along — a Byronic heartthrob to budding anarchists — on that era's mandate: Do it for the lulz.
Over the past decade, the lulz — the laughs — have curdled.
When it synced with investigative journalism, exposing the Pentagon's sometimes grave misconduct in Afghanistan, Iraq and Cuba, that was one thing. But to hook up with Russian oligarchs and military intelligence to embarrass one American political candidate on behalf of another — that's not lulz. That's deputizing yourself to an actual authoritarian regime, the kind that a hacker like Assange used to be committed to exposing.
It's not that Assange broke bad. It's that he was never doing any of this on principle. He was driven by snickers and spite.
The exposé of Assange as washed up and sold out also spells the end of the old bacchanal on the internet, when its back offices and seedy speakeasies were a happy home for pranksters and poltergeists. These guys were young; they were heedless; and they mostly wanted to show they could pick any lock, pull down anyone's pants and make the girls cry. Whether they were villains or heroes only depended on who was doing the crying.
In 2008, when Assange was the new toast of the left, he published email obtained by a 4chan hacker from then-vice presidential nominee Sarah Palin's personal Yahoo account. The hacker might as well have rummaged through Palin's fridge or sock drawer. The email, like old socks, was entirely forgettable. After Assange later leaked diplomatic cables, Palin called him "an anti-American operative with blood on his hands."
But Palin's anger at Assange cooled in 2016 when WikiLeaks published what turned out to be Russian-hacked emails from the Democratic National Committee and John Podesta, Hillary Clinton's campaign chairman. Palin did a 180 and apologized to Assange.
"Important information," she said in a blog post, "that finally opened people's eyes to democrat candidates and operatives" — was that Podesta's risotto recipe? — "would not have been exposed were it not for Julian Assange."
Assange used to say his caches of documents were just dry facts and evidentiary exhibits. Journalists and everyone else could make of them what they would.
It's not just dry facts when you cherry-pick from mostly banal documents — like the DNC, Palin and Podesta emails — for max innuendo. Or when you time your revelations down to the minute for max partisan impact.
On Oct. 7, 2016, precisely one hour after Trump could be heard on an "Access Hollywood" tape announcing his policy of arbitrarily mauling women's crotches, WikiLeaks dropped the Russian-hacked Podesta emails, and conned the media into taking them seriously. It was a signal example of the moral flexibility and bothsidesism that plagues us to this day.
And it's not just dry facts when you apparently collaborate in all this with intensely interested parties: a hostile foreign power, Russia; and Trump buddy Roger Stone, high priest of political dirty tricks.
Enter the Fray: First takes on the news of the minute »
Assange's hosts at the Ecuadorean Embassy in London have had enough of him. Recently, they laid down some house rules — mostly about unpaid bills, bathroom cleanliness and kitty litter management — and Assange responded by taking them to court for mistreating him.
Perhaps neither the pro-Russian, anti-centrist American left nor the pro-Russian, anti-centrist American right will stand by Assange much longer. Or will they?
It's always possible that the Assange still captivates the imagination of enough romantic anarchists that he'll slip the knot of public condemnation once again. In topsy-turvy times, far left and far right seem to agree: Anyone who storms American institutions is a boon to either cause.
That sentence wouldn't have parsed to our grandparents. Even today, it sounds like nonsense from 4chan. But it's not.
Twitter:@page88
---
A cure for the common opinion
Get thought-provoking perspectives with our weekly newsletter.
You may occasionally receive promotional content from the Los Angeles Times.