Op-Ed: There's light at the end of the Delta tunnels, so what's next for California water policy?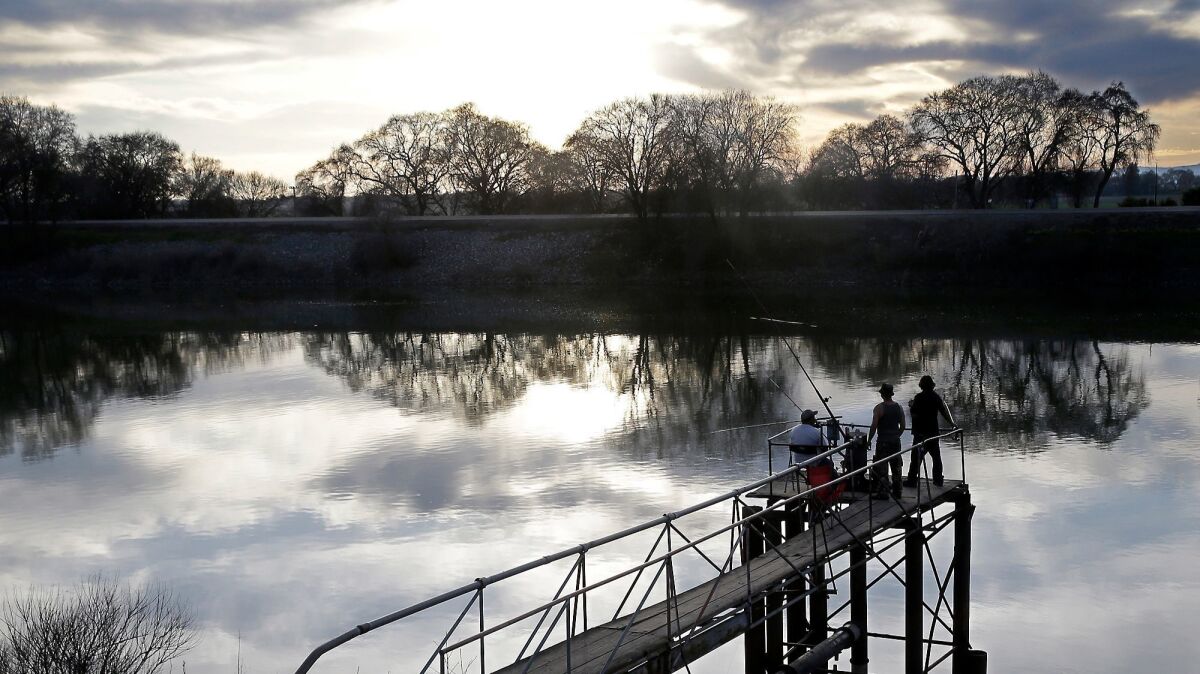 Deciding how to give people water to drink and grow food — and to do so without damaging the state's economy or the environment — shouldn't have been this hard. For the last dozen years and more, California has been entangled in heated debate over updating the state's water system. But now we're closing in on a resolution to that question. That, in turn, opens the way to considering future water policy in a very different political landscape.
The state's WaterFix plan — the focus of contention — proposes to secure drinking water supplies for 25 million people in Southern California and the Bay Area, and enable farmers to continue providing fresh produce to the rest of the country and the world. To do so, it would replumb the Sacramento-San Joaquin River Delta with two 35-mile-long tunnels that would serve the dual purpose of protecting the Delta's life-giving wetlands while assuring more reliable water supplies, despite the worsening effects of climate change.
Late last month, two federal fisheries agencies, after reviewing more than 40,000 pages of environmental analysis, concluded the new "conveyance" wouldn't "deepen any harm" to the Delta's endangered species and habitat. As the state Department of Water Resources said, that's a "momentous step" forward.
To be sure, it will be years before construction gets under way. State and federal regulatory agencies overseeing the effects of the new delivery system could impose so many restrictions that some communities may not be able to afford the water. And the project's opponents, who once touted the federal regulators as the experts who would stop WaterFix cold, are not going away. They've already filed suit denouncing the fishery agencies' biological analysis as arbitrary, capricious and illegal.
It might enrage environmental, academic and regulatory groups, but why shouldn't Sacramento take a few steps toward encouraging private investment in water?
Nonetheless, the recent progress on WaterFix is real, and its implementation would enable California to look beyond basic supply issues.
For example, policymakers today often echo the United Nations' assertion that people have a right to water. But in practice such access is treated only as a goal. Which is it? If access to water is a right — and it should be — then it must be enforceable. Making it so would initiate a revolution in how we think about and address our needs throughout the state.
For example, many small, isolated communities up and down the state currently lack clean water, and WaterFix won't solve that. In a state as sophisticated as California, with its natural and financial resources, this is obscene. But with an enforceable right to water in place, those communities would gain an important leg up in the competition for water.
Such a right might also help to shed some light into the regulatory black box of internal committees and bureaucratic task forces where many of our most important water management decisions are made, often without public oversight.
Opening the decision-making process could help us avoid the familiar, unproductive rhetorical flourishes about "fish versus people." More important, giving more than lip service to a right to water can help us do a better job of balancing the equities for all concerned.
On another front, if WaterFix, which has been propelled by Gov. Jerry Brown, succeeds in meeting our supply needs, future governors will be able to take a broader view of all the dimensions of water's importance to our lives — food production, energy, recreation, resource protection, sustainable use and residential and industrial development.
It could even allow us to ask new questions about how we pay for water. Currently, the revenues we generate for water, through rates and fees, taxes and bond sales are allocated among public water agencies, tribal governments and nonprofit organizations that serve the public interest in water education, environmental issues and consumer protection. At the same time, we emphasize the importance of funding individual water-related projects on the basis of their efficiency. But again, which is it? The missions of the conventional triumvirate of service providers were defined in the last century. None of these entities are noted for their efficiency. And all need more meaningful incentives to improve.
The state is home to Silicon Valley, a resource of unprecedented innovation, capital and progressive thinking — and yet California has done little to engage its leaders in the creative disruption of water policy. It might enrage environmental, academic and regulatory groups, but why shouldn't Sacramento take a few steps toward encouraging private investment in water, opening the door to selecting our water policy advisors on the basis of what they can deliver rather than their tax status?
We do not have the luxury of thinking of WaterFix as an end in itself. When implemented it will be an important measure of our progress. But it could also offer a welcome way station where we can catch our breath along the way to something even better.
William Kahrl is the editor of "The California Water Atlas" and author of "Water and Power: The Conflict over Los Angeles Water Supply in the Owens Valley." He served as one of the many consultants who reviewed WaterFix for California's Natural Resources Agency.
Follow the Opinion section on Twitter @latimesopinionand Facebook
Life is stressful. Our weekly mental wellness newsletter can help.
You may occasionally receive promotional content from the Los Angeles Times.